Now courier for mother's milk
This unique service in Indonesia is a great help for working women,
writes Lenita Sulthani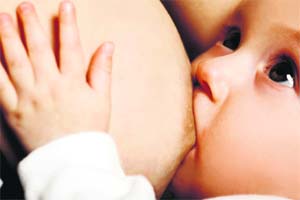 Febby Kemala Dewi returned to work at a Jakarta accounting firm after three months of maternity leave but struggled, like many new mums, to balance her home and work — especially keeping her infant daughter fed. Unwilling to stop breastfeeding, unable to pump enough for a whole day in the morning before work and leery of giving her baby anything but the freshest milk, she finally turned to a unique Jakarta service — a breast milk motorbike courier.
"I have to work, but at the same time I can still feed my baby," says Dewi, the wall by her desk plastered with pictures of her smiling daughter, eight-month-old Ashalina Putri.
Now, the 29-year-old IT consultant pumps breast milk at her office in central Jakarta and a courier comes to pick up the bottles around lunchtime.
Placing them in a padded cooler box, whose strap he then slings over his shoulder, the courier rides 45 minutes to an hour on a motorbike through choked Jakarta streets to deliver the milk to Dewi's mother, who cares for the baby. The service was launched in 2010 by Fikri Nauval, owner of a cargo and document shipping business, who said he was inspired by his wife using one of his motorcycle riders to send her breast milk home to their baby after she had to return to work.
He charges 30,000 to 40,000 rupiah ($3.30 to $4.40) a trip, keeping track of traffic conditions and the best routes for drivers to take using a GPS map on a computer.
"I would like to help this nation build a better generation by helping working mothers deliver breast milk to their babies at home," said the 40-year-old Nauval, who feels the nutrients in breast milk can't be replicated by the powdered variety.
His feelings are echoed by the authorities, who are struggling to encourage Indonesian women to breastfeed their newborn babies.
The number of women who do so fell to 38 per cent in 2007, said Yulianto Santoso Kuniawan, a paediatrician, who is also a consultant on breastfeeding. Most mothers receive information promoting the benefits of formula or free samples, while still in hospital after giving birth, but Kurniawan said hospitals need to do more to promote breastfeeding, especially for the natural immunity it provides.
"With this counseling, I can see mothers showing a bigger interest in breastfeeding their children," he added.
Though a ride through the chaos of Jakarta traffic might not seem the best of environments for breast milk, Nauval said his customers all understand and are fine with the idea—just as long as the bottles all arrive safe and sound. — Reuters