There's no formula for success
— Kay Kay Menon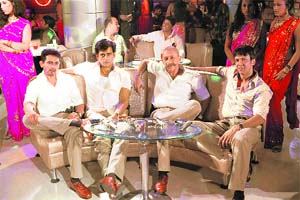 Kay Kay Menon with Naseeruddin Shah, Ravi Kishan and Atul Kulkarni in Chaalis Chauraasi
Kay Kay Menon, who has played varied roles in films like Sarkar, Life In A...Metro and Gulaal, doesn't conform to any particular style and says there is no formula to make a successful film.
"I don't think of trends. I do films that I feel I can give my best to and also enjoy. So, I don't think there is any formula for making successful films. If there had been one, everyone would have been following it," Kay Kay said.
The 48-year-old, who has been working in the industry for over a decade, says the current lot of filmmakers are churning out wonderful movies, but audiences haven't opened up to such experiments in a big way.
"Over the years, there has been a lot of change in the way films are being made. There are some wonderful films being made today, something which we could not have thought of about a decade ago, but the audience has not changed. We don't get audiences for such films," said Kay Kay.
"It will take time, but it is important for the audience to realise it," added the actor who worked in TV shows such as Pradhan Mantri and TV movies like Zebra 2 and Last Train To Mahakali at the beginning of his career.
In 1995, he entered B-town with Naseem and worked in meaningful cinema like Corporate, Honeymoon Travels Pvt Ltd, Sarkar Raj and Sankat City.
Bollywood is divided into two categories, commercial films and offbeat films, and Kay Kay says he is not in favour of such distinctions.
"People have distinguished films for the sake of commerce. Whether the film is commercially viable, it is known only after the film is released. This distinction is wrong. The industry is biased towards money. Once the focus of the industry shifts to creativity from just money, we would go a long way," he rued.
Having said that, he is happy with his acting journey. "I have no complaints so far. My career did have its ups and downs, but at the same time it has given me a lot of friends and I have been able to do different kind of films."
His latest film is Hriday Shetty's Chaalis Chauraasi that revolves around four cops — Pankaj Suri aka SIR (Naseeruddin), Albert Pinto aka Pinto (Kay Kay Menon), Bhaskar Sardesai aka Bobby (Atul Kulkarni) and Shakti Chinappa aka Shakti (Ravi Kishan). — IANS