As far as designing a garment is concerned, more often than not the product needs to be visualised first, which is pretty much the starting point
Birth of a garment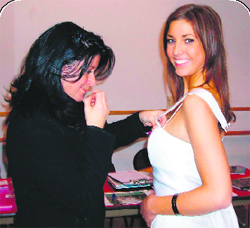 A piece of garment can be criticised or commented upon within five minutes; the time it takes to complete a runway. How it comes into creation takes light years longer than that. A piece of clothing rests within the minds of a designer till it comes into being. At times, it all begins with the inspiration; at times it all begins from the imagination. Nevertheless, the process pretty much remains the same. The starting point is where we too begin. Says Sabah Khan, Mumbai-based designer behind the label Sabashe, "For any good design there has to be an inspiration first; what you want your collection or clothing line to reflect first.
A designer gives a fininshing touch to her creation
Renowned Punjabi movie director Manmohan Singh talks about his upcoming venture, a light comedy titled Ajj De Ranjhe
On a lighter note
Do we need another confirmation of the fact that the Punjabi film industry has arrived? The movies are faring well on the big screen, producers are minting money, commercial story-lines are being preferred and there is an international awards event for them!

Net working!
Madhuri Dixit to launch her official website. Actress Madhuri Dixit is the latest B-town celebrity to launch her official website. The Bollywood diva has now joined the bandwagon with stars like Hrithik Roshan, Priyanka Chopra, Gul Panag and others, who own their official websites.
success mantra
Designed to perfection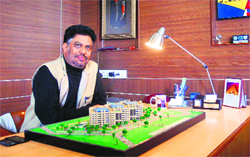 When studying in Chandigarh College of Architecture some three decades back, Surinder Bahga wished there were books that give a perspective on ancient Indian designs. "Had I shared this then, people would have laughed on me," says a nostalgic Surinder. Now half-a-dozen books down the lane, he is a known name. His books are part of syllabus across country in architectural schools.
ARC LIGHTS: Surinder Bahga
Kim regrets...
Kim Kardashian broke down into tears on the season finale of her reality show, as she admitted that she regrets her failed 72-day marriage. In Kourtney and Kim Take New York, the 31-year-old reality star revealed that, in less than 72 days, her feelings for ex-husband Kris Humphries changed.
Kahani mein twist...
Costume drama Chandrakanta has been the most popular show on small screen. Sunil Agnihotri the producer, director with a Midas touch made a comeback with Sahara One Television with most ambitious fantasy drama Kahani Chandrakanta Ki reportedly inspired from the book Chandrakanta Santiti. Sunil talks about his projects and life…
Par Excellence
Technology – the Driver
Hitting the ball far is the greatest thrill of the game. The highest sales are of clubs which promise more distance and not the ones which are for accuracy. Every year newer models of Drivers hit the market with assurance of greater distance. The pro's are hitting the ball longer and making par 5's too short! Technology is helping us hit it longer especially with the 'Driver'.
HEART talk
Strange(r) connection
I'm a twenty-five-year old working girl and usually travel alone while going and coming from work. Recently a guy approached me and complimented me on my looks. I found him decent and gave him my contact number. When I started talking to him I got to know that he is already in a live-in relationship with his girlfriend. But the problem is that we both have started liking each other. Please tell me what to do?
Thieves' target
Pablo Picasso is the artist who has more works stolen than anyone else, a new study has found. According to the Art Loss Register, the Spanish master currently has 1,147 paintings registered as stolen, missing or disputed, which is more than twice as many as the next on the list.
chatter box
Love for the wild
Ever wondered what it would be like to be caged and chained for your entire life? Gauahar Khan and Nigaar Khan get a taste of Zoo life this week on Khan Sisters as they participate in a PETA photo-shoot to show their support for a cause they strongly believe in. They are kept in a cage, tied to chains and even hurt themselves in the hour long photo-shoot. Being animal lovers, the sisters get emotional during the shoot as they come face to face with the harsh treatment meted out to animals at zoos.
The year ahead
If your birthday is January 31...
The year starts off smoothly with a positive work atmosphere and good communication with colleagues. You may also want to spend a little time in organising your desk and work area in order to avoid confusion. Avoid initiating anything new, and watch out for small conflicts with co-workers around March.
Astro Turf
ARIES: Try to keep your business plans secret. An unexpected guest may gate crash. A romantic mood can colour even the toughest situation with rosy hay. Your ability to look beyond the obvious will impress your supervisor. Tarot message: Plan your life to avoid the delays that come your way. Lucky colour: Coffee brown Magic number: 41