Many systemic diseases reflect in the eye
DR R. Kumar
When Silky, a case of severe chronic headache, entered an eye specialist's chamber, she was deeply fearful of an adverse outcome as it happened in the case of her mother, who was diagnosed as a case of brain tumour and her father declared to be suffering from hypertension for the first time by the eye specialist. Both were earlier referred to the eye specialist due to perpetual headache and were not diagnosed elsewhere.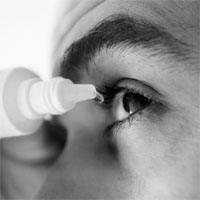 Silky had already got her MRI scanning done, which was normal. "You are an eye doctor. How do you diagnose diseases like brain tumour and high blood pressure?", enquired the girl in her panic-ridden voice. The doctor said after examining her that she needed only eye glasses as treatment for her headache. However, eyes may get involved in several diseases, and an eye specialist can be your friend and your physician in several other situations besides headache. These are:
n Diabetes mellitus – an imbalance in blood sugar levels.
n Acquired immunodeficiency syndrome (AIDS).
n Graves' disease – a thyroid disorder, with swelling in the front part of the neck and protruding eyes.
n Sarcoidosis – a disease that mainly affects the lungs, brain, joints and eyes, found most often in young women.
n Systemic lupus erythematosus involving mainly the skin, joints and kidneys.
n Rheumatoid arthritis.
n High blood pressure.
n Atherosclerosis (hardening of the arteries) and heart disease.
n Sickle cell disease –an inherited blood disorder that can block the circulation of retina.
n Multiple sclerosis – a disease that damages nerve coverings, causing weakness, coordination and speech disturbances.
Stroke.
How do systemic diseases affect the eye?
Diabetes can cause severe eye complications, including swelling of the retina (macular edema), abnormal growth of new retinal blood vessels and bleeding inside the eye.
Diabetic retinal disease is a leading cause of blindness in India. In addition, people with diabetes develop cataracts earlier than other people. Therefore, it is important for them to have regular eye examinations done.
AIDS can cause infections in the eye, retinal detachment, eyelid tumours and neuro-ophthalmic disorders. AIDS-related infections can often lead to blindness, but effective eye treatment is now available. Abnormal retinal circulation is another frequent complication of AIDS. Sometimes, the first signs of AIDS are abnormalities in the retina.
Graves' disease can cause protruding eyes (proptosis), limitations of eye movement, double vision and corneal disease. Severe cases may have damage to the optic nerve. Sometimes the eye symptoms in Graves' disease can appear before other symptoms and signs.
The eye is prone to inflammation. A type of inflammation called uveitis is the most common eye problem caused by sarcoidosis. Uveitis can result in painful and red eyes, blurred vision and glaucoma. Scleritis, an inflammation of the white part of the eye, can result from systemic lupus erythematosus and rheumatoid arthritis. Both of these conditions also can cause dry eyes.
High blood pressure and atherosclerosis can damage the retinal blood vessels. In persons with high blood pressure, the extent of damage in the eye can directly relate to the damage that occurs in the kidneys. High blood pressure can be first diagnosed when changes in the blood vessels of the eye are found. Sickle cell eye disease can sometimes lead to blindness if not treated with laser therapy. Multiple sclerosis can cause eye movement problems as well as the optic nerve disease leading to the loss of vision.
Cancer can start in the eye or can spread to the eye. Early detection and treatment of cancer in the eye can be vision-saving and, in some cases, life-saving. Brain tumours also may affect vision by causing swelling of the optic nerve. Occasionally, a doctor may first suspect a brain tumour after finding optic nerve swelling on an eye examination. Thus, an eye specialist has an important role to play in managing systemic problems besides the problems of vision.
The writer is Chandigarh-based eye-specialist.