Czars of Celebration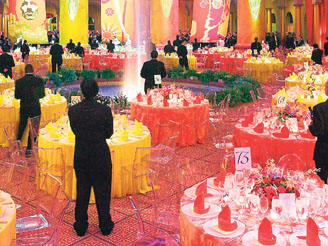 Event management and wedding planning are the ideal career choices for those who revel in celebration and have an eye for detail,
writes Rakhi Kankaria
The phenomenal growth of the event management industry coupled with the transition of this sunrise sector from a highly unorganised one to an organised, niche and competitive sector is expected to see a manifold increase in demand for professionals equipped to take on different work profiles in this industry.
Career Hotline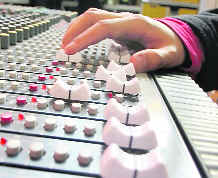 Sound choice
Q. I've done B.Tech (computer sc) from HPU and am interested in the field of music. Can you tell me about some of the professional courses in sound engineering and institutes that are reputed in this field? Is there any scope for a profession in this field?
A. To become a studio sound engineer you need to combine the knowledge physics (sound travels in a wave) and recording technology with an ear for sound and a healthy appreciation of music.
Guest column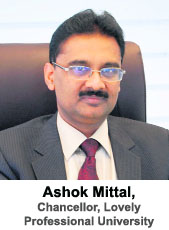 World-class quality at our doorstep
Indian students are hailed across the world for their acumen, academic strength and inventiveness. It is because of the inherent strengths of the pre-college educational structure of India, that the country has acquired the sobriquet of "Potential Knowledge Capital of the World". But one should not miss the word "potential" in this - which underlines the significant role that quality higher education in the country needs to play. But in the globalised world scenario it is the lack of world-class universities that has made India face a substantial brain drain, which eats into the possibilities of generating and retaining a vast army of quality human resource in the country that can shape a resurgent India.
CAREER COMPASS
Arty fare
Artistic people are thought to be moody, dreamy, lost in their own world, impractical, etc. etc. In short, anything but realistic. As with other cliches, this is true only in parts for most people combine within themselves many, often quite contrasting, traits and interests.
TESTING TIMES
The road to IIT
Understanding and mastery of concepts and in depth study are the key factors in clearing IIT-JEE test as questions in this test cannot be solved by tricks or rote memory. Even a basic understanding the concepts of physics, chemistry and mathematics is not sufficient. The questions require a student to use the knowledge gained and the concepts understood and weave it in a way that a problem's solution becomes visible. This can be attained only by building analytical thinking. This is the most important faculty in a student that needs to be groomed, trained and enhanced. Different students take different time to be able to do this so while for some four-year time frame (class IX onwards) is ideal, for others two-year (after class X) is god enough. But in both cases the students are required to keep up their motivation level and interest to be thoroughly prepared for the test.
NEWS BOARD
IGNOU to focus on more foreign tie-ups
The Indira Gandhi National Open University (IGNOU), one of the world's largest universities, will be focusing on more foreign tie-ups in order to provide more quality education to students, Vice Chancellor M. Aslam said.
Trapped in Glass Ceiling
Ever wondered why India Inc. is surging ahead riding on the brains of only the best men and so few women in the country? The corner offices and the top managerial levels are all filled with deserving men, but where are the women, whom we see at organisations handling important portfolios?


Food for Thought
Exercise calms hostile bosses
If your boss is giving you a hard time, lying, making fun of you in public and humiliating you, he or she is likely to benefit from some exercise. A new study by James Burton from Northern Illinois University shows that stressed supervisors, struggling with pressures, vent their frustrations on their employees less when they get regular, moderate exercise. Burton and his team are the first to examine how exercise can buffer the relationship between supervisor stress and employee perceptions of hostile behaviour, the Journal of Business and Psychology reports.
Flip side of expectation
High expectations from employers may lower worker job satisfaction
Increased expectations from employers may have a negative impact on employees' job satisfaction and well being, a new study has revealed. Researchers led by Stephen Wood, from the University of Leicester, set out to test a widely held assumption — that direct employee involvement methods can lead to high levels of worker job satisfaction, which in turn, lead to a better performing organisation.

CareerCature
Sandeep Joshi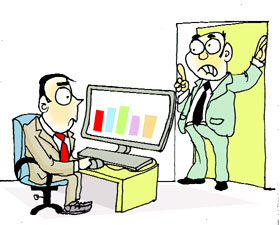 You have been glued to the computer for the past five hours. What game are you playing?
Happiness @ work
Gems of ancient wisdom
It's worth the wait
Don't ruin your happiness by always jumping the gun. Sometimes, it pays to wait. In 1885, Jagadis Chandra Bose, as his father had run up huge debts, became a professor at Presidency College, Calcutta. But he was shocked to find that Indian teachers were paid two-thirds the salary paid to their European counterparts.
Work stress busts sweet dreams
One in 3 employees can't escape work-related stress even while dreaming
Work-related issues are the number one topic featuring in dreams of most employees, with colleagues creeping into shut-eye time more than celebrities, a new study has found. According to the survey of 2,000 persons conducted by One Poll for Premier Inn hotels, one in three dream about work when they are stressed in their job and a quarter stated that they dream about a colleague if there was a conflict with them earlier that day.