Day after verdict, TRAI sets 2G auction ball rolling
New Delhi/Hyderabad, Feb 3
A day after being rapped by the Supreme Court and told to auction the 2G spectrum allocated in 2008, the Telecom Regulatory Authority of India (TRAI) today started the process by seeking the views of all stakeholders by February 15. Directed to complete the process within four months, TRAI said the deadline would not be extended.
mystery killing
No headway in DSP's murder
Ludhiana, February 3


Nearly 48 hours after Moga DSP Balraj Singh Gill and Monica Kapila, wife of an industrialist, were found dead at a farmhouse on Hambran road here yesterday, the police is still groping in the dark. The probe, so far, has indicated that the cop and the woman reached the farmhouse separately. The DSP was the first to reach the farmhouse and invited Monica.

US proposes changes in H-IB visas; to benefit Indian pros
Washington, February 3
Amidst pending comprehensive immigration reform, the United States has proposed several steps - including changes in the F-1 and H-1B visas - to attract foreign skilled workforce, a move likely to benefit professionals from countries like India.
3 die, 50 hurt in Guwahati train mishap
Guwahati, February 3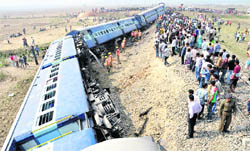 Three persons were killed and over 50 injured - 16 of them seriously - when five coaches of a passenger train derailed after hitting an earth-carrying vehicle (dumper) at an unmanned railway crossing.
Derailed coaches of the Chilarai passenger train near Guwahati on Friday. Photo by writer