Connect with the soul
Whether they understand the meaning or not, original or rehashed versions of Sufi music sure strikes a chord with the youngsters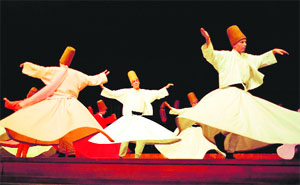 Pakistani singer Arif Lohar and Meesha got all and sundry to check out their number jugni on Youtube. Sufi singer Abida Parveen's shehar sunsaan hai kidhar got people to not only download, but also burn CDs for a long drive. The words are heavy; most of them are not even available on Wikipedia, but the effect is soothing and mesmerising.

Sufi music is something that you wouldn't take an instant liking to; at the same time, Bollywood has done quite a bit in making this form popular by 'commercial versions' of Sufi either in selected couplets or rehashed versions in various songs. —Hans Raj Hans, Sufi singer
Happily...ever after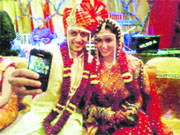 Bollywood actors Riteish Deshmukh and Genelia D'Souza tied the knot in Marathi style in the presence of leading figures from Bollywood and the world of politics. Riteish, wearing a white sherwani and red feta (turban), entered the hotel on a ghodi. The baaraat started from the grounds near Grand Hyatt and reached the hotel. The actor's politician father Vilasrao Deshmukh was dressed in a brown sherwani. Among those present were Sharad Pawar, Prithviraj Chavan, Praful Patel, Abhishek Bachchan, Kajol and Ajay Devgn.
Reality on stage
Punjabi play Neon Jarh, the annual production by Department of Indian Theatre, Panjab University, addresses the issue of female foeticide
Art and reality go hand-in-hand. The current issue of female foeticide that plagues society and its widespread ramifications is the theme of the annual production by the Department of Indian Theatre, Panjab University.
TROUBLE SHOOTER
Mind your business
I am an NRI and live in the US. Due to relationship problems and job stress I had visited a psychiatrist there who suggested Mindfullness based cognitive training. What is this? Is it like Mindfulness meditation?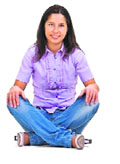 Weight watch
Take a break
Resting or relaxing can make your process of weight loss better. A weekly off from work helps you perform better at work and a yearly holiday is required to charge yourself for the whole year. One fourth of your daily full exercise schedules should be just lying down on a mat with palm facing the ceiling or just lying down on your left side of your body or sitting with your legs folded and hands and palm resting on the sides.
Pizza time
JW Marriott Chandigarh is all set to tantalise the tastebuds with scrumptious spread of pizzas and pastas at Oregano Restaurant and Bar. The carnival offers a wide range of mouth-watering wood fire oven pizzas by chef Antonello. Prepared in mango wood with enhanced aroma the Italian delicacies will be served in trattoria style.
First-day-first show
Part-time Hanuman at the local Ramleela, but full-time cashier at a bank Bharat, resides in Bhopal with Nisha, a school teacher who is concerned more about her husband's promotion from cashier to manager rather than his tricks onstage. Bharat's father, Shiv Narayan, an old-timer who values freedom and hopes to see his country corruption-free someday, completes the small and happy family.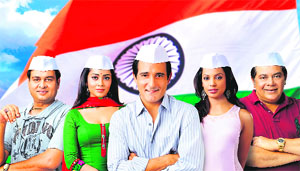 Movie meter
Finding a way in the Gali
Gali Gali Chor Hai
Cast: Akshaye Khanna, Shriya Saran, Mugdha Godse, Satish Kaushik, Annu Kapoor, Veena Malik.
Direction: Rumy Jafry Rating: Above average
A still from Gali Gali Chor Hai
Fair enough!
This exhibition at Parade Ground-17 comes with a catchy title, Today's Women Expo. Says Dr Harish Arora, CEO, Paramount Exhibitors, "We have organised around 89 such shows across India, but this is the first time that we have organised something especially for women."
Of commitment & compromise
Being committed to your marriage is not just about being faithful to each other but also doing what it takes to make the relationship successful – the most important thing being 'compromise', researchers say. The study by UCLA psychologists analysed 172 married couples over the first 11 years of marriage.
Fun on Wheels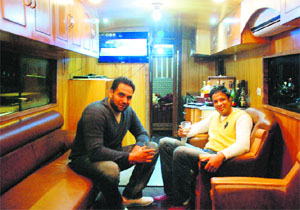 Abhay Deol is desperately trying to convince Hrithik Roshan to come on a road trip to Spain. As we sit on the couch to interview our subjects, the movie, Zindagi Na Milegi Dobara, is playing on mute mode on the LCD installed in one corner of the drawing room. The only thing we hear is the trucks crossing us; rest of the sound pollution is taken care of by the equipped interiors of the venue of the interview — the caravan!

Jaspreet Sandhu & Harsimran Sandhu (right)
Indian show at Smash
Hollywood star Uma Thurman and Debra Messing opted for Indian outfits while shooting for their new TV show Smash. Thurman, 41, was spotted wearing an embellished, pink salwar kameez with a bindi and matching bangles while Debra, 43, was wearing an elaborate green and gold sari.
One for theatre-lovers
The fourth edition of the Katha-Manchan Theatre Festival, organised by city-based group Mask Theatre, will showcase four plays on diverse themes from February 6 to 8 at the Punjab Kala Bhawan.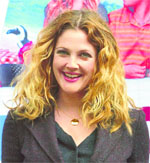 Drew's puppy love
Drew Barrymore has adopted an eight-week-old rescue puppy from Bark n' Bitches, a humane pet shop in Hollywood. Barrymore has adopted the cuddly canine with her fiance Will Kopelman and has named the pet as Oliver. "They really were very thoughtful and not impulsive about making the decision. Drew, being such a huge dog fanatic, was great to Will. She really wanted him to feel it out and make the decision," store owner Shannon von Roemer said.
Blast in Bollywood
Best known by his ring name The Rock, wrestler-turned-Hollywood star Dwayne Douglas Johnson says he would love to act in a Bollywood movie. The 39-year-old, who has worked in films like The Scorpion King, The Game Plan and Race to Witch Mountain, says he enjoys watching the dancing and singing part in Hindi cinema.

Watch out for Maanayata
From trying to become an actress in Bollywood to becoming an item girl and finally the woman who tamed Sanjay Dutt's wild ways and married him, Maanayata Dutt, mother-of-two, has come a long way. She launched a Swiss watch brand in India.
Fur from it!
Hollywood actress Penelope Cruz has become the latest celebrity to join PETA's anti-fur ad campaign. The 37-year-old star has posed in an ad on a 70-foot billboard. The photo shows her turning her head to look over her bare back next to the words, 'Give Fur the Cold Shoulder'.
Second time lucky?
Pretty girl Kratika Sengar proved her talent with Jhansi Ki Rani and now she is back on telly with Zee TV's Punar Vivah. She plays yet another tough role—this time emotionally, that of a woman who marries again for the sake of her kid.
chatter box
Dreams come true
The Dance India Dance anchor Jay Bhanushali recently bought a swanky new Audi A6. He wanted the smashing car since he could dream of it and now he owns one and he can't stop raving about it.  He showed off his car on the sets of his reality show which had everyone ogling over it. 
The year ahead
If your birthday is February 4...
You will be negotiating an important deal or contract that you will endorse before April. The year will be full of hectic activities like socialising, entertaining and making plans for your future. You will be in the best of spirits and achieve better results due to your enthusiasm and optimism.
Astro Turf
ARIES: Taking a break from work will be vital. That recent burst of enthusiasm has run out of steam temporarily. Make this an easy day. Tarot message: Empty promises are certain, therefore try to put your terms and conditions in writing. Lucky colour: Fuchsia. Magic number: 31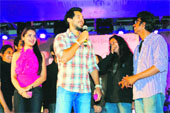 Launch pad
Shazahn Padamsee and Dino Morea launched Amore, a youthful range from Lucera at the intercollegiate youth festival of NM College. They gave away solitaire rings to the lucky winners of the What's Your Shade of Love contest.
Shilpa's got talent


Shilpa Shetty has one more reason to cheer apart from her impending motherhood. She has bagged the Best Actress award at the Jaipur Film Festival for her performance in The Desire, A Journey Of A Woman. The award was given to her by Marc Baschet, the Oscar-winning director of No Man's Land. Finally, some recognition for Shetty's acting talent! Though we don't know when the movie will be released.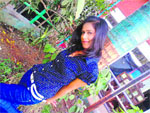 No more tears, please
In Star Plus' show Ek Hazaaron Mein Meri Behna Hai, Jeevika (Krystle D'Souza) and her sister Maanvi (Nia Sharma) are going through a tough phase and such emotional scenes mean lots of tear shedding. While acting the emotional bit is fine by actor Nia, she is finding it difficult to cry all day using glycerine which makes her eyes itchy and swollen by the time the shoot ends.