Peas perfect
Easy to cook, nimona, which can be relished with roti as well as parantha, can be spiced to taste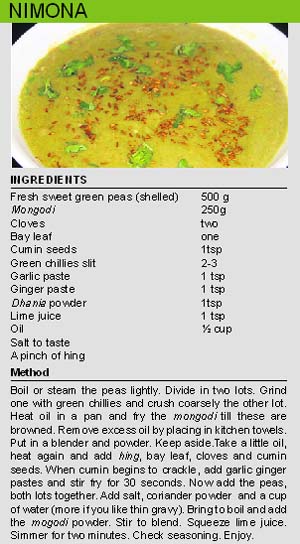 Fresh, sweet green peas have always been our weakness and we believe that there are many like us. Ever since peas became available 'out of season', first in brine in tins and then in dried/frozen avatar, most of us got used to eating them whenever desired but can we honestly state that the enjoyment is the same? We could go on.
Once we were treated to succulent — melt-in-the-mouth variety of peas in the pod slow-cooked in an earthen handi, and then, there was chunki matar, cooked for breakfast at home that was just steamed and tempered with hing, mustard and cumin and garnished with ginger strips and slit chillies to keep company with fresh coriander. Not a trace of oil or powdered spices!
Friends from Varanasi tell us that a little choorha is necessary to add the delightful crunch and some desi gourmet like flavouring the dish with orange juice and a miserly squeeze of lime juice but who would have thought that even in the countryside, green peas have spawned rustic classics. Nimona is one such gem equally popular from Faizabad to Devaria and Maharajganj in Uttar Pradesh. People in Nepal's terai and Bihar claim it as their own.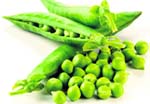 It has a thick consistency and can be relished with roti or parantha but if thinned a little gives great delight when paired with steaming rice. Extremely easy to cook, it can be spiced to taste. Our recent host claimed that their nimona or ghughani for that matter tastes out of this world because it is prepared from the most delicious peas in the world harvested in Farsinda in Maharajganj but we shall let that pass. We aren't ungrateful — Thank You Safal — but do believe garden fresh peas is what makes the real difference.