Haven for hanguls
The Dachigam National Park in Kashmir is again becoming a safe abode for endangered species, writes Azhar Qadri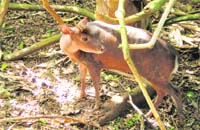 On the outskirts of Srinagar city, a majestic swath of forest serves as the last safe abode for many endangered animal and bird species, including the rare Hangul or Kashmiri stag. As snow unsettles life across Kashmir, inside Dachigam National Park life goes on to complete its annual circle and one man, Nazir Malik, who has spent half his life in forests and mountains of the state, articulately pleads for the critically endangered Hangul.
Twenty km from the city centre and spread over 141 square km, Dachigam is nothing like the city, there are no rush hours for its inhabitants and the rules of life are primitive, simple and harsh.
Here, the strongest and the quickest survive, and among the hundreds of species, who live in Dachigam, including fierce Himalayan black bears and leopards, nature sets a balance to keep intact the food pyramid.
Fifty-year-old Malik, who has understood the nuances and the patterns of the wild inside the Dachigam accompanies tourists and research scholars on perilous ventures inside the Dachigam park, where he has spent the last 10 years of life.
"Hanguls are our pride. There should be awareness in the new generation about Hanguls because I think the new generation is very sensitive about nature," Malik, dressed in a camouflage jacket, says to a group of photographers he is guiding on a tour to locate a herd of this rare deer species.
Hanguls, or the Kashmiri stag, are marked as critically endangered species, whose number has dwindled from several thousand at the turn of 20th century to a mere 218 in the survey conducted last year.
Dachigam is the only place which provides a hope that Hangul will survive and continue to walk on the earth.
Malik is among an exceptionally few Kashmiris who have spent their lives in the jungles amidst the nature. He says nature has taught him everything in life.
"Nature is a great teacher," he says while using stealth to manoeuvre a steep slope of a snow-covered grass land in the lower part of the national park.
The mantra, to see the wild life, is to remain silent, patient and not disturb them.
In the distance, nearly a km away, on the ridge of a mountain, he points towards a herd of Hanguls, which is coming down from the Upper Dachigam to Lower Dachigam in search of food.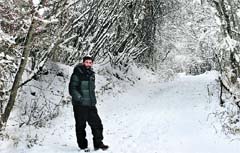 Nazir Malik has been pleading for the endangered Hangul
"They spend summer in the upper Dachigam, and in winters, they come down to lower Dachigam looking for food," says Malik, who explains that his job is more about passion and interest than anything else.
"You need to be passionate about this work. You have to be a junglee," Malik says recollecting close encounters with dangerous animals he had in over two decades in line-of-duty.
In 2008, while guiding a 55-year-old foreigner, he crossed the path between a mother bear and her cubs. "I can never forget those 20 minutes. Those were the scariest moments of my life," he says.
Some of the most dangerous encounters with wildlife during trekking and surveys happen with female bears, says Malik. "They are more aggressive," he says admitting that humans were to be blamed for the man-animal conflict. "It is we who intrude into their space, their homes," he says. — PTI