Enchantment with creative loom
Weaving traditions of India are fascinating but there is danger of some of them getting lost due to negligence. By sourcing and marketing less-known weaves, Ritika Mittal is trying to keep alive the cultural practices of the North-East. A report by Smita Deodhar
Banarasi, Chanderi, Paithani, Ikat, Baluchari... the great weaving traditions of India make up a long and luminous list, and the fabled fabrics continue to enjoy great popularity despite changing dress codes. But try to locate the Rhimai, Mising, Konyak weaves on this list, and you'll draw a blank. These are just three of the vast repertoire of handloom weaves produced in each tribal home in villages in India's north-eastern states. Although they are as beautiful as their famous counterparts and require as much skill to weave, most people only associate North-Eastern fabric with the desultory table mats, bags and jackets displayed at handloom expos held across the country.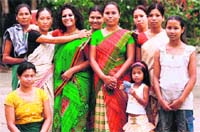 Ritika Mittal (third from left), who went to the North-East region to seek fabric, ended up making an emotional connection with many
However, designer-entrepreneur Ritika Mittal wants to change that, if she can help it. Mittal is the founder of Mora, which aims to revive the romance of Indian weaves as well as the saree. Mora's products are collages of fabric from different parts of the country put together in ways never seen before. For example, a delicate green Chanderi with a Konyak Naga weave on the pallu; or a Khewa silk with Kalamkari on silk for drape! Her last collection, which was retailed online in August 2011, highlighted the fabrics of the North-East in an immensely wearable form — and the sarees, skirt sets and dupattas flew off the virtual shelves in just a few days — despite their steep pricing.
Buoyed by the response, Mittal has set off on her second sourcing trip to the seven North-Eastern states, this January. She will be nearly incommunicado for five months — for electricity and mobile connectivity are erratic where she travels. This time, her backpack had some curious contents: It was crammed with bundles of cotton yarn! This, she explains, is because cotton seems to have disappeared from the fields and looms of the North-East, to be replaced by synthetic fibre. Good quality cotton yarn is difficult to obtain there.
Hers is not an easy mission. Last year, she had travelled through these parts with just a map as her guide. Acting on tips from strangers, she managed to locate weaving talent — only to find that nobody was ready to weave for her. This, despite the fact that the North-Eastern states together boast of more than 50 per cent of the nation's weavers and 65 per cent of all the looms in the country.
"Weaving is a socio-cultural activity in this predominantly tribal region," explains textile designer Smitha Murthy, who is a part of ANT (Action North-East Trust), a social welfare NGO that operates in the North-East. "Every household possesses a loom, and weaving is done almost exclusively by women. They make clothes for their family as and when they wish. If someone asks them to work to specifications, or for sale, they are just not interested."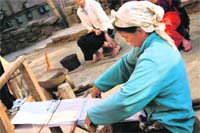 Every household possesses a loom, and weaving is done almost exclusively by women Photos courtesy: Ritika Mittal
Among the tribal communities, there is little awareness about the value of their traditional weaves or the need to preserve them; nor do they need to weave for sustenance. They grow their own food, catch their own fish, and gather their own firewood. Also, weaving on primitive loin looms, which are most commonly used in these parts, yields just few inches of cloth in a day. "They would rather work under the Mahatma Gandhi National Rural Employment Gurantee Act (MGNREGA) to earn money than weave. Those who do agree to weave commercially charge Rs 300-400 a day, which automatically makes the product expensive and restricts the market size," informs Murthy.
Mittal, who went to the region to seek fabric, ended up making an emotional connection with many. For four months this intrepid traveller lived with them in bamboo huts, helped with the cooking, washed in mountain streams, and taught their children English. She braved with them the raging floods of the Brahmaputra and participated in their festive dances.
"They weave for me out of affection. They don't have any concept of taking orders or meeting deadlines, and I prefer it that way. Commercialisation will only disrupt their lifestyle and make them unhappy," says Mittal.
While Mittal's sentiments are easy to empathise with, there is a strong case for promoting weaving as a small-scale industry in the North-East.
"These symbols of tribal identity will survive so long as identity is important," says Murthy, "but as modern dressing style gets popular, the weaving tradition may eventually decline unless other markets are developed."
Harnessing this widespread skill commercially may also provide better means of income to many women who currently earn money by brewing and selling liquor, or by walking miles to sell vegetables in the market.
Given the lack of organisation, difficulty of sourcing raw material, low productivity of loin looms, not to mention lack of motivation and almost non-existent markets, promoting the textile industry here will be an uphill task. Logistical bottlenecks need to be addressed – to start with, the weavers must shift to the fly shuttle looms to increase productivity and make it more economical.
With a view to promoting weaving as an income earning avenue, in 2002 ANT helped set up a weavers' organisation that conducts four-month workshops for Bodo women, to introduce them to commercial weaving.
Today, around 120 women work part-time from their homes under its aegis, making garments, upholstery and desktop products. The NGO has set up The Ant, a handicrafts store in Bangalore, to promote these products. The fabrics have been well received by upmarket clients looking for exclusive pieces, says Murthy.
Through the Mora website and her blog, Mittal is trying to help people appreciate the fabrics better. She talks about Eri and Muga silks, Rhimai weaves of Dimasa, Ghai weaves of Majuli, and so on. She explains the symbolism — that woven Naga spears represent their hunting culture, shells or cowries symbolise Naga feasts, turtleback motifs are typical of Bodo tribes, and the farming motifs in Mising weaves are a reference to the local occupation. That her prospective buyers are entranced is clear. Inquiries and fan mail continue to pour in on Mora's Facebook page, long after the sale has closed. And in a backhanded compliment of sorts, plagiarism has begun. "People are copying the woven patterns on printed saris — producing cheap, non-authentic copies,"rues Mittal. Some retailers have even followed her footsteps to the North-East, hoping to replicate her success.