Rehash formula
Expect a flurry of remakes from Hindi cinema in the weeks and months ahead as most of the filmmakers want to make merry by jumping on to the sequel bandwagon, writes Saibal Chatterjee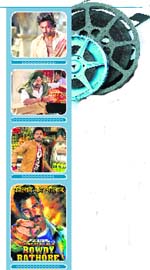 The last major Mumbai film released in the year gone by was Farhan Akhtar's much-hyped sequel to 2006's Don, which, in turn, was an updated remake of the iconic 1978 Amitabh Bachchan-starrer of the same name.
The commercial success of Don 2 wasn't surprising at all. When you have Shah Rukh Khan heading the cast, a bumper opening is guaranteed.
Not just that. SRK's fame and following gave the film's producers, Excel Entertainment, access to hitherto unexplored locations in Germany and Malaysia. "Shah Rukh opened many doors for us," says Farhan Akhtar. "So it was only fair for us to give him credit as a co-producer."
If 2011 ended with a big-ticket sequel, 2012 opened with a big budget remake. First off the Bollywood blocks this year was Players, Abbas-Mustan's official — yes, official — remake of the 1969 British action-comedy hit, The Italian Job.
It's quite another matter that Abhishek Bachchan lacks the chutzpah of a younger Michael Caine and Omi Vaidya, despite his game efforts, is no Benny Hill. Players did not quite hit the buttons that Don 2 did.
Be that as it may, the principal trend for the year has pretty much been set. Expect a flurry of remakes and sequels from mainstream Mumbai in the weeks and months ahead. Making a sequel or a rehash minimises the element of risk that usually stalks the movie business.
On Republic Day, yet another big-budget remake, Agneepath, starring Hrithik Roshan in a role famous for the fact that it fetched Amitabh Bachchan a National Award 22 years ago, opened in India's multiplexes. Needless to say, it generated huge media buzz.
For producer Karan Johar, the making of Agneepath was an "emotional act". He says: "My father (Yash Johar) considered Agneepath Dharma Productions' best-produced film. Unfortunately, it did not live up to his commercial expectations. It broke him."
Johar describes his Agneepath as "totally new, re-energised and restructured". The final product, despite the game efforts of the people behind it, is far too bloated and turgid to erase the memories of the old Agneepath and the gravitas of Bachchan's baritone.
Talking of two-decade-old films being reworked for the new generation of movie fans, several other such remakes are being readied for release this year.
A follow-up to Rajkumar Santoshi's action film Ghayal is on the way. Ghayal was released in the same year as the original Agneepath (1990). The new film, Ghayal Returns, starring the same-old Sunny Deol, has been helmed by Rahul Rawail, who, incidentally, crafted the feisty Arjun (1985), one of the most memorable cinematic signposts of the actor's chequered career.
Sai Paranjpye's cult comedy Chashme Buddoor (1981) is being remade by David Dhawan, a director of comedies, who seems to have gone off the boil of late, if the disastrous Rascals, released in late 2011 to virtually empty movie halls, is anything to go by.
It isn't just Bollywood hits from the 1980s that are being rehashed. Many sequels to more recent successes are in the pipeline. One of these titles is Dabangg 2. Director Abhinav Kashyap is no longer on board and producer Arbaaz Khan has taken over the reins. For diehard Salman Khan fans, however, it doesn't really matter who directs the film: the presence of the star is enough to pack them in.
Krrish 2, starring Hrithik Roshan, is also in the works but the film might not see the light of day until early next year. Vivek Oberoi plays a super-villain in the film, which, understandably, will be embellished with visual effects that, as producer-director Rakesh Roshan promises, have never been seen before in India.
The follow-up to Milan Luthria's Once Upon a Time in Mumbaai, produced by Ekta Kapoor's Balaji Films, will be in the theatres later this year. Akshay Kumar plays Dawood Ibrahim and Shahid Kapoor takes on the role of Chhota Rajan in this underworld saga.
The Mumbai television czarina has another sequel under her sleeves — this one seeks to cash in on 2005's Kya Kool Hai Hum, a double entendre-laced adult comedy. The follow-up is titled Kya Super Kool Hain Hum.
Housefull 2, produced by Sajid Nadiadwala and directed by Sajid Khan, will be a film unabashedly aimed at the front-benchers, with its complement of cheap thrills and non-sequiturs with sexual undertones.
Besides several other sequels — Rock On 2, Jism 2, Jannat 2 and Raaz 3 — two major remakes of south Indian hits will be among 2012's most anticipated films.
The upcoming Akshay Kumar-starrer Rowdy Rathore is a remake of Ravi Teja's 2006 Telugu hit, Vikramarkadu. This Prabhu Devaa-directed action-packed thriller is jointly produced by UTV Motion Pictures and, surprisingly, Sanjay Leela Bhansali. Clearly, they are all jumping on to the sequels and remakes bandwagon. It pays.
Another Telugu hit, Maryada Ramanna (2010), is being remade in Hindi as Son of Sardar, starring Ajay Devgn, Sonakshi Sinha, Sanjay Dutt and Juhi Chawla.
The original action comedy was set in Rayalaseema, Andhra Pradesh. The remake, directed by Ashwani Dhir, has been relocated to Punjab and is being shot in and around Patiala.
What's more, even off-mainstream Hindi films like Abhishek Chaubey's Ishqiya and Tigmanshu Dhulia's Saheb Biwi aur Gangster will have sequels this year. Why not? The more the merrier.