M A I N N E W S
HC raps Haryana police for illegal mining
Saurabh Malik/TNS
Chandigarh, February 9
The Punjab and Haryana High Court today slammed the police and others for their failure to stop illegal mining in Haryana. The court asked the Home Secretary to step in to stop rampant exploitation of mineral wealth.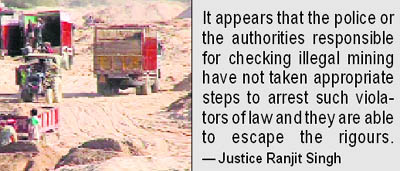 The directions by Justice Ranjit Singh came on a bunch of related petitions filed against the State of Haryana by four accused, including Ayyub of Malahaka village under Tauru police station in Mewat district.
Justice Singh asserted: "Directions need to be issued to the Home Secretary, Haryana, to ensure that the police as well as the mining officials concerned with checking of theft will take some prohibitive steps to protect the area from the encroachers like the petitioner, so that the theft of mineral wealth is checked".
In his detailed order, Justice Ranjit Singh added: "The petitioner is accused of indulging in illegal mining and theft of stones. He is lucky to escape the rigors of law, as he was not arrested at the spot".
Ayyub was booked by the police on October 1 last year after a case was registered at the instance of mining officer Bhagirath Vishastha after an inspection of the hills of Sahalaka and Malaka village. The prosecution claimed indications of fresh mining were found in four-five mines. The team also found tyre marks of a tractor and a dumper. A dumper was found loaded with stones and a tractor was used for drilling the mountain.