M A I N N E W S
Cabinet okays national cold chain centre
Nod to policy on sharing data, info
Girja Shankar Kaura/TNS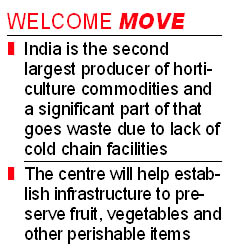 New Delhi, February 9
The Cabinet today cleared the notification of National Centre for Cold Chain Development (NCCD), tasked with establishing infrastructure and logistics to preserve fruit, vegetables and other perishable items as a registered society. The society will be a public-private initiative involving two leading industry chambers as well.
India is the second largest producer of horticulture commodities such as fruits, vegetables and flowers in the world. But a significant part of that goes waste due to lack of cold chain facilities.
Some 71.5 million tonnes of fruit, 133.7 million tonnes of vegetables and 17.8 million tonnes of other perishable commodities like flowers, spices, coconut, cashew, mushroom and honey are produced annually.
The NCCD will be mandated with prescribing technical standards for cold chain infrastructure and undertaking their periodic revision, besides human resource development programmes for meeting the needs of skilled manpower of the cold chain sector.
In another decision, the government today gave its clearance to the policy on sharing data and information among various departments which would help in effective framing of national policies and planning.
The clearance to the National Data Sharing and Accessibility Policy came at the meeting of the Union Cabinet chaired here by Prime Minister Manmohan Singh. It will make it mandatory for every department to share data.
"The data and information will be shared in both human readable and machine readable forms through a network all over the country in a proactive and periodically updatable manner," a government statement said.
This would help one ministry work out its policies in a better manner where adequate data from the other ministries would also be kept in mind while framing such policies.
The sharing will be in consonance with the policies, acts and rules of the government, therefore, permitting a wider accessibility and use of public data and information, the statement added.
The policy will apply to all data and information created, generated, collected and achieved using public funds provided by the Union Government directly or through authorised agencies by various ministries, departments, organisations, agencies and autonomous bodies, the statement said.
Nod for JVs by defence PSUs
The Union Cabinet also cleared a broad framework policy that will lay down rules to allow state owned Defence PSUs to have joint ventures with private companies. Such JVs are aimed at enhancing production and to meet the rapidly growing demands of the forces. The move comes some six months after two major state owned shipbuilding were stopped by the Ministry of Defence (MoD) from having joint ventures with private players.
The Mumbai-based Mazagon Docks Limited was on the verge of signing a JV with Gujarat-based Pipav while Vishakapatnam based Hindustan Shipyard Limited was finalising its own terms with Larsen and Tubro ( L&T) and Defence Minister AK Antony had stopped short of giving a green signal.
The policy will mean that these private companies can get foreign advanced technologies from their own partners. This will open a new route for procuring knowhow.