M A I N N E W S
Chandigarh skyline in danger
Tata's project violates periphery control plan: Ex-chief architect
Ruchika M Khanna/TNS
Chandigarh, February 9
Deeply troubled at the rampant violations in the periphery of Chandigarh, MN Sharma, the city's first Chief Architect and close associate of city's creator Le Corbusier, has filed an affidavit before the Punjab and Haryana High Court, stating that the multi-tower high-rise project being envisaged by Tata Housing Development Company in Kansal will be violative of the Periphery Control Plan of Chandigarh.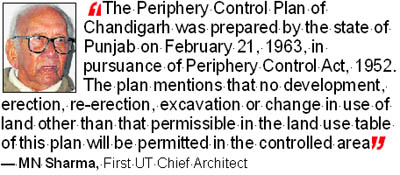 In an affidavit filed in the court as part of a PIL challenging construction of the high-rise Camelot project overlooking the Sukhna Lake and blocking the view of the Shivalik Hills, Sharma has said the site where the Tatas propose to construct the high-rise towers had been earmarked as an 'Agriculture and Afforestation Zone'.
Stating that the Periphery Control Plan of Chandigarh was prepared by the state of Punjab on February 21, 1963, in pursuance of Periphery Control Act, 1952, Sharma has said the plan mentions that no development, erection, re-erection, excavation or change in use of land other than that permissible in the land use table of this plan will be permitted in the controlled area.
The case is currently being heard by the Division Bench of Chief Justice Ranjan Gogoi and Justice Mahesh Grover. The uses for which permission can be granted in this controlled area are for agriculture, fruit and vegetable farming and afforestation and construction for the purposes subservient thereto.
The Tribune has been highlighting how the Chandigarh skyline is in danger, with the Punjab Government giving a go-ahead to the DC for construction of a multi-tower high-rise building for its Camelot project in village Kansal.
The Tribune had highlighted how the Punjab Government had given its approval to this project, as it had 102 politicians on board, for construction of 18 multi-storeyed towers.
In his affidavit, Sharma has also said the periphery of Chandigarh had been notified by way of notification issued immediately after the Act came into force.
Talking to The Tribune, Sharma said he was deeply troubled by the violations in the periphery and felt it was his moral duty to say something about it. "It is atrocious on part of the builder to cover the hills and in the process, spoil the visual heritage of the city," he said.