THIS ABOVE ALL
Tribute to a departed friend
Khushwant Singh



Khushwant Singh

As I switched on my TV in the afternoon on Friday, January 27, they were showing Kartar Singh Duggal taking some books out of his bookshelf. I concluded he must have died that morning. So it turned out to be. And so a friendship that had lasted 72 years came to an end. I first met Duggal in 1940 when I set up my house in Lahore to start practice as a lawyer in the high court. I had plenty of time on my hands and decided to know more of Punjabi literature. Till then, my knowledge of it was limited to a few bawdy verses`A0 and a passing knowledge of Bhai Veer Singh's poems. I set aside one evening a week to invite Punjabi writers to my home to read what they had written. Those who came included Mohan Singh of the Sikh National college, who was acknowledged as the best poet of the times, playwright Balwant Gargi, Devinder Satyarthi, who emulated Rabindranath Tagore by growing his hair and a flowing beard running down to his navel. He specialised in compiling Punjabi folklore, and Kartar Singh Duggal, who was working with All-India Radio. Though they did not write in Punjabi, Krishen Shunglu and his wife Shakuntala were always present.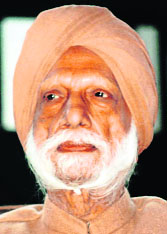 Kartar Singh Duggal

My only contribution was a bottle of the cheapest Scotch whisky, which was then priced at Rs 11 and plates of pakoras. At every session, Duggal read out a short story he had written. This went on till mid-1947. Then Hindus and Sikhs began to be forced out of what was to become Pakistan. When Muslims and Sikhs were going for each others' throats, Duggal, a devout Sikh, and Ayesha, the younger sister of Sultana, the eminent Urdu poet Ali Sardar Jafri's wife, fell in love with each other. They got married in the Golden Temple at Amritsar. After the Partition, they migrated to Delhi, so did I. For the next four or five years, I lived abroad in England and Canada.
When I returned home, we resumed meeting each other. Duggal rose to become the Station Director of AIR and after retirement, the head of the National Book Trust. When my daughter Mala returned from England with a degree from Cambridge University, he appointed her as an editor of Childrens Books. Duggal often dropped in to give me his latest books. They included a translation of my novel Train to Pakistan. His rendering of the Adi Granth in simple Punjabi will be the lasting work of his life. Duggal was a very devout Sikh. Every morning, after reciting Japji, the morning prayer, and writing a story or two, he left for Broadcasting House. He broke his journey on the way to spend an hour or so at Gurdwara Banglasahib to listen to kirtan of Aasa di Vaar. He was one of the authors of a compilation of articles written by people about their religion. Duggal's essay, "Why I am Sikh,"carried his photograph with the joora (top knot) and a flowing beard. I was not impressed by his essay.
Duggal was the most prolific of Indian writers. He wrote in four languages: Punjabi, Urdu, Hindi and English. According to Vandana Shukla of The Tribune, he produced 25 volumes of short stories, 13 novels, 15 plays, eight volumes of poetry, two autobiographies and nine volumes of criticism. I don't think any living Indian could match his record.
Banned in Pakistan
The latest issue of Private Eye of London has an interesting item in its column "Funny old world," about English words banned from usage in the country. It reads: "The Telecommunications Act of 1996 is perfectly clear," Muhammad Talib Doger of the Pakistan Telecommunication Authority told a press conference in Islamabad, "in prohibiting the transmission of massages that are indecent or obscene. We now have the technology to enforce this, so from November 21, all mobile phone operators are required to screen all text messages, and filter out any words on our list of banned terms. So far, this list contains 1695 words, and more will be added as they come to our attention." "The move has caused outrage among mobile phone users, with many`A0threatening to challenge the order in court.
"The list is absurd," said spokesman Shahzad Ahmed, "it includes phrases like 'monkey crotch', flatulence, athlete's foot, kiss ass, fairy, quickie, damn, and 'go to hell' even 'deeper and harder. We are witnessing a ruthless wave of moral`A0 policing by the PTA. By forcing telecom operators to filter out these allegedly offensive words to make our society moral and clean, the PTA has made a mockery not only of itself, but of the entire country."
Twitter users were both bemused and amused. "What is an 'ass puppy'"? asked one, while another wanted to know "the vile significance of Yellowman". Sabina tweeted "I think PTA just enhanced the vocab for us. Never knew words like these ever existed."
Food Security Bill
Santa: What do you understand by the Food Security Bill?
Banta: Andher nagri chaupar raja/ takey ser bhaji takey ser khaja
(Contributed by Ram Niwas Malik, Gurgaon)