In this age of instant coffee, fast food, Facebook and Twitter, relationships have taken a different meaning for GenNext. While they swear by love and romance, commitment is a thing of the past for many young people,
writes Ritika Melwani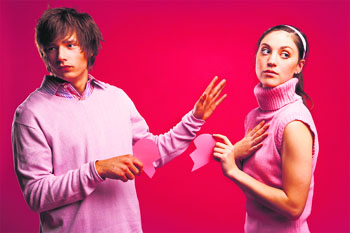 The young girl closed the fairytale romance novel with a sigh. She loved the happy ending and wondered if there was a Prince Charming out there somewhere waiting to sweep her off her feet. She speculated on the possibilities of everlasting love and commitment but in the heart of hearts she knew all this stuff was for the birds. Well, she could not have been more off track. Somewhere between reality and the 21st century exists St Valentine's Day.
More spending to mark V-Day
Consumers will be digging deeper into their pockets to buy flowers, gift cards and chocolates on Valentine's Day with average spending expected to rise 8 per cent over last year to nearly $200. And along with their expanding wallets, 4 million Americans are expected to pop the question or receive a proposal on February 14.
Netiquette for you
We live in an age where chats are vidchats, broadcasts vidcasts and blog morphs into vlogs. Internet has become an inextricable part of the youth who enters the formal cyber world as a college aspirant, or even a summer intern, and finds himself going through the application process all on the net. Habitual of the 'chat' lingo and the deliberate omission of rules of English grammar till now, he has to abide by the p's and q's of internet etiquette or netiquette.
Help for 'nowhere' brides
The Ministry of Overseas Affairs and the National Commission for Women bring out pamphlets and booklets to provide guidance to women who have been deserted by NRI spouses
As the part of the effort to help women deserted by their non-resident Indian (NRI) husbands, the government has brought out booklets on safeguards, legal remedies and whom to approach for redressal of grievances. Besides the booklet Marriages to Overseas Indians, the Ministry of Overseas Indian Affairs has brought out a pamphlet, Thinking of the marriage of your daughter with an NRI? to highlight precautions to be taken before entering into a marriage with an NRI man.
Emotional support cuts absenteeism at work
An employee experiencing the stress of intense workdays might develop a stomachache or headache, compelling him to take leave of absence. However, when his supervisor offers emotional support, he is more likely to recover without needing to take that extra afternoon or day off, the European Journal of Work and Organizational Psychology reports.
London games preparation on right track: Saina
This is a crucial year. She is a medal hope. With Olympics slated to take place in July, Indian Badminton queen and World number 4 Saina Nehwal is cautious but firmly on track as far as preparations for the quadrennial event are concerned. As far as Badminton goes, the twenty-one-year-old is the only Indian till now to have secured a berth for London Games. In a free-wheeling chat with
Amit Khanna, the Khel Ratna awardee speaks about representing India in Olympics, her preparations, Chinese domination, medal-winning games for India and much more.
Sports is about life: Pietro Grossi
Italian author Pietro Grossi who has won the Campiello Europe Prize for his collection of short stories called Fists, enamoured the audience at the Kolkata book fair with his insights on sports, fiction and life. Arnab Chakraborty interacts with Grossi. Excerpts: