More spending to mark V-Day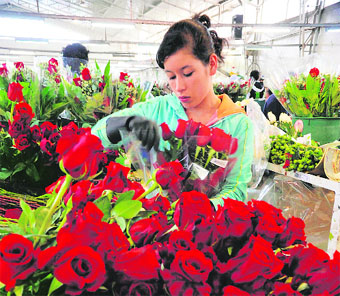 Photo: AFP

Consumers will be digging deeper into their pockets to buy flowers, gift cards and chocolates on Valentine's Day with average spending expected to rise 8 per cent over last year to nearly $200.
And along with their expanding wallets, 4 million Americans are expected to pop the question or receive a proposal on February 14.
"We've seen a consistent trend of consumers saying they will spend more, from holiday shopping to 2012 travel plans, and spending plans for February 14 are no exception," said Sonali Chakravorti, vice-president at American Express.
In its latest spending and savings tracker, American Express questioned 2,000 adults across the US to gauge how much and on what consumers will be spending their money on Cupid's big day.
Nearly half of people said they intended to celebrate at a favourite restaurant, 7 per cent more than last year. Flowers are still the most popular gift for a Valentine, followed by gift cards, jewellery and electronics.
Among couples getting betrothed, 30 per cent said they would propose during a weekend getaway or vacation, which have been dubbed 'Engagementcations'.
To seal the deal, 48 per cent of people think an engagement ring costing between $1,000 and $5,000 will be appropriate but 22 per cent said up to $2,000 for bling will be more realistic, while 5 per cent thought nothing of spending $10,000 or more on a ring.
Although nearly 40 per cent of women think whoever asked for the date should pay for it, 14 per cent said the bill should be split, but most unmarried men said they would cover the cost of the date.
Finances can be a delicate subject, so half of people don't talk about money until they have been together for six months and 20 per cent of married couples did not broach the subject until after they have tied the knot.
After marriage, money matters can be a cause of disagreements, although the poll showed arguments over household budgets, spending on the children and everyday purchases have declined since last year.
More men than women take credit for paying credit cards, property and school taxes and for filing income taxes, according to the poll, but 70 per cent of women said they managed the household budgets. — Reuters