London games preparation on right track: Saina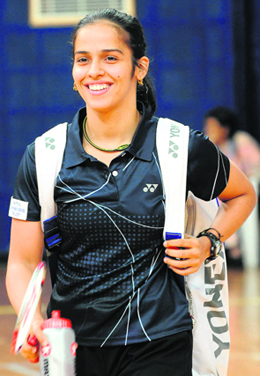 Saina Nehwal

This is a crucial year. She is a medal hope. With Olympics slated to take place in July, Indian Badminton queen and World number 4 Saina Nehwal is cautious but firmly on track as far as preparations for the quadrennial event are concerned. As far as Badminton goes, the twenty-one-year-old is the only Indian till now to have secured a berth for London Games. In a free-wheeling chat with Amit Khanna, the Khel Ratna awardee speaks about representing India in Olympics, her preparations, Chinese domination, medal-winning games for India and much more.
How do you rate your performance in the just-concluded Malaysian Open?
It was the first major tournament of this year and I am quite satisfied with my show. The draw was a tough one for me with all the big guns in my half. I beat Singapore girl in first round, a World Cup medal winner in second round and a two time All England champion in the quarters. I eventually lost to World number one Wang Yihan in the semifinal. It was a tight fixture and I was sure to topple her but on the given day she just proved better again.
Losing to Wang must have been tough. What do you feel went wrong in the semis?
Yes, it was pretty tough. I was 16 and she was 19 in 2006 when I lost to her in Junior World Cup in 2006 in Korea. Since then it was the fifth encounter with her which I lost. Out of those five, in three matches, I lost in three sets coming very near to win. I keep a good record of players with whom I have played in the past. I am yet to defeat her as my plan is not working. She is tall and almost plays with smashes and drops.
Which major tournaments will you be participating in this year before the Olympic Games?
This year before the Olympics, every tournament I play is going to be extra crucial. I play Uber Cup in February, All England Championships in March, India Super Series in April, and Indonesia Open in June.
Any special preparation or fitness regimen you are following for the Olympic Games?
Yes, all aspects of my training are at a high pitch under the guidance of Gopi sir and my physio Mr Kiran. The emphasis is to keep myself injury free and competition ready. It is a very strict regimen I follow and thatís what I believe is the mantra. London Games preparation is on the right track and hopefully I will do the country proud.
Does the expectation to win an Olympic medal bring any undue pressure on you?
Yes it happens to every player and there is no escape route. As the time will come nearer, there will be more media coverage about it which raises the level of expectations. We discuss all these things with yoga experts and my parents also guide me to not take any undue pressure.
How do you rate Indiaís chances? How many medals can we win?
With the passage of time, the standard of our players has improved in each game and we are a threat to top players in many disciplines. Olympics Gold Quest is helping a number of players. I believe many medals will come to India from boxing, shooting, wrestling, badminton, and archery. Sadly, our national sport hockey, which in the past has won us many medals is not in great shape.
Badminton has not seen much of anybody else except you on the national scene in the last two years. Do you see any promising young talent coming up?
Yes the picture is very promising. If you ask me there are three boys who are below World Ranking 30, and girls too are doing well. With hard-work and the right kind of training they are bound to do well.
Have there been any changes in the sports facilities in the last two years or do you think there is still a lot to be done to encourage new talent? What do you propose?
Yes, as I said earlier, I am `A0happy that the Government of India and many state governments are encouraging sportspersons in a big way. In the last Olympics, all the medals came from parts of Haryana, Punjab and Delhi within a radius of 100 km. Players should not be treated differently than those who have done well in studies. Sports are also like studies, it requires concentration for almost each minute of the day during the sports carreer.
Which countryís players will pose maximum challenge in badminton?
It will depend on the draw. There will be 3 players from china. I can beat anybody in the world except a few from China. It is not that chinese are not beatable. I have beaten most of the Chinese players in one or the other tournaments. Let us hope for a better draw. I will be doing my best to for the country.
How much do you credit you coaching staff for your success?
They have made me to come to this level. My coach Gopi, the physio Kiran. Data analyser Maqdoom, dietician, sparring players who are also world class deserve a mention. They help me every day to do my best.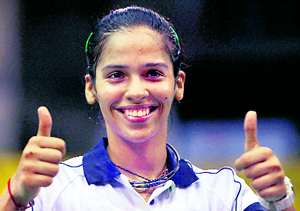 Countdown to Test of staying power
At London 2012, there will be five medal events: menís and womenís Singles, menís and womenís Doubles, and Mixed Doubles. All events will begin with a preliminary stage: the competitors will be divided into groups, and each player and doubles pair will play everyone else in their group.
The best players and doubles pairs from this stage (16 in each Singles event, eight pairs in each Doubles event) will qualify for the knockout stage of the competition, which will eventually decide the winners of the medals.