Call of the land

Gurvinder Singh, whose debut Punjabi film Anhe Ghore Da Daan, based on Gurdial Singh's novel of the same name, talks of his cinematic journey and connect with Punjab to Aruti Nayar
Meeting Gurvinder Singh, is a surprise because he is the very antithesis of the usual image of a Punjabi filmmaker. Modest and a trifle diffident, he opens up gradually. This despite the fact that his debut feature film Anhe Ghore Da Daan premiered in "Orizzonti" at the 68th Venice International Film Festival in September last year. Based on a novel by the same name by Punjabi novelist Gurdial Singh, the film was also screened to a full house in Abu Dhabi. There was the Asian premiere at Busan International film Festival in South Korea. Gurvinder was in Chandigarh for the first institutional screening of the film in India, at the English auditorium at Panjab University.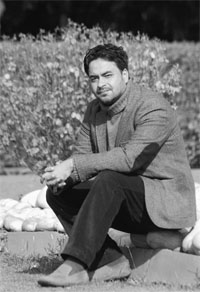 Gurvinder Singh
The film, produced by National Film Development Corporation (NFDC), had the late filmmaker Mani Kaul as its Creative Producer. Gurvinder recounts how when Kaul returned to India in 2005, he offered him the position of his teaching assistant. Says Gurvinder, `A0"I had already translated a series of his interviews to Udayan Bajpai titled Abhed Akash. While a student in FTII, I had walked out of his film Uski Roti. Gradually I started identifying with his vision of cinema." "Even my colleagues in the FTII from Bengal and Kerala were aware of and rooted in their literary tradition. I wondered what the real Punjab was like, since what I heard about was the undivided Punjab from my grandparents. Since my own family was uprooted, It was thus a quest for my roots." After graduating from FTII, Gurvinder received two grants from the Bangalore-based India Foundation for the Arts (IFA) to document the folk ballads of Punjab. That is why he feels a filmmaker has to be an ethnographer. Between 2002 and 2005, he travelled extensively through East Punjab, understanding its cultural and social dimensions. Living with folk singers, mostly from the so-called low castes, travelling with them to fairs and religious places opened up new ideas of syncretism for him. Ballads of Sassi Punnu, Mirza Sahiban and Puran Bhagat struck a chord and he says: "The way I responded to the language and its expressions, I was convinced that if at all I had to make a feature film it had to be in Punjabi. I had read Gurdial Singh's no vel when I was a student at FTII about 10 years back. Even though I knew nothing about Punjab at that time, I felt a strong desire to make a film on it."
It was, indeed, a memorable moment when the editor of US-based film journal Comment, Olaf Moller saw the film in Venice and put it in the category of the 'Best 11 films of 2011'. The village portrayed is not the picture-perfect Bollywood village with verdant mustard fields and huge havelis. It showcases the underbelly of casteism and marginalised farmers. The helplessness and angst of Dalits in a village in Punjab is captured. The landlord has sold his plot to make way for a factory. The house of Dharma, a small farmer, has been demolished, because he refused to vacate it. An elderly farmer's son is a rickshaw-puller in the nearby town. Rickshaw-pullers have gone on a strike that has turned violent. It helped that most of the actors were not merely actors, but real villagers. For Gurvinder, the joy of filmmaking is in the process of filmmaking. As he says, "It is like an expressionistic painting, not like an illustration."
"My next project will be a film set in the year 1984, post-Operation Blue Star, on days of terrorism. It portrays how the common man was caught in the crossfire between militants and the state violence," he says. Mani's parting words before he left for the shoot were: "Go beyond what you know!" "I would like to stretch myself more into the unknown", he says, as we part. More power to his camera and may he continue to explore Punjab's myriad hues.
A proud moment for Punjabi
Gurdial Singh is a satisfied man that a film based on his novel has been screened at international fora and won accolades. He feels people have desire to see the reality showcased, contrary to the popular perception.He wants Punjabi literature and language to get its due and more youngsters to explore their cultural roots. The writer rues the fact that the constant onslaught by invaders has made us slaves, no wonder all the models of development are Western or global. He feels that since the political and social system is heavily commercialised, even literature has not been able to escape this bane. Cultural values have become commodities and thanks to electronic media's focus on entertainment, there is absolutely no desire on the part of the producers to develop and focus on human values. He is gratified that Gurvinder has both the sensitivity and the commitment required from a filmmaker to engage with the social reality of Punjab.