ART & LITERATURE

'ART & SOUL
ENTERTAINMENT

TELEVISION

GARDEN LIFE

NATURE

FOOD TALK

CONSUMERS, BEWARE!

FASHION

GLOBOSCOPE

BRIDGE

ULTA-PULTA
EARLIER FEATURE

TRAVEL

RELATIONSHIPS

DREAM THEME

TIME OFF
New hub of global art
India is emerging as the new canvas where global art and galleries are creating an exciting new collage of opportunity, mega-bucks and visibility for artists and their works, writes Nonika Singh
Not too long ago, as art auctions set the market aflutter with prices of Indian art touching sky high the buzz was: Has Indian art arrived on the international market? Today, as works of celebrated signatures like Subodh Gupta, Bharti Kher, Sudarshan Shetty, Jitish Kallat and, of course, masters like Husain, Raza and Souza are being handled by prestigious international galleries, perhaps the answer to the first query is but obvious: "Indeed, yes."


A visitor walks past an art work by Vivek Vilasini at the India Art Fair in New Delhi
Romancing Valentineís Day
Divisha Saran
Nobody has ever measured, even poets, how much a heart can hold. ó Zelda Fitzgerald
Reams and reams have been written on the subject of love which has a special significance for all. Some fall in love and others rise in it. Wars have been fought over it; emperors have abdicated their thrones and people beheaded in blind rage of the spurned. All for love.
Woo each other with a makeover
Itís that time of the year when women are all set to kill with their looks. And guys, if youíve tried everything to keep your girlfriend happy, from irresistible chocolates and romantic night-outs to flowers, then perhaps itís now time to gift her a "makeover session" this Valentine season. Many of them are queuing up to do it for themselves whereas others are opting to undergo the treatments for their beloved.
On wings of Love
It is the time of the year when love is in the air. And the one day that most signifies this emotion is February 14, the Valentine's Day, when it is celebrated. Would, then, any destination do for a Valentine date? There are some places that are closely associated with this fragile feeling. If you are planning some time out, try these romantic destinations for Valentine's Day, says Neerja Bhatnagar
On the BackwaterS front
NOTHING can replace the magic of spending Valentine's Day in Kerala. The exotic southern experience includes those of boats swaying languidly in the water, sweeping beaches, herbal massages, palaces, gardens and a finger-licking cuisine. Romance can be in full bloom on the backwaters on a luxury wood-and-coir boat that cruises lazily in the gently lapping waters. Backwaters are not natural reclusive islands of glory in an untouched paradise.
Infectious kiss
An expert has warned lovers to be cautious while kissing on Valentineís Day, as this is "usually the peak season for infectious diseases". Changing weather or temperatures are often blamed for winterís coughs and sniffles. But in reality, colds, coughs and the flu are infectious diseases "caught" through transmission from one human to another.
Love is in the theatres
Close on the heels of flower and greeting card industries, the film fraternity is also keen to cash in on the Valentine fever, observes Deepa Karmalkar
Never mind if the maharaja of mush Karan Johar proclaims that heís "tasted blood" with the super success of Agneepath. Heís definitely not holding back his trump card this Valentineís as he pegs his next release Ek Main Aur Ekk Tu near Valentineís Day. Proof enough of the fact that Valentine fever has caught on and quite on the lines of Diwali and Christmas releases, Valentineís Day is turning out to be a coveted period for film releases.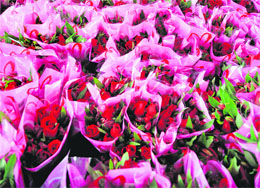 Fragrance of love
A view of packed bouquets of roses ahead of Valentine's Day, the biggest holiday of the year for fresh-cut flower sales, at a flower farm in Facatativa, near Bogota, Colombia. In giant greenhouses outside Bogota, the flowers are clipped and shipped worldwide, accounting for 65 per cent of the roses imported in the United States and many of the bouquets delivered in Europe. The hours ahead of Valentine's Day are a boom period for Colombian growers, who expedite their exports.