New hub of global art

India is emerging as the new canvas where global art and galleries are creating an exciting new collage of opportunity, mega-bucks and visibility for artists and their works, writes Nonika Singh
Not too long ago, as art auctions set the market aflutter with prices of Indian art touching sky high the buzz was: Has Indian art arrived on the international market? Today, as works of celebrated signatures like Subodh Gupta, Bharti Kher, Sudarshan Shetty, Jitish Kallat and, of course, masters like Husain, Raza and Souza are being handled by prestigious international galleries, perhaps the answer to the first query is but obvious: "Indeed, yes."
Woman and Child
A sculpture by Australian artist Sam Jinks
That Indian artists have found a firm toehold on the international art map is now almost a given. However, as the fourth edition of India Art Fair concluded last week in New Delhi with a bang, the staggering presence of international galleries, a grand total of 46 from 19 countries, and the overwhelming response to it has led to another query: "Has India woken up to international art?" More pertinently, is it fast emerging as a new centre for international art? Happy tidings at the fair would make one think that India is waking up in a big way to international art. Sample this. Pakistani artist Rashid Rana's work sold within minutes of the purview show and was picked up by a Bangladeshi collector.
One of the richest living artists Damien Hirst's works too found buyers. The neon creation of Martin Creed will travel all the way to the US. Last year, the work of an Austrian artist was bought by Swiss Art Museum here at the India Art Fair.
The unanimous verdict is that the Indian collector developing a serious interest in international art. Is it any wonder then that galleries like Lisson from London, that had earlier brought in works of Indian origin artists like Anish Kapoor, this time decided to showcase the rather unusual conceptual work of Yugoslavian performance artist Marina Abramovic. And much to their delight, her photographs not only sold very well but also evoked what the sales associate Ellie Harrison-Read of the gallery calls an "engaged response." Says Ellie, "We were taking a bit of a risk, yet it was refreshing to realise that both viewers and collectors were already aware of her work." At 1X1 gallery from Dubai, three large canvases by Iranian artist Pooya Aryanpour were lapped up by a collector. The relatively unknown artist Jeff Robbs's lenticular photographs and incredibly realistic sculptures by Sam Jinks at Karen Woodbury Gallery from Australia stopped viewers in their tracks and moved buyers enough to shell out the money. Sundaram Tagore, who brought works of all international artists says, "Indian viewers are being transformed and becoming part of the world culture."
Albert Einstein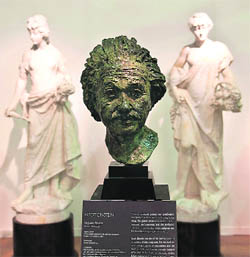 An art work by British artist Sir Jacob Epstein
An opinion that found an echo in former chairperson Chandigarh Lalit Kala Akademi Ashok Vajpeyi's refrain, "Indians are acquiring international tastes for sure." A natural process of evolution, some would say, for an overload of one's own culture is bound to reach a saturation point. Roupen Kalfayan of Kalfayan Galleries, who claims to have met a lot of Indian collectors at the Dubai Art Fair, asserts, "All collectors start with their own art and move on to international art." To which Sundaram Tagore adds, "World cities make no distinction between native and global art. Without doubt, today Delhi is fast emerging as a world city." Nods Rashid Rana, whose works have been finding appreciation in India since quite some time, "Delhi and Mumbai are the new centres of the India region, that includes India, Pakistan and Bangladesh."
But before we shout "hurrah!", listen to Vida Heydari, who brought in Iranian collection. She reasons, "It will take some time for India to become an international art centre as things generally move at a slower pace here, as compared to countries such as China that became an international art centre in such a short time."
Nevertheless, India seems to be beeping loud and clear on the radar of art dealers from Europe and other parts of the world . Remarks Sundaram, "Indeed, the concerns of those who fear so can't be ruled out. But whenever India has opened its doors to other civilisations, it has flourished."
Trojan Horse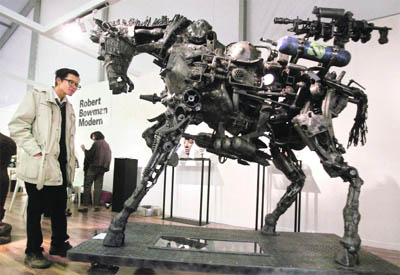 A sculpture by South African artist Willie Bester
Besides, many galleries were at the fair not merely to sell their wares, but to create a dialogue and to initiate a long-term relationship with Indian viewers. Galleries were looking at the future, including collaborations. And the future can be brighter, provided, says Suman Agarwal of Indigo Blue Art, Singapore, "India rationalises its tax structure and woos collectors like Singapore did last year." Without a doubt, collectors from Sao Paulo, New York wre there. Elina Zuzane of Art Gallery 21 from Latavia revealed that the collectors from her country were at the fair to have a look at the dexterous paintings of Anita Arbidane and make reservations for her new work. So can more of such art fairs give a fillip? Elina doesn't think so, "After all even London has just one Frieze." What would work, according to her, are more satellite fairs at the same time in the same city where there could be art to suit all kinds of pockets. High-end prices, confess some gallery owners, are a deterrent and can make the buyer more reflective. Tastes, anyway, the unequivocal refrain remains, are universal. Though some of the galleries did fly few artists to India to get a feel of the country and paint accordingly, it were not India-inspired works alone like that of well-known lensman Steve McCurry that held the imagination of the viewers. As a gallery owner from South Africa remarked, "At the end of the day, the only common factor of appeal is the quality."
So whether that quality is discerned in Subodh Gupta and Bharti Kher's works or in that of British sculptor Marc Quinn's or Rashid Rana`85. in global times that we live in`85. a real collector's quest will always take him beyond narrow confines of geographical borders.
Photos: Afp, Reuters and Manas Ranjan Bhui
Well begun is…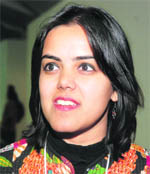 Neha Kirpal
Without a doubt, India that probably knew little beyond Picasso and Van Gogh is opening its eyes and senses to new signature names like Damien Hirst and Marc Quinn. And all thanks to Neha Kirpal, the gutsy young Punjabi woman, founder and director India Art Fair who nurses a dream to put India on the world art map and to make it a throbbing nucleus of international art. As collectors from Sao Paulo to New York came calling, she insists they made a strong beginning this year. Her model, which she calls an all-inclusive one, involving collectors, artists and academia has begun to pay rich dividends in terms of international acceptance. To internationalise the fair earlier on, she sold 49 per cent of the equity to two stakeholders, Sandy Angus and Will Ramsey, co-founders of the Hong Kong Art Fair. Says she, "I wanted to tap in the experience of those who have between themselves organised innumerable art fairs." Wooing international collectors she agrees may be a good idea but she also believes that if the product is good, international collectors will come anyway. In future, she hopes to work on the quality of art being showcased. However, she doesn't sit on judgment over the artists, "that is the job of critics," but only views herself as a catalyst. To what extent can she and her brainchild, the Art Fair, escalate the growing interest in international art remains to be seen? But the woman who has already busted the myth that Indians are not interested in viewing art, can only be expected to reinvent a new paradigm for India as a hub of international art.