M A I N N E W S
Israeli embassies in India, Georgia targeted
Diplomat among 4 hurt in Delhi car blast; Bomb defused in time by Georgian police in Tbilisi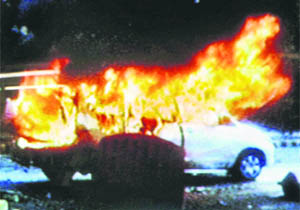 An Israeli embassy car in flames after an explosion in it near the mission in New Delhi on Monday. — PTI
Jerusalem/New Delhi, February 13
Bombers targeted staff of Israel's embassies in New Delhi and Georgia on Monday, wounding four persons. Israeli Prime Minister Benjamin Netanyahu accused Iran and its Lebanese ally Hezbollah of involvement.
In Delhi, an Israeli embassy car exploded when a magnetic bomb stuck to it went off in a high-security area here, critically injuring a woman diplomat besides three others. The injured woman, Talyesshova, is the wife of the Defence Attache of Israel posted at New Delhi. The incident in Delhi occurred hours after a car bomb was defused near Israel's mission in Georgian capital Tbilisi.


Coordinated strikes
Delhi: Two motorcycle-borne youths tail the Israeli Embassy car and allegedly stick a magnetic device on the rear of the car when it stopped at a traffic signal. Minutes later, explosion takes place.
Georgia: The Georgian police prevents a major attack by defusing a bomb found in a car of an Israeli embassy staff member in Tbilisi.
Today we witnessed two more terror attacks — in India and Georgia. Iran, which is behind these two attacks, is the world's largest terror exporter.

— Benjamin Netanyahu, Israeli PM
The Delhi blast took place around 500 m away from the official residence of Prime Minister Manmohan Singh. According to initial investigations, two motorcycle-borne youths tailed the Israeli Embassy vehicle on the Aurangzeb road and allegedly attached a device to the rear of the car when it stopped at a traffic signal.
Minutes later, there was an explosion and Toyota Innova (109-CD-35) vehicle was engulfed in flames. Delhi Police spokesperson Rajan Bhagat said two Israeli Embassy employees were injured in the incident. An eyewitness Ravir Singh said he heard a loud noise following which he rushed to the spot.
"I was at my petrol pump. I heard a loud noise. I rushed to the spot and found a car in flames. A fire tender from nearby Air Force station reached the site to douse the blaze," he said. The police said four cars were damaged in the incident.
Sources in the Ministry of External Affairs said Israel's allegations against Iran were not being taken on the "face value". New Delhi would opt to wait for its investigators to send reports and track down motorcyclists.
External Affairs Minister SM Krishna called up his counterpart in Tel Aviv and assured him that "the law of the land will take its course". The case would be fully investigated, Krishna told reporters here. Delhi Police Commissioner BK Gupta refused to comment on the nature of the explosive saying the forensic laboratory was studying it and they would give a report on that. (with inputs from Ajay Banerjee, Shaurya Karanbir Gurung & agencies)

Israel accuses Iran of bombings
Jerusalem: Israeli Prime Minister Benjamin Netanyahu on Monday blamed Iran and its "protege" Hezbollah of carrying out the twin bomb attacks on Israeli diplomats in India and Georgia, accusing Tehran of being the "world's largest terror exporter".
Addressing lawmakers of his Likud Party, Netanyahu said, "In all those cases, the elements behind these attacks were Iran and its protege Hezbollah."
"Today we witnessed two more terror attacks - in India and Georgia. Iran, which is behind these two attacks, is the world's largest terror exporter. The government of Israel and its security services will continue to cooperate with local authorities against Iran's global terror," he added.
Netanyahu said that other attacks in recent months in Azerbaijan, Thailand and elsewhere were thwarted.
In the past, Iran has accused Israel of being involved in a series of killings of it nuclear scientists involved in its controversial atomic programme.
Earlier, reacting to the incidents, Foreign Minister Avigdor Liberman has said that his country "will not allow terrorism to affect its agenda".
"It just shows that Israel and its citizens face terror inside and outside of Israel," Liberman said.
"We deal with it every day. We know how to identify exactly who is responsible for the attack and who carried it out," he added in an apparent reference to Lebanese Shi'ite faction Hezbollah.
"We will not allow this to affect our agenda," he asserted. Israel's Foreign Ministry Spokesman, Yigal Palmor, confirmed the attack saying that the ministry was "looking into the incident and cooperation with local security forces is excellent".
The incident in New Delhi comes a day after the fourth anniversary of the assassination of Hezbollah deputy leader, Imad Mughniyah, who was killed in a car bomb attack. The Shi'ite Lebanese faction had blamed Israel for the assassination, vowing to avenge the same.
Israel's bureau of counter-terrorism has been constantly warning its citizens and missions abroad around the time of Mughniyeh's death anniversary of a possible attack. — PTI