How to have youthful skin in forties
Dr Gurinderjit Singh
Some features of our body are age-determined —— they are inevitable. Others are age-related and result from a combination of factors such as lack of exercise, poor diet, cigarette smoking, heavy alcohol consumption or exposure to sunlight. Age-related changes can, therefore, be slowed or prevented by a healthy lifestyle and this remains worth encouraging even in old age.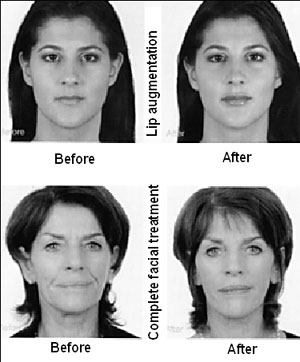 Common complaints related to aging skin are wrinkles, dryness of the skin, skin tags, warts, moles, cellulite accumulation, dark circles around the eyes and abnormal facial hairs in females.
MANAGEMENT OF AGING SKIN
A. SUN PROTECTION
Perhaps the single most cost effective therapy that can be offered to patients is sun protection in the form of sun avoidance, sun-protective clothing and sunscreens. Peak time for sun exposure is between 10 a.m. and 4 p.m. and sun avoidance should be encouraged during this time.
B. MEDICAL INTERVENTION  
Medical intervention in the form of cosmeceuticals (cosmetics with active ingredients) when applied locally and certain supplements when taken orally help in delaying or preventing extrinsic aging. The agents that can be used locally are tretinoin, retinols, tazarotene, vitamin-C serum and alpha hydroxy acids. Orally effective agents are vitamin-C, antioxidant supplements, alpha lipoic acid, estrogens (when taken under medical supervision by women), growth factors and cytokines.
C. COSMETIC DERMATOLOGIC REJUVENATION PROCEDURES
1 Chemical peels
Various medium-depth and deep chemical peels are used to improve the sun-damaged textural changes and also to help promote new collagen. These are simple cost- effective and office procedures, which are widely used as anti-aging rejuvenating procedures.
2. Resurfacing techniques
Microdermabrasion uses aluminium oxide crystals to abrade the old superficial layers of the skin, thus leading to fresh glowing skin, whereas diamond peeling uses the precious metal to remove the blemished skin to produce the same effect.
3. Laser systems
The carbon dioxide laser has been the gold standard for ablative re-surfacing. The results are dramatic when treating severely photo-damaged skin but the down-time required for recovery is long and there is always the risk of hyperpigmentation in Indian skin.
Newer techniques, including the erbium yag systems, fractional lasers and plasma skin regeneration devices are used to treat a variety of skin disorders while offering shorter recovery time and improved safety.
4. Radio frequency technology
The best candidates for radio-frequency skin tightening include patients of a younger age group with mild laxity. The deeper layers of skin are given controlled heat but at the same time fully protecting the superficial layers from burns. This leads to collagen shrinkage upon healing, thus leading to ironing out of wrinkles.
5. Bothlinum toxin (BTX)
It weakens the overactive muscle contraction causing flattening of the facial skin, thus leading to improved cosmetic appearance. The BTX injection is a very well tolerated, low invasive and non-surgical method to treat hyperkinetic wrinkles. The effect, though temporary, is extremely popular with the people mainly because of no side-effects.
6. Soft tissue augmentation (fillers)
When combined with the increasing popularity of injectable botox and other office-based procedures, the role of injectable fillers continues to expand in the management of aging skin. These are effective in erasing static wrinkles and lines.
In an attempt to delay facial skin damage, the responsible causes for aging — mainly elastic and collagen fibre degradation and mimetic muscles of facial expressions — have to be targeted. It is important to have an excellent concept of the three dimensional aspect of the face and the neck. Only then the various above-mentioned treatment modalities could be used as a monotherapy or combination treatment to achieve a desirable overall effect.
The patients must know that they will continue to age because of collagen breakdown as well as being subjected to the forces of gravity. It is also important to make sure that the patients take responsibility for skin care, including high-grade cosmecutical or pharmaceutical preparations known to stimulate collagen synthesis, as well as practising excellent sun protection to save the investment they have made in their skin.
The writer is Chief Dermatologist and Laser Surgeon, Mohan Dai Oswal Multispeciality & Cancer Hospital, Ludhiana.