Conquer stress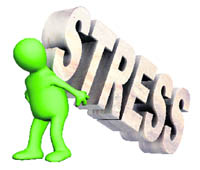 There are several reasons that add to stress load among students. In today's fast paced competitive world, students have to ensure that they consistently score good marks in order to be able to make it not only to the next class, but more so, to qualify for admissions to college. With increasing numbers competing for limited seats in the better known and recognised institutions, those who are unable to cope, or slacken in their studies in any way, feel the pressure of competition.


Go for the best


Gearing up for NDA exam


Stay confident in your job hunt


Age bar
IN CONVERSATION
A tough call
The corporate and MNC culture may have attracted a large number of youngsters with its golden pay packages and promise of an elite lifestyle, yet the civil services still remain the ultimate choice for those looking for a satisfying and prestigious career.
CAREER COMPASS
Practical adventurers
Realistic people like to work on practical, hands-on problems and their solutions. They enjoy dealing with real-world materials, including tools and machinery.


Thriving on thrills


Innovative techies


Wizards of audio
Course CHAT
International leather technology courses
University of Northampton (UK) invites applications for its Leather Technology courses.
OFFICE MANTRA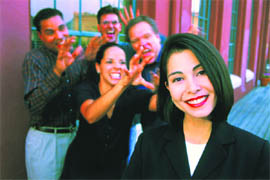 Outmatch green-eyed monster
Jealousy is a natural emotion that starts from childhood, continues into adulthood and lasts throughout our lives. Be it craving for a friend's new bicycle or resenting a colleague's promotion, it can happen to people of all ages. Every professional encounters some form of jealousy, whether deserved or not, from his/her co-workers. More than often it is sparked off when a colleague wants something that we have - a better designation, pay packet or perk.
Unhealthy effects of desk jobs
A British study has said people in desk jobs could be compromising with their health as it often perpetrates a sedentary lifestyle. According to the research, sitting at a desk all day means you are more likely to slump on the sofa at home and perform no exercise.
CareerCature
Sandeep Joshi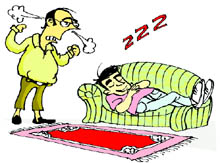 Dad you only wanted me to go for my "dream job".
Clean EXIT
A professional and clean exit is being taken seriously by employees as well as managements across all industries in the country, according to a survey by staffing firm TeamLease.
Happiness @ work
Spouses and success
Behind every worldly successful person there has to be a supporting spouse at home. Not many can fight and win on two fronts — in the professional world and at home. In 1905, freedom fighter Subramania Bharati met Sister Nivedita in Calcutta. On her asking whether he was married, Bharati answered in the affirmative. "Then why don't you include your wife in your fight against the British? Freedom would be meaningless if half of the population i.e. women remain enslaved."