Capital unbound
Reviewed by Aradhika Sharma

Delirious Delhi
by Dave Prager. Harper Collins.
Rs 399. Pages 389.
'Delhi exists in a kind of quantum state: in Delhi, all things are true at once.'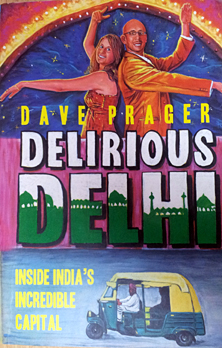 Dave Prager's Delirious Delhi is excessively Indian. To begin with, the cover of the book is exaggeratedly Bharatiya- you know the type of retro Indian art that's much in vogue these days - the truck art sort of art? Well, the cover jumps out at you from the bookshelves with its vivid colours, and its street-poster style graphics. Yet, it's anything but a chalta-hai book. In fact, the observations of the couple from New York give us new insights into what should be completely familiar to us. Are we really like that? We ask while chucking at Dave's funny but observant insights. "We are", is the answer we would give ourselves if we are honest.
The book is the tabulation of experiences of the couple, Dave and Jenny Prager, who have relocated to Delhi from the USA. They stay in Hauz Khas, love visiting Khan Market; they explore the people and streets of the old city armed with maps; and are a part of the group 'Eating out in Delhi'.
In fact, for foreigners today, transfers in India are no longer considered hardship postings but plum employment opportunities that provide varied career options and multicultural lifestyle and experiences of what's best in India to people who are paid in dollars. In fact, after reading the book, if you visit Khan Market, you will realise just how many Daves and Jennys are now forming a part of the corporate and cultural ethnicity of the city.
So, Dave works in Gurgaon, where he commutes by cab every day. In his 400-page book, he has described Delhi as he sees, feels and experiences it. He is ironical and rather tongue-in-cheek about it all, but honest in trying to understand in what constitutes essential spirit of Delhi and just as he thinks that he is beginning to understand, Delhi exposes another completely contradictory facet. Says Dave: "Delhi has no unifying story. Delhi is a blank slate….that means that Delhi is whatever you make of it….at any given point, your experience will be the exact opposite of my experience and we'll both be right."
Delirious Delhi is amusing, fun and insightful. The chapters have names like The First Morning and Other Mysteries, Transportation: How to Get Stuck in traffic (and that. as we all know as true Indians, is true of every one of our cities, not just the Capital). Then there is Shopping; Malls and More For Less; Health: That Which Didn't Kill Us and Expat Issue: We'll Complain Anyway. The author brings a fresh new American consciousness to the Indian experience as we all live it.
Thus Dave talks of maids and auto walas and vegetable vendors and crowded cities and street food. The flow is easy and his joyousness and acceptance of the city comes through nicely. It's an interesting book to read and chuckle over. There are moments when one pauses to recognise a situation that one has been in, in the light of how we must appear to a foreigner: crazy, quarrelsome, defused, but full of joie de vivre and ever accepting of the people who come to our country as guests and learn to either love us or hate us or simply accept us. We are like that only! Oh yeah!