ART & LITERATURE

'ART & SOUL
ENTERTAINMENT

TELEVISION

GARDEN LIFE

NATURE

FOOD TALK

CONSUMERS, BEWARE!

FASHION

GLOBOSCOPE

BRIDGE

ULTA-PULTA
EARLIER FEATURE

TRAVEL

RELATIONSHIPS

DREAM THEME

TIME OFF
Saag to sushi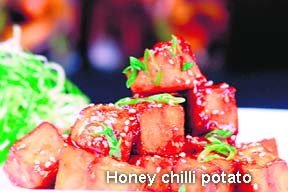 The young city has seen it all — from fast food to fine dining to continental and exotic foods. Angad B. Sodhi checks out changing tastes and evolution of Punjabi palate, which is a reflection of the economic health of Punjabis
If you happen to drive past Chandigarh's foodie mile, the Madhya Marg, you'll see a host of new restaurants that have sprouted up over the last couple of years. There are places conjuring up teppanyaki-grilled food at your table, while others offer prime cuts of tenderloin meat. From sushi rolls to pork chops, bean curd to tofu — just about everything is on offer at these new eateries.
New visual idiom
From photography to painting to sculpture to video works, new-generation artist Reena Saini Kallat likes to work in different mediums, writes Nonika Singh
She is the quintessential new-generation artist. Young, stylish and pretty, she loves to work in unconventional mediums in a dynamic language of contemporary art that defies stereotypes. Yet Mumbai-based artist Reena Saini Kallat often enough harks back to the past. More so to the Partition. Even though she may have been born decades after India was split into two, the cataclysmic moment that divided India continues to define her works time and again.


FRUIT FACTS
Seeds germinate only in water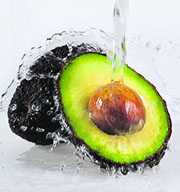 The seeds of avocado fruit do not germinate when planted in soil like seeds of other fruits. These seeds have to be immersed in water with some support e.g. tooth picks. The germination process starts in about three weeks. The seedlings germinate after six weeks when they are transplanted in pots or fields.
— Dr Chiranjit Parmar
Are aliens avoiding us?
If alien life really exists, they would have found humans by now, but consciously avoiding us for unknown reasons, a new study has suggested. Researchers, who calculated the time a society would take to muster up the resources and know-how to travel to another world, found that alien civilisations starting from the oldest stars in the galaxy would have had more than enough time to reach Earth.
Not a model act
It is difficult to judge whether modelling in fashion shows benefits children or not. The glamour and money can make them lose their childhood, writes
Shoma A. Chatterji
Craftworld Events, in partnership with the Retailers Association of India, organised the India Kids Fashion Show last month at a plush hotel in Mumbai. Around 500 children, between four to 14 years, selected from Mumbai, Bengaluru and Delhi, walked the ramp. There were 24 shows, with eight designers displaying their collections each day. Kids sporting stylish apparel, shoes and accessories of renowned designers walked the ramp. The kids zoomed in on the ramp on skateboard and synchronised dance steps.
Energy drinks
To label or not
A group representing the energy drink industry has dismissed calls for greater regulation of the beverages, saying that they are no more dangerous than coffee. Researchers from the University of Sydney and the NSW Poisons Information Centre have called for all energy drinks to carry warning labels, and the Australian Medical Association is calling for age-restrictions on the drinks, after a worrying rise in the number of teenagers becoming ill. However, the energy drinks group has said that the teens who were being admitted to emergency rooms after overdosing on energy drinks amounted to just "0.00001 per cent of the population".
Floating on a dream
On board a boat on a canal near London, Sumitra Senapaty watches the world go by in slow motion
On a boat in canal in London, time in its usual sense ceases to be relevant; it's either time to start the boat, moor your boat and wander in the nearest pub. You cruise past towns and villages, chugging calmly through water meadows with cows and sheep as the only observers. The world floats by if you please at the 'breakneck' speed of barely 4 miles an hour, barely walking pace!
Comic communication
Cashing in on foreign visitors' fascination for royalty and miniature paintings, Rajasthani artist Yug Prasad creates their portraits by giving them a royal look of maharajas or nawabs. He has also created a series of unique travel comic books in an attempt to satirise travel in India through the eyes of a foreigner, writes Moushumi Sen
Return of the baddie
Villains are back in form this season. Wicked, whimsical and wacky, Kancha Cheena, Rauf Lala, Gani Bhai and Jaykant Shikre have certainly captured the boxoffice with their vile antics, says Deepa Karmalkar
Hrithik Roshan may be the calling card of Agneepath, this year's first blockbuster, but even he couldn't help hailing Kancha Cheena as today's Gabbar Singh. Dutt's over-the-top villainy in the bald and bulky guise of Kancha Cheena has certainly made a deep impact in the theatres.
In memory of Kalpana
Kalpana, who burned bright for a brief period on the film firmament, died recently.
Devinder Bir Kaur pays a tribute to the yesteryear heroine who stole many a heart
Shammi Kapoor's "gulbadan" is no more. Kalpana, one of Dev Anand's Teen Deviyan, died last month at Pune battling cancer for five years. Her daughter Preeti Mansukhani and son-in-law Harish were by her side in her last moments. The news of Kalpana's death hardly got reported in the newspapers.