Saag to sushi
The young city has seen it all — from fast food to fine dining to continental and exotic foods.
Angad B. Sodhi checks out changing tastes and evolution of Punjabi palate, which is a reflection of the economic health of Punjabis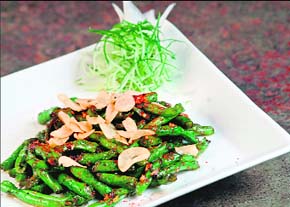 Hung shao green beans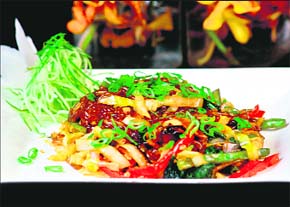 Japchae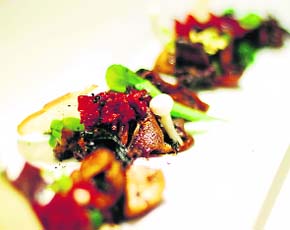 A gathering of mushrooms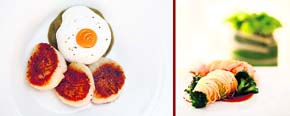 Seared scallops with coconut; (R) Roasted lobster chilli capelino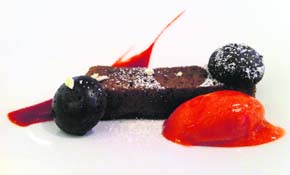 Black cod and coconut miso with eggplant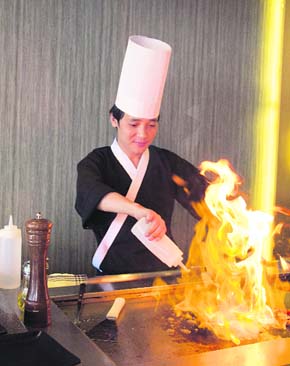 Most new restaurants are selling exotic experiences

If you happen to drive past Chandigarh's foodie mile, the Madhya Marg, you'll see a host of new restaurants that have sprouted up over the last couple of years. There are places conjuring up teppanyaki-grilled food at your table, while others offer prime cuts of tenderloin meat. From sushi rolls to pork chops, bean curd to tofu — just about everything is on offer at these new eateries.
One can't help but wonder, however, that whatever happened to our good old butter chicken, maa ki daal and sarson ka saag? Could it be that our taste-buds are evolving?
If we are what we eat, the typical restaurant-going North Indian's palate is clearly going through a bit of an identity evolution. Globalisation, it seems, is fast catching up. For starters (sometimes quite literally) there seems to be a newfound love for sushi that becomes apparent at Tao in Sector 26 and one of Madhya Marg's newest eateries, Hibachi, in Sector 8. "We get a lot of young people coming in and ordering platters of sushi", says Hibachi's chef Xavier Lepcha, who moved to Chandigarh four months back after working at contemporary Japanese restaurant Yum Yum Tree in New Delhi.
Till a few years back, people would start to get squeamish at the mere mention of this Japanese fast food that was often misconceived as being raw fish. For many over the age of 40, this misconception about sushi seems to stand true even today, explains Dilsher Sukhija, the young entrepreneur behind Hibachi. "It is very difficult to convince people, especially woman attending kitty party lunches, that what they
are thinking of is sashimi", vented Sukhija.
And does he serve sashimi, which is basically fresh raw meat on his menu? "We wouldn't get any takers if we did", came the prompt reply in the negative. Okay, so let's not push it. Even this move to a Japanese roll with no real seasoning other than a little wasabi to tingle the senses is still quite a move away from food drowned in a myriad of flavours that we North Indians have typically tended to favour.
Chef Parampreet Luthra at Shiro in New Delhi, however, believes that this newfound love for sushi is nothing more than an attempt at aping the West, where sushi is all the rage.
Then we have the recently opened Smoke House Deli, restaurant mogul Riyaaz Amlani's first restaurant in Chandigarh. This joint brings to the table dishes such as tenderloin steaks and messy buff (buffalo meat, since beef is still taboo in our country) burgers that seem to appeal to the carnivores among us. And serving caf`E9-style fare, along similar lines to the Deli are homegrown restaurants like Willow Caf`E9, Girl in the Caf`E9 and Backpackers. A common favourite in most of these eateries is the thin-crust pizza
And then there is Bistro, hidden away in Sector 7. Much like the name suggests, this successor to the tiny, but hugely popular Flamme Bois in Sector 35 offers diners a true bistro experience, serving no-frills "old-school continental food" in a comfortable setting. As chef Peter D'Rozario describes it, his menu is retro Anglo-Indian cuisine, "Everything you would get at the Oberoi coffee shop in Delhi in 1972."
Exploring cuisines
But what is it that has brought about this spurt in the restaurant business over the last few years?
"Exposure," exclaims Hot Millions' Mohan Bir Singh. He adds that in a world where it is cheaper to fly to Bangkok than it is to fly to Goa, people are getting more and more exposure to emerging food trends from around the world and want to get the same experiences even when they are back home.
Hibachi's Sukhija, who has introduced the city's first teppanyaki counters in his restaurant, agrees after all it was at a trip abroad that he had first encountered teppanyaki too. He added that it also boils down to the economics of things. "People have big spending power today, and don't seem to mind paying to experiment with and experience new things."
And that is the way it has always been. "Chandigarh's food scene has always been reflective of its economic health and vice versa", said Man Mohan Singh Kohli, whose family started the city's first hotel, Aroma.
Food-savvy city
Chandigarh is one of the few cities where one can still find people who have been living here from the time the city was established in 1953. This short history also makes it easy to trace the evolution of the restaurant scene back to its roots.
It all began towards the latter half of the 1950s when the residents had only two restaurants to choose from. There was the restaurant at the city's oldest hotel Aroma (back then hotels hadn't really adopted the practice of naming their restaurants. This was something that started in the mid-1970s, when a few of the bigger hotels in Delhi did so) and there was Kwality in Sector 17. Then came Gaylord very soon after.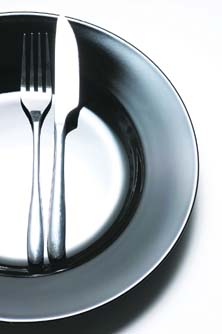 "In the 1950s and 1960s, eating out was solely the domain of the affluent", recalls Kohli, who joined his father's hotel, Aroma back in the 1960s. He reminisces about how dishes like chicken and fish cutlets, gratins and roast chicken, which were popular then, are long forgotten today. "A post-colonial hangover still lingered in those days", he says, adding how back then the Indian elite just wanted to ape the British way of life.
It wasn't until the 1970s that the restaurant scene began to change. "This was when the first generation that was born after Independence became old enough to forge a new cultural identity", says Kohli. And with this new-found identity, emerged the fine dining Indian restaurant culture that went on to linger until well into the 1990s. The 1970s were when the likes of Mehfil and Ghazal opened their doors to diners. This was also the time when people had finally recovered from the financial uncertainty they felt after Partition and were just starting to spend money on eating out and drinking.
Success story
And at the turn of the decade, came one of Chandigarh's greatest success stories, Hot Millions. What started off in 1979 as an ice-cream parlour called Yankee Doodle after Col A. B. Singh retired from the Army soon became a burger joint that many a generation of Chandigarhians grew up swearing by. "Six months after Yankee Doodle started, Hot Millions was born", recalls Mohan Bir Singh, who remembers the risk his father had taken back then, especially when the only cuisine people were fond of was Indian.
Around the same time, there was another restaurant taking a risk by introducing a fine dining restaurant serving Chinese food. This was Chopsticks, a restaurant that introduced so many among us to the wonders of Chinese (more like Chin-jabi) cuisine.

Hibachi serves pan-Asian cuisine. It has introduced the city's first teppanyaki counters in the restaurant. Teppanyaki is a style of Japanese cuisine that uses an iron griddle to cook food. Modern teppanyaki grills are typically propane-heated flat surface grills, and are widely used to cook food in front of the guests.

With the 1980s came the era of militancy in Punjab. "The biggest casualty of militancy was the losses incurred by cinema halls and restaurants", recalls Aroma's Kohli, who went on to explain how it took most restaurateurs the better part of the 1990s, recovering from the setback of the militancy days.
It wasn't till the late 1990s and beginning of the 21st century that new players began to enter into the restaurant business, with chains like Pizza Hut, Moti Mahal and Copper Chimney coming in. And then toward the end of the last decade the floodgates opened till it seems to have got to a point that you blink and a new restaurant opens. Only this time, they're selling brand new and exotic experiences.
Changing tastes
More than the experience and innovation, "It all boils down to taste", believes Shamshul Wahid, the man behind the menu at Delhi's Smoke House Grill and Deli and Chandigarh's Smoke House Deli. In agreement with Wahid, is Bistro's D'Rozario, who believes that the USP of any restaurant should be its food.
And it is interesting to note that while a simple glance at Chandigarh's emerging restaurant scene may lead one to believe that our palates are evolving to leave Indian food behind, a closer look will show otherwise. The only cuisines that hold the interest of our diners (with the exception of cheese-laden pizzas) are those from South Asia and China, which are just as flavoursome and spice laden as our own, if not more. Never fear butter chicken, you will not be forgotten anytime soon.