Saturday witnessed a host of Bollywood guests descend onto city beautiful Ali Zafar, Goldie Behl Aditi Rao, Tusshar Kapoor, Kulraj Randhawa…to name a few.
Jasmine Singh catches up…
No matter how you look at them, talk about their superficial glamourous lifestyles; their endless rumours, break-ups or tie-ups, you simply can't ignore them. This time a couple of them decided to descend on to Chandigarh at the same time and each one had a story to tell —about upcoming projects, journey so far and a few lighter moments that made work interesting.

Melody Magic: Rahul Sharma Photo: Pradeep Tewari
Man of his own notes
Like father like son… santoor player Rahul Sharma, son of santoor maestro Pandit Shiv Kumar Sharma, may have followed in his father's footsteps but his calling is also guided by influences that are very much his own


Balm for the soul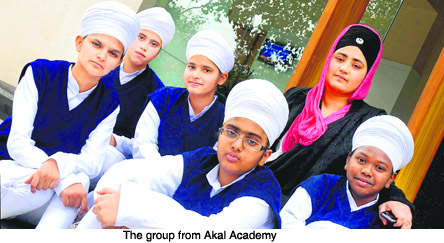 What does a child abandoned in a dustbin at the tender age of two months have to hope from her life ahead? That is exactly where miracles happen. Rampreet's life has been about this. Now at 16, she is grateful that her misfortune at birth brought her in contact with Baba Iqbal Singh, who she now considers her father. It was this contact that brought Rampreet to the Akal Academy, a school being run by the Kalgidhar Trust, in Baru Sahib.
Justice for jodis
Bipasha Basu, R. Madahavan and Omi Vaidya, in Chandigarh to promote their upcoming venture Jodi Breakers, are every bit their real selves
Astro turf
ARIES: Charm, diplomacy, respect and cooperation are far better attributes to employ while dealing with people if you want positive results. Job applications will yield good results.Tarot message: Do what is right and watch out for your best interests. Lucky colour: Pink. Magic number: 65
The year ahead
If your birthday is February 19...
Green thumb
Lines of beauty
In horticulture, we appreciate the trees for foliage and floral beauty and other aspects like its shade. And those who know about the landscape planning also know where to put the plants as per their utilities. There are very few who know about the structural beauty of the plants. But then you need an eye for this.
Item queen

Giselli Monteiro is doing an item song in Pranaam Waalekum. The song is titled Nautanki Queen hoon, India se aayi hoon. She has been practicing for fifteen hours for the song. The film is Sanjay Mishra's directorial debut. Well prepared: Giselli Monteiro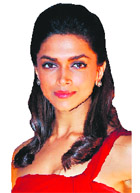 Terms and conditions apply! Deepika Padukone and Ramesh Taurani are almost at war. She has agreed to be a part of Race 2 again and has given a list of conditions to the producers that they must fulfill. She was also advised not to get into monetary hassles with Ramesh Taurani. Playing hard: Deepika Padukone
Young and wise
Yogi Ashwini, in his book Sanatan Kriya, The Ageless Dimension, talks about how to stay young the natural way
Melodious version
The song I'll Do the Talking from the Saif Ali Khan and Kareena Kapoor starrer Agent Vinod is finally out. It has music by Pritam and is sung by Neeraj Sridhar. The lyrics are penned down by Amitabh Bhattacharya and the USP is that the song is Pritam's take on Rasputin by the yesteryear's hit group Boney M. But the song is based more on the Serbian folk song Ruse Kose Curo Imas. A Turkish folk song Uskudar'a Gider Iken also has the same melody.
Jeanetically modified!
Computer experts have invented an avant-garde pair of jeans that are equipped with a set of speakers, a wireless mouse and a keyboard embedded into the upper thigh regions. The dungarees of the dot com age are the brainchild of Dutch twenty-somethings, Erik de Nijs and Tim Smit, of design company Nieuwe Heren, which translates to "new gents", the Discovery News reported. The jeans were designed to "combine fashion and technology," de Nijs said.
Simply stylish
We now have a wide exposure to fashion and trends. The influences can come from Bollywood, Hollywood or the ramp. Young girls and boys today incorporate these influences judiciously and they become fashion icons. Winsome final year student Naina Chhabra sure knows her mind when it comes to fashion:
Chatter box
Bahus' day out
At a women's award function organised by Indian Television Awards, we saw all the bahus of telly town participating for a song and dance event. Rati Pandey, Drasthi Dhami, Suhashi Dhami, Diyanka Tripathi, Jiaa Manek, Priyal Gor, Sanaya Irani and others came together to celebrate womanhood with their varied performances and tributes to women in films.
In the mentor's role
VJ Gaurav Kapur was part of Fox Traveller's new show Freaky Traveller as a judge and mentor. He talks about the project and what excites him the most.
Gulabo skips the ramp
Kalbeliya dancer Gulabo Sapera, who was supposed to walk the ramp Friday for designer Pallavi Jaipur at the Wills Lifestyle India Fashion Week (WIFW), opted out at the last moment after her son met with an accident.
Unlucky in love
George Clooney admits he has had his share of heartache, despite his reputation as a super-confident ladies' man. He has revealed that one of his ex-girlfriends had cheated on him and left him for another guy.
Hands-on mommy
Aishwarya Rai Bachchan is a hands-on mother to her beautiful daughter. She has refused to hire a nanny and does everything for the baby herself.

Biker boys
Vishla Bhardwaj is working with Imran Khan in Matru Ki Bijlee Ka Mandola. Imran is getting fat for the movie and is also sporting a beard along with ear piercings. Now, Vishal has gifted him an expensive bike to ride as part of his preparation work. He wants him to become a better rider. The bike is a Royal Enfield 500 cc and is estimated to cost INR 2 lakh. A source says, "Imran's rustic character is requires that he ride the bike in a few scenes so Vishal wants him to perfect the art of bike riding. He will have to ride on the winding roads of Rajasthan as the film will be shot over there.
Father figure

Superstar Amitabh Bachchan, who had successful abdominal surgery last week, may have to undergo a second operation anytime soon. As a result, his daughter Shweta Nanda cancelled her wedding anniversary party on the 6th of February to be with her father and stayed back in Mumbai. Even his son returned from Jaipur to be by his side. Get well soon: Amitabh Bachchan
Tailor-made
Hollywood actor Hugh Grant wants the Bridget Jones' Diary franchise to be "significantly reinvented". Plans are underway for a third film in the series but the actor—who played Daniel Cleaver in the earlier movies, insists he and co-stars Colin Firth and Renee Zellweger have not yet agreed to appear.
After the Grammy
Singer Adele finds it easier to express her emotions though her songs than in conversation.

Grapevine has it...
Pop star Janet Jackson has hinted at the possibility of joining The X Factor to fill in the gap left by the sacking of Paula Abdul and Nicole Scherzinger. She is in preliminary talks to join the high profile show, which is set for a makeover after poor ratings. Janet Jackson
Sienna Miller joins the cast of A Case Of You
Factory Girl star Sienna Miller and Brendan Fraser have joined the cast of romance-comedy A Case Of You. The 30-year-old, who is expecting her first child with fiance Tom Sturridge in June, will start shooting for the film soon in New York. The cast also includes Justin Long, Evan Rachel Wood, Vince Vaughn and Peter Dinklage.
Poker player!
The recent brawl between SRK and Farah Khan's husband Shirish Kunder was just about cooling down after both sides apparently met and sorted things out. However, SRK doesn't seem to have plans of letting it go so easily. At a recent event where King Khan launched a Don 3 game, our sources heard him passing sarcastic comments about Farah Khan. This occurred when the Don 3 game he was showcasing stopped mid-way, due to some technical glitches. SRK jested that the game seemed to have been choreographed by Farah Khan. We can't help wonder if this was truly said in good humour or is SRK still brooding over the recent incident with Farah and Shirish? Or is this a strategy to keep this PR machinery running?
Two hands full
Actress and mum-of-two Gwyneth Paltrow has ruled out having another child with her rocker husband Chris Martin.
Dream team
Hollywood superstar Tom Hanks says he had a wonderful time working with actress Sandra Bullock in the film Extremely Loud and Incredibly Close. The 55-year-old said he met up with Bullock to discuss the script and bonded instantly.
Dreams can wait@@Newbie Viddhi Parekh is very qualified. She is an engineer but by chance she bagged the lead in the upcoming serial Jamuna Paar on Imagine TV. Viddhi wanted to do her MBA abroad but now with acting coming her way, she has put her dreams on hold.