M A I N N E W S
Italy hardens stance, blames India for ship standoff
Ashok Tuteja & Ajay Banerjee
Tribune News Service
New Delhi, February 20
India and Italy remained locked in a war of words over the killing of two Indian fishermen allegedly mistaken for pirates by Italian Naval personnel deployed for security of an oil tanker off the Kerala coast last Wednesday.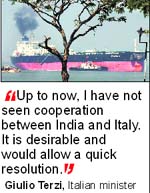 Italian Foreign Minister Giulio Terzi today sought to blame New Delhi for the prolonged stand-off, saying there were "considerable differences" with India over the incident.
"There are currently considerable differences of a legal character. Up to now, I have not seen cooperation between India and Italy would be desirable and would allow a quick resolution," Terzi was quoted as saying in Rome.
This comes a day after Indian External Affairs Minister SM Krishna told Terzi that the Italian mariners and the crew would have to cooperate and join the investigation to allow the law of the land take its course.
Italy says the two marines have immunity from Indian law as the tanker, Enrica Lexie, had an Italian flag in international waters as it sailed from Singapore to Egypt when the shooting occurred.
New Delhi contends the UN Convention of the Law of the Sea (UNCLOS) giving Indian warships the right of "hot pursuit" in case of such an incident. As per the UNCLOS, the territorial waters of a country are till 12 nautical miles (22 km). Another 12 nautical miles beyond the territorial waters is the "contiguous zone". The Italian ship was very much within those limits when the shootout occurred and Article 109 of the UNCLOS accords the right to "hot pursuit".
The two soldiers, who were deployed on the ship under a new law passed in Italy last year to protect against the growing threat from pirates in the Indian Ocean, have been remanded in the custody of Kerala Police till February 23. They will then be remanded in judicial custody for the next 11 days till March 5.
The order was pronounced today by a magistrate in Kollam district in front of whom the duo was produced.