M A I N N E W S
Patnaik's anti-NCTC stand part of his bigger game plan
Anita Katyal
Our Political Correspondent
New Delhi, February 20
Having so far led a fairly reclusive life in distant Odisha, its Chief Minister Naveen Patnaik is now showing signs of spreading his wings and moving to the national political stage.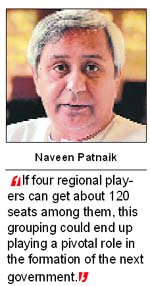 He took the first definite step in this direction last week when he initiated the ongoing protests against the creation of a National Counter Terrorism Centre (NCTC) by eliciting the support of two regional satraps - West Bengal Chief Minister Mamata Banerjee and Tamil Nadu Chief Minister J.Jayalalithaa. The controversy has since snowballed after a host of other opposition Chief Ministers also joined in to oppose the anti-terror body. federalism.
By taking the lead on this issue, Patnaik's immediate target was to discredit the Congress-led UPA government but his main purpose was to declare his intention to play a larger role at the Centre. Patnaik recently spoke about the formation of a secular Third Front and indicated that he was willing to lead such a formation of regional political parties.
Having succeeded in bringing Mamata, Jayalalitha and former Andhra Pradesh Chief Minister N.Chandrababu Naidu together on the NCTC issue, Patnaik's plan is to pursue this cooperation further. The grouping will initially work as a pressure group against the UPA government with the hope that it will emerge as a concrete political force by the time the 2014 Lok Sabha polls draw close.
"If these four regional players can get about 120 seats between them, this grouping could end up playing a pivotal role in the formation of the next government," remarked a Odisha-based political analyst.
Although he has deliberately confined himself to Odisha since his reluctant entry into politics in 1997, Patnaik clearly believes he has sufficient experience and the pedigree to move to the Centre. His popularity and charisma in the state remain undiminished even though he is now into his third term.This was demonstrated when Patnaik's Biju Janata Dal (BJD) swept the recently-concluded zilla parishad elections.
Patnaik has endeared himself to the rural poor with his populist schemes like giving rice at Rs. 2 per kg and bicycles to Class X girls in government schools while a growing middle-class in Odisha identifies with him. Not only has Patnaik gone from strength to strength but he has virtually obliterated the opposition in the state. The BJP, his one-time ally, is practically non-existent while the Congress is thoroughly discredited.
Tipped as a novice, nobody gave Naveen Patnaik an outside chance when he took on his father, Biju Patnaik's political mantle. He was, after all, only known as a jet-setting author whose list of friends included international celebrities like Mike Jagger and Jacqueline Kennedy. Patnaik, however, learnt fast on the job, proving to be an intuitive political player.
Even though a number of scams surfaced during his tenure, Patnaik made sure that his assiduously cultivated image and credibility remained untouched. Despite his gentle demeanour, he can be ruthless when it comes to protecting his reputation and government. He has not hesitated to drop inconvenient ministers once they became embroiled in controversies. He recently showed the door to excise minister AU Singhdeo, his close confidant and school friend, when a hooch tragedy threatened Patnaik's government. Similarly, he was quick to drop agriculture minister Pradeep Maharathy over his alleged involvement in a rape case.