M A I N N E W S
Centre ready with multi-pronged approach on NCTC
Ajay Banerjee/TNS
THE ASSURANCES
There will be no trampling of federal unity
There will be sufficient safeguards to check clandestine arrests
States' ATS chiefs will be on the council controlling the NCTC
The NCTC will have to inform states immediately after arresting a person
Those arrested will be handed over to the SHO of the nearest police station
New Delhi, February 22
In the backdrop of Prime Minister Manmohan Singh asking Union Home Minister P Chidambaram to consult the states and address their concerns over the National Counter Terrorism Centre (NCTC), the Home Ministry is ready with multi-pronged approach.
This will include an assurance to protesting Chief Ministers that powers of the states will not be diluted; the state police forces will not be "out of the loop" when counter-terrorism operations are conducted; senior officers of the state police forces will be on the standing council of the NCTC that will run the body and lastly the NCTC does not enjoy any sweeping powers to arrest persons or seize property of individuals without informing the SHO of the nearest police station.
Among the key issues that the Home Minister will address is that there is no scope for the NCTC operational wing to misuse its powers to arrest. The NCTC enjoys such powers under Section 43 (A) of the Unlawful Activities Prevention Act (UAPA). Section 43 (B) of the same Act provides for a procedure to prevent any misuse. This makes it mandatory to immediately inform states while carrying out an arrest or seizing property anywhere. It also prevents any clandestine arrests, as feared by the protesting states, which have complained that powers to arrest can be misused to settle political scores.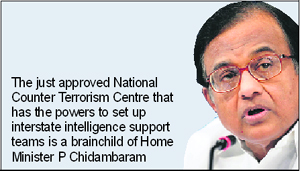 The UAPA was amended in the aftermath of the 2008 Mumbai attacks.
Sources said the states' concerns would be adequately addressed in the coming days. "It is just that the response is being fine-tuned," they added.
The fear of the states that the NCTC provisions can be misused stems from Section 43(A) of the UAPA. This says: A person (suspect) may be arrested by "any officer of the designated authority".
Crucially Section 43 (B) is very clear: "Any officer arresting a person under Section 43A shall … inform him of the grounds of arrest… Every arrested person and article seized under Section 43A shall be forwarded without unnecessary delay to the officer in charge of the nearest police station."
In other words, the arrested person, or any material seized from him has to be handed over to the SHO of the nearest police station, which will be under the control of the state DGP.
Besides, the NCTC will not be a standalone body functioning like an autocrat from behind the walls in the North Block, the office of the IB. A standing council will run the NCTC. It shall have the Director and three Joint Directors of the NCTC besides heads of the anti-terrorist force in each state. The council can also hold video-conferencing to discuss matters. It will ensure that the NCTC is the single point of control and coordination vis-a-vis all counter-terrorism measures.