A lifetime is not enough
He has seen it all — from the horrors of Partition to the muzzling of Press during the Emergency — and still retains his idealism and continues to dream. Kuldip Nayar talks to Aruti Nayar about his life and work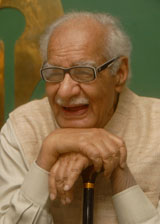 Kuldip Nayar: "I still dare to dream"
It is difficult to believe that the impassioned man, Kuldip Nayar, sitting in his room at the Mariott, Chandigarh, is all of 88 years. So enthused is he about still 'making a difference,' that too in all his various roles——be it as a columnist who writes for more than 80 newspapers and in most Indian languages, or as a human rights activist who firmly opposes any attempt to muzzle freedom of expression or as a peacenik who religiously lights candles at the Wagah border for India-Pakistan friendship. The 15 books which he has penned over the years, include Between the Lines, Distant Neighbours: A Tale of the Subcontinent, India after Nehru, Wall at Wagah, India-Pakistan Relationship, The Martyr, Scoop and India House. Nayar's name is synonymous with freedom of the Press. In the city for a lecture at the Panjab University on Partition and at the local Rotary Club on family values, he shares his views on a lifetime in journalism. Without rancour, he talks of the changing ethos of journalism: "Now you are selling a product, so accordingly your approach is commercial. Whenever an envelope marked BM (Business Must) came to the desk during our time, we just tore it up and threw it in the bin without even opening it," he chuckles and goes on to say, "It is something unimaginable in the present scenario when it is business that rules. Journalists then were crusaders and commitment was the norm, rather than an exception." However, he feels even though it may have become just a job and is not a mission in the present times, even as communicators journalists have a responsibility towards the readers.
Thanks to the electronic media, there is sensationalism and a tabloidisation of even the mainstream newspapers and 'paid news' defeats the very purpose of 'news'. So one does not know what's a plug and why something is being interpreted the way it is. There was a time that news columns were sacred and with his characteristic understated humour, he says, "Now there is news in editorials and editorialising in news!"
Nayar feels that deals are being brokered not only by the owners but also by individuals in their own capacity. Of course, there are temptations galore, junkets, club memberships, shares and suit lengths and, "Even though there is no Emergency, they are willing to fall in line and crawl." He pins his hopes on the young entrants to the media. Of course, "It depends upon how long will they will be able to retain their idealism, when the society around them is so greedy and everything around them is weighed in terms of money."
Born in Sialkot, a student of FC College, Lahore and the Law College, he did his journalism from the Medill School of Journalism, in the Northwestern University in UK on a scholarship. Interestingly, it was the veteran journalist Khushwant Singh who taught him company law at Law College in Lahore. Nayar feels politics still dominates our life and various activities and the Emergency was a milestone because,"After the Emergency, arrests and detention, morality was ousted from public life. There is no Lakshman rekha now." He feels strongly about retrieving morality and strengthening "our ethos of Independence, democracy and the welfare state". During the Emergency, he was accused of defying the government and raising his voice and urging people to oppose the muzzling of democracy. There was tremendous response from people, which resulted in his detention for three months. Even when he became a Rajya Sabha MP, both the Congress and the BJP did not speak to him. If it was the Congress' lack of adherence to democracy and criminalisation of politics he was against it was his anti-Hindutva stand against the BJP which alienated him. He is happy that he was shunned by both! About Anna Hazare's anti-corruption crusade, Nayar feels people's movements should never fail. "I had requested them not to suspend it, once the momentum gets lost, it is difficult to re-harness the tremendous energy, unless you are a Gandhi".
What about the motivators for a generation (the children of the 1980s, who are young adults now)that is equally clueless about the Emergency as it is about Partition and Independence? "The sacrifices of our heroes of the freedom struggle need to be drilled into the youth while they are still in school. They need to connect and be inspired from them," maintains Nayar who has dedicated Without Fear, The Life and Trial of Bhagat Singh to his three grandchildren.His autobiography, A Lifetime is Not Enough, has been published in by Roli Books. It will be available in almost all Indian languages. book in Punjabi, Closest to his heart is a book he wants to write in Punjabi, Mainu Anhera Kyun Nahin Lagda, (Why don't I feel the dark?) because he wants to talk of his life in his mother tongue. "I still dream!" ends the idealist, for whom even a lifetime is not enough to make a difference.