M A I N N E W S
Norway kids' custody drama nears end
Ashok Tuteja/TNS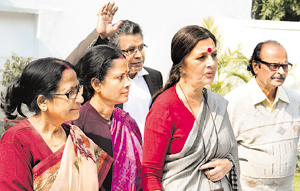 Brinda Karat addresses mediapersons in New Delhi on Tuesday. Tribune photo: Mukesh Aggarwal

New Delhi, February 28
The government partially succeeded in its attempt to bring to a happy end to the saga of the NRI children at the centre of a custody row in Norway when the Norwegian Child Welfare Service today decided to award their custody to their uncle. This would enable him to bring the children back to India.
"This week, the Child Welfare Service (CWS) in Stavanger completed its talks with the uncle in the child welfare case concerning two Indian children. It has been concluded that care of the two children should be awarded to the brother of the children's father enabling him to take the children back to India," the Stavanger Municipality said in a press release posted on its website.
"This arrangement requires, however, that the CWS ensures that the necessary legal framework and follow-up procedures are in place in order to safeguard the children's best interests and enable the uncle to deal with the situation in the best possible way," it added.
The proposed solution will be presented to the Stavanger District Court on March 23, which will take the final decision in the case.
The release said: "The Norwegian authorities will ask the Indian authorities to ensure the necessary follow-up for the children in the event of their return to India. In order to process the case of the two Indian children who were taken into the care of Stavanger Municipality and placed in a foster home, the Child Welfare Service has had to apply for an extension to the children's residence permits," it said.
Abhigyan (1) and Aishwarya (3), children of Anurup and Sagarika Bhattacharya, an NRI couple living there, were taken away by Barnevarne Norwegian CWS last May on the ground of "emotional disconnect" and put in a foster home.
Meanwhile, the grandparents of the kids, sitting on a 'dharna' here since yesterday, met External Affairs Minister SM Krishna today and urged him to make every effort to ensure that the children returned to India.
Krishna briefed them on government efforts and said the children would be brought home at any cost, CPM's Brinda Karat, who accompanied the grandparents to the meeting, said.
The kids' grandfather said they were satisfied with their meeting with Krishna and hoped for a "positive" outcome. He was appreciative of the fact that the government had sent special envoy Madhusudan Ganapathi to Norway to pursue the case.