Delhi terror plot foiled, 2 LeT men held
Operatives were planning to strike at a crowded market in the Capital; had trained in Pakistan
Shaurya Karanbir Gurung/TNS
New Delhi, February 29
The Delhi Police today arrested two suspected Lashkar-e-Toiba operatives who were allegedly planning to carry out a major terror strike at a crowded market in the National Capital.
The duo, both of them Indian nationals, were arrested from South Delhi's Tughlakabad Extension where they were staying on rent in a joint-operation with central intelligence agencies and police forces of Jharkhand and Jammu and Kashmir. While one of them belongs to Jharkhand's Hazaribagh, a Naxal-dominated area, the other was living in Delhi. When asked whether the module had any links with Naxals, investigators answered in the negative.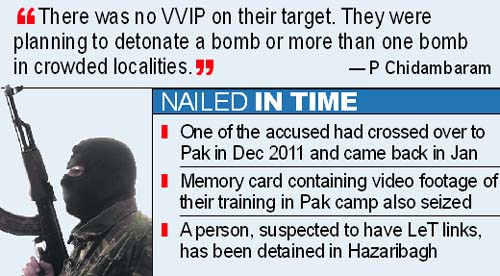 Giving only brief details about the case as operation was still continuing to nab more terrorists of the module, Delhi Police Commissioner BK Gupta said this evening that the two men were planning to conduct a major terror strike at a crowded market in the National Capital. Home Minister P Chidambaram had said that the first information was that they were not targeting any VVIP's.
"It is a very important breakthrough," Chidambaram said while complimenting security agencies. Today's operation underscores the need for a National Counter Terrorism Centre (NCTC) for coordination, he said.
The two Lashkar cadres, in their mid-twenties, were trained in Pakistan, according to Commissioner Gupta. The police has presently not revealed their identity. "The two operatives were imparted weapons training. They are also experts in making an Improvised Explosive Device (IED)," Gupta said.
Special Commissioner of Delhi Police (Special Cell), PN Aggarwal said one of the accused had crossed over to Pakistan in December 2011. "He came back to India in January this year," he said.
The police has seized some mobile phones, passports, a matrix (code language used for communication), literature and explosives such as sulphuric acid, which was to be used in IEDs. A memory card chip containing video footage of the training of the operatives in a camp in Pakistan was also seized by the police.
"The arrest of the two men has prevented a terror strike in the National Capital," Aggarwal claimed. Asked whether the arrested persons were involved in the recent attack on Israeli embassy car, he said, he did not think so. Aggarwal said he was hopeful of arresting one or two more operatives.
The LeT and its operatives were behind the November 2008 Mumbai terror attacks which left 166 dead.
Earlier, Chidambaram said, "There was no VVIP on their target". They were planning to detonate a bomb or more than one bomb in crowded localities," he said, adding more details would come after their detailed questioning. Some more people have been detained in this connection, he said.
The accused were presented at a city court and were sent to police custody for 10 days. A case under the Unlawful Activities (Prevention) Act has been registered by the police.
(With PTI inputs)