M A I N N E W S
World Children Report 2012
Here, human bones are kids' toys
Aditi Tandon/TNS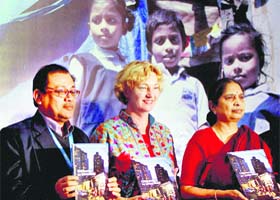 UNICEF Representative Karin Hulshof (second from left) releases the report in New Delhi. — PTI
New Delhi, February 29
In Nellore, the southern, coastal district of Andhra Pradesh, hordes of migrant families from bordering Tamil Nadu have squatted along the cremation grounds to escape eviction from the local authorities. The children here play with femur and tibia bones, skull as the drum and use garlands worn by corpses.
This shocking narration of the state of urban poor children by Shanta Sinha, Chairperson of the National Commission for Protection of Child Rights, became the reference point today for discussions around UNICEF's Flagship State of the World Children Report 2012, which says urbanisation is leaving billions of children in cities across the world excluded from vital services.
More than 50 per cent of the world's population today lives in urban areas. Of these, one billion are children, devoid of any semblance of decent living.
In India, 377 million live in the urban centres. Out of them, 97 million are urban poor (the lowest 25 pc section) as per Census 2011 data. An estimated 535 million will live in towns by 2026. This would be 40 pc of India's population.
The differential between urban non poor and urban poor children is huge. For instance, more urban poor children below five are underweight than rural children in the same group. While 47 pc urban poor kids are underweight, 46 pc rural are underweight as against 33 pc urban children.
There is a shocking -- 13 point difference in the Infant Mortality Rates among urban non poor and urban poor children; 54 per cent more infants die in urban poor families.
That's not all — 20 per cent more children are anaemic among urban poor than among the urban non poor and one in every two children among the urban poor is underweight.
Speaking to The Tribune, KD Maiti of UNICEF, who disaggregated the development indicator data, said almost half the girls (48 pc) in the urban poor families get married before 18 years — the same percentage as rural areas. "The primary reason behind more urban poor infants dying than urban non poor is the former's lack of access to sanitation. About 62 pc urban poor households defecate in the open as compared to 66 pc rural and 19 pc urban non poor households," he said.
Even on health services, the access of urban poor is shockingly low with one in two women managing safe deliveries and 6 in every 10 being anaemic (more than in rural areas).
Shocking Facts
54% more infants die among urban poor than among urban non-poor
More urban poor children below five are underweight than rural children in the same group
20% more children are anaemic among urban poor than among the urban non-poor