Simply complicated!
Singer Mika talks about his successful run in the industry and what makes him popular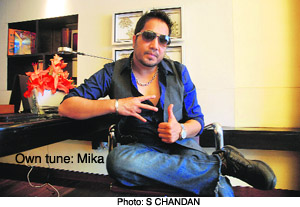 How does bagging a Filmfare Award matter! How much of a deal is it to work with the best music directors in the industry! And how does it mean a lot to sing for A-list actors! Minus everything that qualifies one as a talented playback singer; Mika is there and on the top. You need a confirmation? Ask any DJ or a party-hopper how many times Tu Mera Hero is played; for that matter, the scene isn't very different at weddings. "Fans tell me that a party begins with the song and ends with it. To a singer, this is the biggest compliment," says Mika, the voice behind the superhit track of the movie Desi Boyz. The song is just the beginning of his list of 30 hit tracks in the last one year. He was in Chandigarh on Wednesday to perform at the opening of World Series Hockey tournament.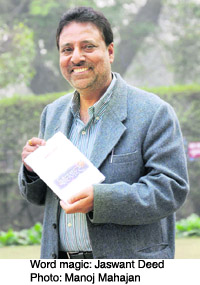 Poetic musings
Well-known poet Jaswant Deed whose latest book of poetry Aawagavn has hit the market talks about his creative process
Sahitya Akademi award recipient Jaswant Deed may not be a prolific poet, but words remain the cause cèlébre of his life. Na mein aadi, na anant daa jaaeya, naa mein jamna marna, Mein taan akharan de junein hi aawagaman cha rahena. Others may pray for moksha, he seeks no respite from the web of words and would like to be reborn a writer time and again. So he continues to create the poetic imagery of the modern world, the struggle of contemporary man, man-woman relationships and much more. On love, his stance is candid, "There is no permanence in love. If first love is special, the second, third and fourth can be equally exhilarating."
How can I do justice to the experiences of others? I must first internalise what I write...It is a myth that nobody reads. There are enough readers, moreso among the younger generation. — Jaswant Deed

Sporty story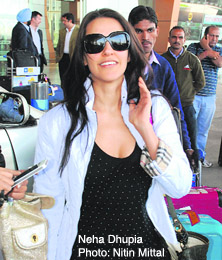 Neha Dhupia, in Chandigarh for World Series Hockey tournament, says she will be seen a lot this year
When was the last time you heard this one…there are only two things that sell in our country — cricket and Shah Rukh Khan. Well, looks like a long time, for we had many other things that made a foray into the list. Politics, of course, rushed to secure a place. Revising the statement…it is the Khans (all kinds), sports and Bollywood that sells. So, raise a toast to the much-ignored game of the country, as it comes out from the hibernation with World Series Hockey tournament. We bumped into a bold and beautiful actress who too is all set to come out of 'missing in action' phase — Neha Dhupia. All ready to set the stage on fire with her performance, Neha is undoubtedly a loyal cheer girl when it comes to sports!

'80s allure
Madhuri inspires Chitrangada's look in Kaafirana
Chitrangada Singh, who has done an item-song for Shirish Kunder's Joker, says her look in the song is inspired by Madhuri Dixit's in the song Humko aajkal hai from Sailaab. "I don't like to call it an item song, it is a dance performance that I have done for the film. It's called Kaafirana and it is very rustic, very 1980s in its look and it is a little bit of Madhuri from Sailaab, that's the kind of look that we have been inspired from," said Chitrangada.
INSPIRED Look: Chitrangada
Astro Turf
ARIES: Do not let ego clashes spoil your family life. You will have to watch your emotions. Operate today with the future in mind. You are bubbling with excitement. A strong focus on social activities suggests fun and romance. Tarot message: Lay emphasis on spiritual needs. Lucky colour: Metallic grey. Magic number: 28


Pun'jab'

Sandeep Joshi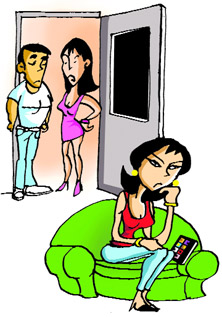 Down syndrome: Life's a sad song when you fail to download i-tunes.

The year ahead
If your birthday is March 1...
Chatter box
Vidya's kahaani on TV
After Colors' Uttaran, Vidya Balan will be seen in a guest appearance promoting her upcoming Bollywood flick, Kahaani on Zee TV's Hitler Didi. She has shot with Indira (Rati Pandey) and Rishi (Sumit Vats) and she will be seen searching for her husband.
A glimpse of Manjit's world
The art and life of artist Manjit Bawa will come alive at Government Museum and Art Gallery on March 2
The Chandigarh Lalit Kala Akademi is organising an interactive session, The Art and Life of Manjit Bawa, with curator, art critic and author Ina Puri. The national award-winning documentary film Meeting Manjit will also be screened at the auditorium of the Government Museum and Art Gallery on this occasion. Meeting Manjit is based on three parallel journeys-the filmmaker's own journey through the world of Manjit, Puri's, who scans the change in Manjit's style of painting and Manjit's own, who talks to himself, sometimes of his present days and sometimes going back to the past.
green thumb
Win-some tips
Spring is the time when the winter annuals are at their best. This is also the time when garden and flower shows and competitions are held. Did you ever think of participating? Try your luck this time. Who knows your efforts may bear fruits and become the winner. Only follow these tips. It is important to strictly follow the rules of the show and for this there are brochures available with the organisers. For example, if you want to participate in cut-flower section and you are required to display two stems in stock, then keep only two. Putting more may disqualify you. The vases are provided by the organisers. Choose the ones that are not leaking. Also, see that the base of the vase is broad and heavy. This is due to the fact that blooms like dahlia, stock etc are very heavy-headed with large twigs and that make the vase unstable.

In full bloom: Get ready to take part in flower shows




TRENDSETTER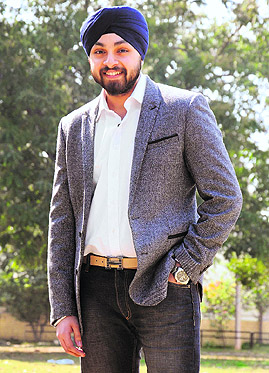 Cool comfort
There are very few who have drop-dead gorgeous looks and a great resume. After his graduation from Panjab University, this lad moved to London and completed his specialisation from the London School of Economics. Prabhjot Singh Makkar, all of 21, and already taking care of his family business, wears his turban with pride. We find out more about his style and more.
Your sense of style is…
Cool and understated. I like to keep in trend with the latest fashion but not at the cost of comfort and quality.
Latest addition in your wardrobe...
It's a custom-made shoe that I had designed with blue punched suede leather.
Brand freak or street junkie?
Neither. I wear whatever rocks my style boat—be it from the high street or top brands.
Choose a look—sporty, glamorous or chic
Glamorous or elegant for me.
Photo: Manoj Mahajan
Colour of love
A group of students and professionals come together in an attempt to stand up on their own two artistic feet

Missing report
Handsome Gaurav Chopra, who became an integral part of Color's Uttaran, will now be missing from the show. He explains why
Are you leaving the show?
No. I am going on a 40-day break to shoot for a film. I talked about my leave with the producers and thankfully things worked out well. My character Rathore will be missing from the show for a while. Break time: Gaurav Chopra
Katrina gets her dream role!
Katrina Kaif is playing a double role in the remake of Seeta Aur Geeta. Katrina will have to make time from her busy schedule to do this movie. The Sippy family feud has been resolved so the movie can go on floors. Abhay Deol and Akshay Kumar will be her co-stars.


Dabangg 2 finally begins rolling on March 9. Producers Arbaaz and Malaika are keen on having Kareena Kapoor do an item song. She hasn't done one in a while. Will she take it up? She is good friends with all of them!

Team spirit: Malaika and Arbaaz Khan
Sonakshi is tech savvy!
Sonakshi Sinha is from the current generation so it is natural that she loves technology and gadgets. She talks about her fascination for all things new and modern.
Bollywood is Veena's family!
Pakistani actor Veena Malik has said that she feels extremely comfortable working in Bollywood and considers the tinsel town as her own family. Malik, who rose to fame by her stint in Bigg Boss season four, made the comments at her birthday party in Mumbai on February 26 that filmmaker Hemant Madhukar threw for her.
Master Chef
Minty paneer
Our very wholesome paneer (cottage cheese) now has found a place of honour in the gourmet world. The trick of preparing any delectable snack with paneer is to keep it soft inside and a crunchy outer covering while enhancing the taste with flavoured herbs and seasonings. This pudina paneer tikka does just that.
Sonu Sood to play Dawood
After playing a negative character in Dabangg, actor Sonu Sood is gearing up to essay the role of Dawood Ibrahim in Shootout at Wadala. In Sanjay Gupta's next, Sonu essays the role of the underworld don. Earlier, Vivek Oberoi was signed for the role but he had a fallout with Sanjay.
Not so tweet


Hannah Montana star Miley Cyrus is urging Twitter bosses to implement new safety controls after she received a number of menacing messages through the social networking website. The 19-year-old singer-actress was left fuming when one follower told her she "dresses like white trash" and urged her "to die", reported a publication online. Tit for tat: Miley Cyrus
Jennifer Aniston sent Angelina Jolie flowers?
The Friends star putting the past behind her...
Former Friends star Jennifer Aniston reportedly sent Angelina Jolie flowers to congratulate her on her directorial debut In the Land of Blood and Honey. The pair have been pitted against each other since Brad Pitt, 48, left Aniston in 2005 and started a relationship with Jolie, 36, who he met on the sets of their film Mr and Mrs Smith, reported a website.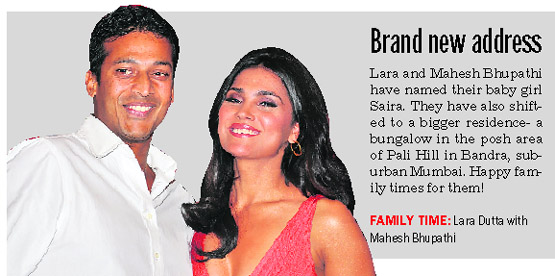 Lowest common factor
Anne Hathaway, says she empathises with troubled actress Lindsay Lohan
One Day star Anne Hathaway, who recently got engaged to longtime boyfriend Adam Shulman, says she empathises with troubled actress Lindsay Lohan because she too has made the same mistakes.
Same difference: Anne Hathaway
Don't be judgmental: Julia Roberts
Hollywood actress Julia Roberts says young stars should be allowed to make mistakes and not be judged so quickly. The 44-year-old also said she is bothered that the youngsters are not given a fair chance to deal with their problems when in the public eye, as compared to when she started in the business decades ago.
Women love to date, no matter who pays
It seems when it comes to dating, women just love it. A British study has found women to be taking the lead when it comes to finding love, with one-fourth of them dating three or more men at the same time. Research shows that the average single female is regularly seeing at least two prospective partners at one time and they date five men a year.
Flop shows
Jodi Breakers (Bipasha and R Madhavan) and Tere Naal Love Ho Gaya (Riteish-Genelia) are both romantic comedies. Despite heavy promotions, the films have tanked at the box office and received bad to average reviews.
Star struck!
Karan Johar says he has had only one star-struck moment! That was when he met the incomparable Meryl Streep at the Golden Globes ceremony in 2009. He was thrilled that she won an Oscar for The Iron Lady this year.



Relationship status
Model turned actor Vidyut Jamwval who was seen in Force admits to a committed relationship with popular television actress Mona Singh. We wish them happiness! Taken: Vidyut Jamwval

Entry and exit
Karan Johar is launching another season of Koffee with Karan. He may not invite Priyanka Chopra because she has been linked with SRK and Johar is close to SRK's wife Gauri, who clearly doesn't fancy her. Emraan Hashmi will be the new entrant on the show which will feature Karan's usual coterie of A-listers. All new : Karan Johar
It's a boy!
Hollywood actress Jennifer Garner has become a proud mother of a baby boy after she gave birth on Wednesday. The 39-year-old actress and husband Ben Affleck already raise two daughters Violet, six and Seraphina, three, reported a magazine. Earlier this month the couple revealed they had decided to let their daughters choose the name of their unborn child. — PTI