PACESETTER Jayesh Sachdev
A Brilliant Madness
Anandita Gupta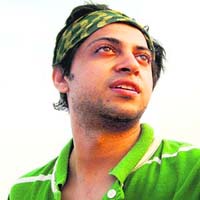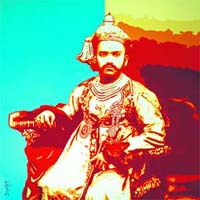 Maharaja, an artwork, by Jayesh Sachdev
AT 30, Jayesh Sachdev could easily be called Andy Warhol of India. Among the few artists in India, who specialise in pop art, Jayesh has taken up Bollywood, Amar Chitrakatha, Kamasutra and Indian history as themes for his creations at various multiplexes and public spaces. Young at art and cheeky to boot, the only common element running through his body of work is his connectedness to the Indian popular culture. The genre of pop art essentially came into being after the 1970s. It draws inspiration from mass culture such as iconic figures, comic books and advertising. "The viewer always has something to identify with when he sees representations of common objects, personalities and ideas, which are known to him," says Jayesh.
Drawing inspiration from legendary pop artists Andy Warhol and Roy Lichtenstein, Jayesh was acknowledged by the British Council among India's top five "Young Arts Entrepreneurs" in 2008. He also holds the national record for having painted India's largest concept artwork — a never-before initiated concept of "Tyre-Art" — on a 40ftx40ft canvas. Having exhibited across New York, India, Singapore, Paris and Miami, Jayesh is the creative force behind the path-breaking art-and-design gallery: Emblem Studios. The brainchild of Jayesh, Emblem is a contemporary art-and-design gallery that turns art viewing into an exciting experience. Featured among the 12 most popular galleries in India by India Today in 2008, Emblem showcases first-timers and emerging artists, who lack opportunity. Open only after sunset, when most galleries close for the day, it carries on business for guests from 6 pm to 11.30 pm. The pop artist has also been involved with innumerable charity events and was also the finalist of the Tiger Translate Arts Awards (2008).
The progressive pop artist has his easels firmly set for Bollywood. Acclaimed film personalities like Priyanka Chopra and Subhash Ghai are among the private collectors of his pop-art portraits. Moreover, he is the only Indian artist to be commissioned with Bollywood walk of fame, a series of 56 hand-painted acrylic-on-canvas works, that pay a tribute to the iconic stars from the silent era of 1930s till the stars of 2009.
The Pune-based artist is just back from New York, where he showcased his work under the patronage of French Countess Stephanie Dorlgandes. The dynamic art entrepreneur, who launched three companies by the age of 26, has even directed Sachin Tendulkar in a TV commercial ad.
In 2010, he launched his new company Quirk Box and its fashion and lifestyle label "Stuck with stupid". He founded this company, along with Rixi Bhatia, another award-winning creative entrepreneur.
The company' website has had close to two millions hits in its brief stint in the market, and has gone on to stock in exclusive stores across the country, including the Leela Palace Hotels across India and the Attic in Mumbai. It has also gone international, with the Trondheim Art Museum, Norway and London, among several others.

Centrespread: Here come the next gen SUVs
fast, flashy & furious
Here come the next gen of SUVs that introduce a host of new features apart from being...
Jasmine Singh
SOME people need more car than others. They want to go beyond the safety, comfort and convenience factors that are the reason for buying cars.
SUVs are made for them. S-U-V stands for Sports Utility Vehicle and its defining profile is big and flashy. An SUV is a dependable off-roading machine that looks great parked in your garage. Car dealers are convinced that 2012 will be the year of SUVs.
Big and flashy
Now in any vehicle, be it a car or an SUV, you're likely to reach your destination in good shape, regardless of the weather and drive long distances with little fatigue, and God forbid, in case of an accident, you have a good chance of coming out of it alive and with minimum damage. With an SUV, however, transporting a battalion of children is no problem, picking up an aunt and three big suitcases at the station is no problem.
Harman Sekhon, a Chandigarh-based businessman, took home his pick, a metallic grey Mahindra XUV 500 a week back and could not stop raving about the boot space. Off-roading, of course, is the stated reason for the choice, but Harman, however, has more defined reasons to call it an all-season SUV.
"I am part of a joint family. Almost every week, I drive down my family to our farmhouse in Hoshiarpur. The seats are not cramped, everyone gets enough space to stretch their legs and it is fuel efficient," he adds.
"The diesel engine produces 140bhp, which is enough to cruise it on off-road." Well, isn't a car all about dependability, style and efficiency!
Blend of style and luxury
SUVs have always been popular, especially with the buyers in rural areas, where they have to sometimes negotiate ruts on the road made by the original wheeled vehicles, the bullock carts.
Now, SUVs are seeing a transformation in design. The bodies of SUVs have become more aerodynamic in the recent years. This makes the passenger vehicle safer and more fuel-efficient. Aerodynamics is primarily used in race car designs that demand high speed.
Sheer indulgence
Rallying is what a good number of SUVs are being used for these days. It isn't, however, raising some sand and dust that the SUVs do. Something like the recently launched Range Rover Evoque is a perfect blend of style and luxury. From unique bumpers, sills, grille, tailpipes, contrasting roof, 18-inch alloy wheels to interiors wrapped in fine Oxford leather, this SUV is known for its sheer indulgence, a lifestyle concept pure SUV that comes at a steep price.
"The idea of buying an SUV for a customer is to make their presence felt clear on the road."
On the other hand, Land Rover Freelander and Discovery are the all-season utility vehicles in this category. Freelander is popular with buyers due to its affordability, and its big engine.
"In an SUV, a customer wants maximum out of the bulky machine. Land Rover comes with a unique concept of drive rotate that can be programmed to drive in all terrains," says Ajay Malhotra, head sales Dada Motors JLR association.
Good for bad roads
A major reason why most people buy an SUV is because it fulfils their need for luxury, style and comfort. In addition to this, customers have their own individual reasons. All SUVs come with a combination of pulling capacity and passenger seating. These are safe because of their larger and heavier built.
It is the current demand that major car companies are giving their prominent SUVs a makeover and launching many more variants. The face-lifted Toyota Fortuner is a 2982-cc, diesel machine available in two variants.
Mahindra & Mahindra launched Mahindra SUV Rexton, a sports car with a SUV tag. Mahindra SUV Safari Storm comes with advanced safety features and new looks. Ford, too, took the covers off its all-new urban SUV concept, Eco Sport. Positioned between a SUV and a Sedan, the production model will hit the road in a couple of years. The family car brand Maruti, too, launched its showstopper XA Alpha at Auto Expo 2012. A concept SUV, this model combined of ruggedness and muscle.
"There is a paradigm shift towards the SUV segment, with most customers wanting a car that can fit their bill, highway travelling, high posture and is good for bad roads. The BMW X3 is, in this respect, competing with Q5 and Land Rover Freelander," says Sachit Passi, a partner with Krishna Automobiles.
Whatever be the reason for buying the SUV, right now, you are spoilt for choice, you can have the best in the world, provided your pockets are as deep as your aspirations.

Motoring expert H. Kishie Singh reviews the range
MAHINDRA XUV 500
Great style, good performance, technology, safety and comfort. The chiselled aerodynamic body comes with static-bending projector headlamps, LED parking lamps and twin exhausts. This gives the vehicle a striking road presence. Like most modern SUVs, it has monocoque construction. The XUV has an excellent power-to-weight ratio. Mahindra's legendary mHawk engine and a range of integrated digital systems make driving a pleasure. A fully-loaded GPS navigation system and an inclusive Driver Information System that diligently report vehicle's vital information in real time are two of the XUV 500's many impressive features.

TOYOTA FORTUNER
The Fortuner looks more like Land Cruiser after its styling facelift. It now has a larger grille, and the front bumper has been restyled. The bonnet has a wider scoop for the intercooler, and there are new alloy wheels. The interior has a new centre console with a six-inch touch-screen that controls and displays the audio system, new DVD player and a reverse camera. The 3-litre common-rail diesel engine is the time-tested version. Most Fortuners will seldom leave tarmac, so it will make sense to buy a 2-wheel drive rather than the more expensive 4-wheel drive. The 2-wheel drive will also be available with automatic gearbox, ideal for city driving.

Range Rover Evoque


SUVs are largely bought by urban drivers and the Range Rover Evoque from Land Rover is designed for them. While meeting increased CO2 emissions and fuel economy requirements, the Evoque retains the upscale features and off-road capabilities of the Range Rover brand. Many efficiency-improving technologies like biofuel compatibility, regenerative brakes, a stop-start system, and the electric rear axle drive parallel hybrid powertrain system make it special. The five-door Evoque and three-door Evoque Coupé are available.

BMW X3
The BMW X3 is a Sports Activity Vehicle, a fancy name for the compact crossover SUV, just like its predecessor, the X5. At the premier of the X3, BMW announced that it will employ a new four-wheel drive system to power it, a system marketed as xDrive that will intervene transparently to the driver before the driver is aware of any instability. All X3s are equipped with BMW's xDrive all-wheel drive system. The X3 Cross Country is an X3 prepared for rally competition. It features a 2.9 litre inline-6, twin turbocharged diesel engine, which is quick and responsive.

LAND ROVER FREELANDER
The monocoque Land Rover Freelander has higher ground clearance and off-road capabilities than its predecessors. It has improved quality interior with more safety features. It also has a modified version of the Terrain Response off-road driving system. The Freelander TD4-e uses stop-start technology to improve fuel economy and reduce carbon emissions. The system cuts out the engine when the vehicle is stationary and in neutral; the engine restarts when the clutch pedal is depressed. The system includes heavy-duty starter motor that also acts as a generator to recover energy through regenerative braking that helps to restart the engine reducing stress on the battery.

AUDI Q3
A five-door compact coupe crossover, Q3 is the smallest SUV by Audi. The Q3 is more of a lifestyle or sports automobile as differentiated from the mid-luxury compact Q5 and full-size Q7, which are more for family practicality and off-road performance. The Q3 combines a transverse engine layout with flexible steering and suspension offers. It has a Direct Shift Gear Box and dual clutch transmission. There is no height-adjustable suspension, lockable differentials or low-range gearing, just larger wheels and a sports suspension.

Volvo XC 60
A compact crossover, Volvo XC 60 has a glass roof and a newly-styled grille. A new shifting mechanism, electronic boot lid, and 20-inch wheels add to the list of goodies in the vehicle. The R-Design variant features a colour-matching body kit, stiffer chassis and damping, and other special exterior and interior trims. Volvo's attention to safety is legendary and this vehicle is both rugged on the run and super safe to travel in.