Food Talk
Prawns for the palate
Pushpesh Pant
Golda chingri from East Bengal, which uses tomato, garlic and onions, can be enjoyed with steamed rice as well as roti




Pushpesh Pant
There are two schools of thought as far as prawns are concerned. Some believe that their delicate taste is ruined by slightest 'contamination' with spices, even garlic and onions should be eschewed. The purists are quite content to get hold of a prawn cocktail and love the crustaceans very lightly marinated.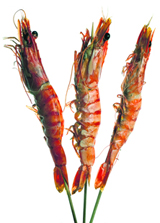 The Chinese enjoy them in a variety of forms, dry or in sauces, and we haven't found many Indians complaining as they gobble down batter-fried prawns dipped in garlic sauce. Deep down south in Andhra Pradesh, roya veppudu pack a piquant pungent punch. Be it Mangalore or Kerala, chemeen kari is scorching scarlet. There are a few who enjoy Punjabi tandoori jhinga without drowning them in mint chutney. But we digress.
The Bengal repertoire has recipes that tempt us most. It has both mild and not for the meek and the weak dishes that allow us to enjoy our prawns any which way we like to suit our mood. This time we share with you dear readers the Golda Chingri straight from East Bengal. The culinary civil war between Ghoti and Bangal has raged for generations. Both claim a more sophisticated palate. Our historian friends tell us while the ghoti — western Bengali — stay loyal to mustard and are not particularly enamoured by tomato, garlic and onions, those who inhabit eastern Bengal have acquired a taste for these from Mughals who reached the ports there bypassing what Mamta di has renamed Paschim Banga.
We must confess that we have been walking the tightrope for long but this delicacy is tilting the balance in favour of Bangal.
Ingredients
Prawns (medium-sized, de-veined and head removed) 250 g

Tomatoes (chopped and pureed fresh) 200 g

Bay leaf one

Onion (medium, sliced fine) one

Garlic paste 1 tsp

Ginger paste ˝ tsp

Red chilly powder ˝ tsp

Sugar (optional) 1 tsp

Oil 3 tbsp

A pinch of turmeric
Method
Wash and pat dry the prawns. Sprinkle a little salt and turmeric powder on these and keep aside for 15 minutes. Heat oil in a thick-bottomed non-stick pan. When it reaches smoking point, reduce flame and put in the bay leaf. As it changes colour, add onions and stir-fry till translucent; add garlic and ginger paste. Fry for a minute. Then, add tomato puree, red chilly powder, sugar and salt. Cook uncovered till sauce thickens a little. Now put the prawns in and simmer for three to four minutes, stirring gently once or twice. Remove from stove, adjust seasoning and enjoy with steamed rice or roti.