Coping in Kabul
Caught in the political crossfire, the Sikh minority in Afghanistan is living on the edge with no hope for future. Bobby Singh Bansal highlights the plight of the everyday existence of the community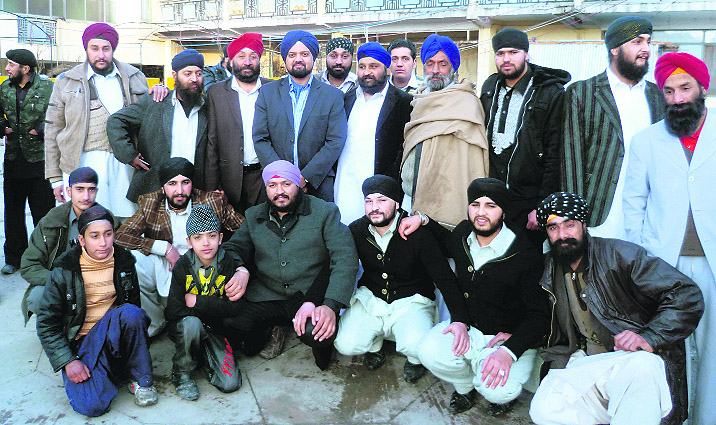 The Sikhs and Hindus of Afghanistan have been an integral part of the Afghan culture and history since the early 19th century. Most of them arrived there during the 1820s as part of missions sent by Maharaja Ranjit Singh to promote trade.
The influx of traders to Kabul also saw a number of Sikhs and Hindus settling in the provincial towns of Jalalabad and Ghazni, which were on the way. The founder of Sikhism, Guru Nanak, had also visited Afghanistan on his return from Baghdad and Mecca during the early 16th century. He stayed for nearly 40 days in Sultanpur village, near Jalalabad, where later Gurdwara Chisma Sahib was erected to commemorate his visit. Besides Sikhs, local Afghans would also come to pay their respects at this sacred site. Some Sikh families live there even today.
It is estimated that before 1991, nearly 80,000 Sikhs lived in Afghanistan, with as many as 30,000 living in Kabul alone. Sikhs in Afghanistan had been successful and prosperous entrepreneurs, who made a substantial contribution to the local economy. Transport, clothing, commodities, finance and other key markets were being run by successful Sikh traders as they blended into the Afghan culture by adopting the local customs and language.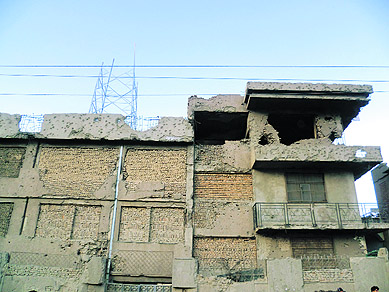 The damaged facade of Gurdwara Har Rai in Shore Bazaar, Kabul

During the Taliban regime too, Sikhs and Hindus did not suffer any discrimination and their businesses actually prospered. Several members of the Taliban made frequent visits to Sikh shrines and relations between the two communities were very cordial. Truly this was a golden period but things changed in 2001 after the American invasion toppled the Taliban regime.
The Sikhs and Hindus fled Afghanistan and moved to Pakistan and India as refugees. A number of Sikh refugees made an arduous journey to Peshawar via the notorious Khyber Pass. Many Afghan Sikhs also migrated in large numbers to England, Canada, Australia and other parts of the world.
But very little is known about the number of Sikhs and Hindus, who stayed back in the war-torn Afghanistan and their present state.
Most of the Sikhs who had fled had no information or contact with friends or colleagues back in Kabul. Despite the killing and kidnapping of Sikhs by the Taliban factions some years back in Pakistan, no government officials in Pakistan or Afghanistan had raised the issue of protecting the rights of the Sikh minority. Although the Ministry of External Affairs in New Delhi did voice concern over the killing of a Sikh in the Orakzai region of Pakistan, the case was not followed up by the Indian Government.
An eye-opener
The writer's account of his visit to Kabul has been an eye-opener for several government institutions and organisations. He has highlighted the piteous state of the Sikhs in Afghanistan and the urgent need for financial and moral support for this dwindling community.

For the Sikhs who fled decades back, only 1 per cent have returned as others feel that the Karzai Government is unable to protect and guarantee them any genuine future and stability.

According to Bobby Singh, "On the one hand, I was quite eager to meet the proud Sikhs of Kabul but on the other I was disheartened to hear their stories. I hope that the documentary we have produced, which will be shown at various film festivals, will highlight and create awareness about the condition of this community to the world media. It is imperative that we listen to their problems and take effective action before it is too late. I am hoping that once we show our documentary, we can set up an appeal to restore the historical shrine and provide some support by setting up a Sikh school in Kabul. If the current situation continues, the day is not far when the few remaining desperate Sikh families will also flee Afghanistan and the Sikh population will cease to exist in this stunning Asian crossroad.
Of the 11 gurdwaras and three Hindu temples that existed prior to 1991 in Kabul, only four remain today and only two function as religious centres.
Most of the gurdwaras have been taken over by the local authorities as these were being used as ammunition warehouses due to their vast sizes after these were abandoned by the community. At one point of time, there were more than 65 Sikh and 21 Hindu shrines in Afghanistan. The 400-year-old Gurdwara Har Rai Sahib in the Shore Bazaar area of Kabul remains a religious anchor for the 40 Sikh families living there. Since the outbreak of the civil war in 2001, the gurdwara has been destroyed completely and its façade barely resembles a historical Sikh shrine. The outer walls are riddled with holes from bullets and mortar attacks.
Some of the Sikhs living in Kabul gave a moving account of their tough life in Afghanistan. According to 26-year-old Narinder Singh, who lives in Kabul and runs a dispensary there," Life is not the same as it was a few decades back, most of the rich Sikh families have fled and today only the poor Sikhs stay within the gurdwara complex as they are unable to afford their own properties. There are no schools for the children nor any teachers here, children spend most of their time doing nothing. We are unable to teach or educate our children and they have no future in Afghanistan. If I had a chance to leave, I would leave right now". Narinder wants to return to India where he feels he can be with fellow Sikhs and have a better future. Even at this gurdwara there is hardly any proper sanitation and running hot water is a rarity, the rooms are quite dilapidated and have no heating system.
A Sikh stated that "the government here does not help us. We have been abandoned and do not have the means to leave for Pakistan or India. Our children are discriminated on a daily basis and when we go out, the local Afghans abuse and molest us who compel us to convert to Islam. Earlier 80 per cent of the shops in Shore Bazaar belonged to the Sikhs, but not today"