PUNJAB

HARYANA

JAMMU & KASHMIR

HIMACHAL

REGIONAL BRIEFS

NATION

OPINIONS

LETTERS

BUSINESS

SPORTS

WORLD


Monday, March 5, 2012, Chandigarh, India
Edition update time 2:30 am (IST)


Latest news, updated at 4:30 pm

Earthquake jolts North India...more


Race for political tie-ups begins...more


Mayawati recommends dissolution of state Assembly...more


TN Cabinet to meet on N-plant issue...more

---
China's defence hike raises alarm
11.2% rise in budget sees it balloon to $106 bn
Beijing, March 4
China today announced it would hike its defence budget by 11.2 per cent to a whopping $106.4 billion, pushing its military spending for the first time to the triple digit, a move that may fuel concerns among neighbours and others about its growing might in Asia Pacific.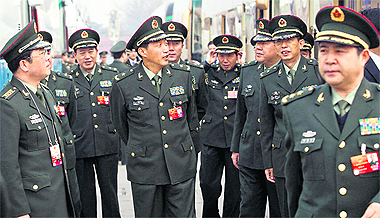 Chinese military officers in Beijing. — AP/PTI
Jat quota deal falls flat, stir to intensify
Protesters threaten to block rail tracks
Hisar, March 4
The agreement reached between the government and khap representatives on ending the ongoing pro-reservation protests by Jats fell flat on its face today when khap leaders failed to face the protesters at Ramayan village, near here, and the protesters decided to intensify the agitation by blocking rail tracks at Mehuwala, near Fatehabad, and Gajuwala, near Narwana, from tomorrow.