ART & LITERATURE

'ART & SOUL
ENTERTAINMENT

TELEVISION

GARDEN LIFE

NATURE

FOOD TALK

CONSUMERS, BEWARE!

FASHION

GLOBOSCOPE

BRIDGE

ULTA-PULTA
EARLIER FEATURE

TRAVEL

RELATIONSHIPS

DREAM THEME

TIME OFF
Road where history speaks
The Hindustan-Tibet Road, also known to us as the National Highway 22, leads to Kinnaur and presents an idyllic picture of life above 12,000 feet. Puneetinder Kaur Sidhu on one of the deadliest motorways in the world
It is the India of the mid-1800s, and Lord Dalhousie has been appointed as Governor-General of India. He introduces India to its first railway, lays out its first telegraph line, establishes its postal system and starts the Public Works Department. Amidst all this reformation, he anoints Simla as the Summer Capital of the East India Company. Not much later, thwarted by climate-induced ill-health, he is forced to move camp to Chini (the present-day Kalpa in Kinnaur) upstream of the Sutlej.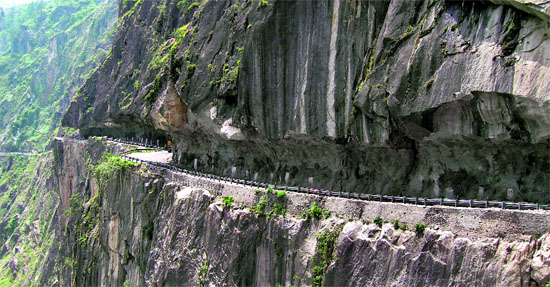 The NH-22 carved through the Tranda Falls
Robofish to the rescue
Inspired by nature, researchers have perfected a 'robofish' which is capable of leading a school of real fishes and, if need be, steer them away from toxic oil or chemical spills.
Warp and woof of weavers' woes
They might weave rich textiles but most handloom weavers lead penury-stricken lives as government packages pass them by, writes Madhusree Chatterjee
Ali Husain Ansari, a weaver of embroidered Mughal textiles and owner of Abdul Ghani Silk in Varanasi says he has not benefited from the government's financial package for weavers announced in December last year. "The money sanctioned by the government has gone to cooperative societies. The poor weaver still makes less than Rs 200 ($4) a day and does not have enough assets for loan guarantee," says Ali.
Romance of the barren land
Despite its rocky terrain, the arid zone of Gwalior is full of tales of valour and love, writes Tanushree Podder
For long I had wanted to visit the arid Gwalior zone – the seat of the erstwhile Scindia family. Despite its rocky terrain, Gwalior has been coveted by the Tomars, the Mughals, the Marathas and the British. This desire led to many battles till the Scindias were given charge of the place by the British.
"The Olympic tattoo keeps me motivated"
He had set a personal milestone of 12 goals for himself. He scored 16 and still wanted more. Ace drag flicker Sandeep Singh, after helping India clear the Olympic qualifiers, is basking in the newfound limelight. An outright rebel on the turf, there is no mistaking his shy nature off it though he fights hard to keep it hidden. A career-threatening accident in 2006, two-year ban in 2010, which was later revoked with a warning after an apology, he has seen it all. In a freewheeling chat with Amit Khanna the 27-year-old from Shahbad, Haryana, talks about his dream of London Olympics, revival of hockey, fitness and much more.
Simply Soha
Soha Ali Khan in conversation with Shoma A. Chatterji on her latest Hinglish film Chaurahen
Soha Ali Khan is not trapped in the cut-throat rat-race to reach at the top. On the eve of the release of her new Hinglish (Hindi and English) film Chaurahen (Crossroads), she talks fluidly about the film, her changing channels and her aspirations within cinema.
'I don't like to be typecast'
Joginder Tuteja
Not every film in Shreyas Talpade's career has been a success and the actor says he has stopped worrying about hits and misses as he is scared of being heartbroken. The 36-year-old says he doesn't pin high hopes on his films' boxoffice performances as he has prepared himself to take a hit or a flop in his stride, like his last release Hum Tum Shabana.