M A I N N E W S
Bahuguna sworn in CM, sulking Rawat cries foul
Rumblings of revolt in Uttarakhand Congress on Day One
SMA Kazmi & Anita Katyal
Tribune News Service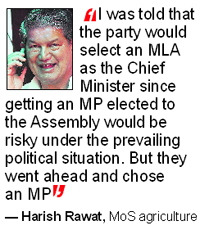 Dehradun/New Delhi, March 13
Former Mumbai High Court Judge Vijay Bahuguna, who is also an MP from Tehri, was today sworn in as the seventh Chief Minister of Uttarakhand with less than half the elected Congress MLAs present.
While the Congress has a strength of 32 MLAs in the 70-member Assembly, only 14 of them were present at the Raj Bhavan, where Governor Margaret Alva administered the oath of office to the son of former UP Chief Minister Hemvati Nandan Bahuguna.
The new Chief Minister happens to be the brother of the Uttar Pradesh Congress Committee President, Rita Bahuguna Joshi, and a first cousin of the outgoing BJP chief minister, Major General ( retd) BC Khanduri.
The sulking Union Minister of State for Agriculture, Food Processing and Parliamentary Affairs, Harish Rawat, said in New Delhi that he was told that the party would have to select an MLA as Chief Minister since getting an MP elected to the Assembly would be risky under the prevailing political situation. " And then they went ahead and chose an MP," exclaimed a bitter Rawat.
He was also upset at being told by a party general secretary that only six MLAs were with him. " I did want to prove that the majority of the MLAs are with me," he declared before asserting that he would not rock the boat.
He also denied reports that he had met BJP president, Nitin Gadkari. Curiously, there is still no word on when the Assembly is to convene. Bahuguna was the only 'minister' to take oath of office today. While Uttarakhand can have a dozen ministers, ministry-formation, for the time being, has clearly taken a back seat to fire-fighting in the Congress.
While the Congress leadership chose to ignore the 'revolt' by Harish Rawat, speculation is rife on whether Bahuguna can survive the floor test. Most of the Congress MLAs stayed back in New Delhi and were said to be closeted with Rawat at his residence, and chalking out their future course of action.
The three Independent MLAs and the lone Uttarakhand Kranti Dal (P) legislator, besides the three MLAs of the Bahujan Samaj Party, who had extended support to the Congress, were, however, present.
Harish Rawat, a veteran Congressman, received unexpected support from another MP and chief ministerial aspirant, Harak Singh Rawat, whose supporters also joined the noisy protest against the party's decision to foist Bahuguna as CM.Vijay Bahuguna took the oath of allegiance and secrecy in Hindi, even as thousands of party supporters cheered him. Union Minister of Health Ghulam Nabi Azad, Birender Singh, Congress general secretary and incharge Uttarakhand affairs, Union minister of state for Home Bhanwar Jitender Singh also attended the swearing in function.
Former Chief Minister ND Tewari, emotionally recalled his long association with Hemwati Nandan Bahuguna in Uttar Pradesh. Former Chief Ministers Maj Gen BC Khanduri (Retd) and Ramesh Pokhriyal Nishank were also present along with Reeta Bahuguna Joshi, besides Satpal Maharaj, MP from Pauri Garhwal and Uttarakhand Congress Chief Yashpal Arya, both of whom have thrown in their lot with Bahuguna.
The dissensions in the Uttarakhand Congress on a day when the Congress Chief Minister was to take oath of office clouded the brief ceremony. There was even reports that the party could change its decision due to the pressure exerted by Harsh Rawat.
Congress sources here claimed that efforts were on to placate the disgruntled leaders.