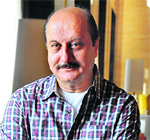 Complete act
Bheega hua aadmi, baarish se nahi darta — it's this one sentence that has constantly guided veteran actor Anupam Kher in his life. At JW Marriot, Sector-35, Chandigarh, for a film-shoot, the actor left behind the glamour and glitz of his life as he spoke at length about his struggles and turmoils before his good days arrived.
A journey called Kabir

The year was 2002. Godhra riots ripped through Gujarat. Between the death and remorse, there were people who were compelled to look for Ram and Rahim, who were not biased or politically inclined. It was at that point that Shabnam Virmani, director of the Kabir Project, found her calling. The documentary film-maker, in Chandigarh as a part of Suno Bhai Sadho, a Kabir Festival organised by the Chandigarh Sangeet Natak Akademi, talks about Kabir and her journey in finding him.
Wits about him!


The most difficult task for a celebrity is to retain the celebrity status. Stay in news, create controversies, oblige fans on social networking sites, be part of reality shows; everything to ensure that the tag remains intact! So, it is all the more surprising when Gurpal Singh of Chuppa Rustam fame, cites the reason for quitting the show and lying low for so long. "I am loner and a traveller, popularity started obstructing my way of living.

Brush with the young
Their creativity is capable of drawing the contrasts in the life of a common man while at the same time juxtaposing the bright and the boring! On one canvas there is an endeavour to display the beauty of silence, while on the other noise pollution is highlighted.
doc talk
Say goodbye to acne
Acne vulagaris (pimples) is a universal problem and usually affects the face, the upper part of the chest, and the back. These are commonly seen in teenagers during puberty but may continue up to adulthood.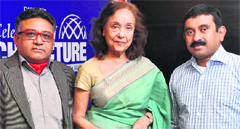 For your home only
Bringing in the best in the field of architecture is what the Inside Outside Mega Show offers. On from March 15 at Sekhon Banquet Hall, Zirakpur- Panchkula Highway, this show, now in its 25th year, gets the latest from the fields of interior design, construction and building material and furnishings.
Road Rage
Frills for the mean machine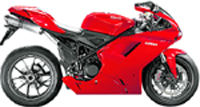 So, now that you have a super-bike and you find the tinkling has yet not subsided – accessorising is the next thing for you. Some would say accessorising, I would say personalising; having your say over the company tech. For, it's your machine. There are a bunch of things that you can tinker with on your cruiser motorbike without actually remodeling one.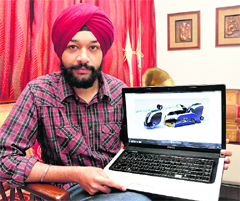 Designed to fly
Charandeep Singh, a 22-year-old lad, completed his schooling from St Stephen's, Chandigarh, and went on to complete a course in product designing from the National Institute of Design, Ahmedabad. He has won the first prize in designing a tractor for the year 2020 in a National Design Competition held at IIT Kanpur. We find out what makes him a cut above the rest.
Motivational factor
My failures have constantly motivated me. Whenever I am stuck in a tight spot, I remember my mistakes and failures.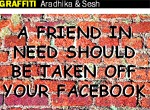 Star track