Thriving on creative challenges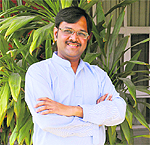 Well-known vocalist Sanjeev Abhyankar may have come a long way from the time he was hailed as child prodigy, but even today his face possesses a child-like innocence. In Chandigarh for Pracheen Kala Kendra's Nritya and Sangeet Sammelan, the National Award winning vocalist shares how every performance for him is a new experience. Over to the gifted disciple of Pandit Jasraj, who has been mesmerising listeners ever since he took to the stage some three decades ago.
Soulful notes: Sanjeev Abhyankar
Maverick at work

Maverick, irreverent or quite simply Gen Y artist…call him by whatever name, versatile and talented sitarist Purbayan Chatterjee is not going to change the way he is. He says unabashedly, "I am going to behave, act and talk my age and not some fifty-year-old just because I am a classical musician." Is it any wonder then that the analogy he uses to explain the chemistry of jugalbandis is drawn from cricket, "the rapport between two musicians doing jugalbandi is comparable to a cricket partnership." And the process of making music he likens to the act of making love, "instinctive, with good musical partners."
MANY FACETS: Purbayan Chatterjee

Design your workouts
A majority of people are on a fitness programme that is both inefficient and ineffective and the sad thing is these people have no clue about it. In order to make sure your fitness-training programme is most productive, and efficient, here is a checklist of important points to consider when designing your plan.
Bound by a cause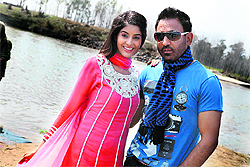 The picturesque locales, with ripe wheat crops and denuded poplar trees, on the banks of river Sutlej at Mao Sahib epitomize the beauty of Punjab. It is precisely what is being captured during the shooting of Punjabi movie Punjab Bolda, which is taking place in these scenic locations. The movie, however, focuses on modern-day issues that plague Punjab, including corruption and drug addition.

A still from the movie Punjab Bolda
Foreign STEPS
With Bollywood having penetrated in markets across the globe, our industry is increasingly seeing the influx of artistes from different countries.


Pun'jab' Sandeep Joshi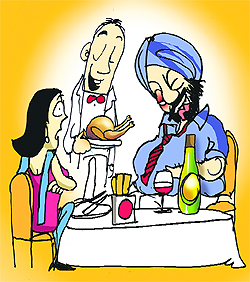 Live to eat

: Keep enjoying special delicacies, sir. You will also get special weight-reduction tips from our trainer later on.
STAR TRACK
Twitter abuzz about 'Aaradhya' Bachchan
Vidya is on a roll
Randeep's new found passion
Item numbers
RGV's next
Remakes unlimited
Theron adopts a baby
Way to go!
My kids don't watch my movies: Julia Roberts
Rumours put to rest
Smart wifey!
chatter box
Shweta's vivaah
Payal in trouble
Karan's tantrums
Sargun couldn't be happier
All's well with Abhaas
Hussain is back
NEW RELEASES
Astro turf
The year ahead