The all new iPAD
Apple brings about major changes in the best-selling tablet in the world that will enhance user experience
Roopinder Singh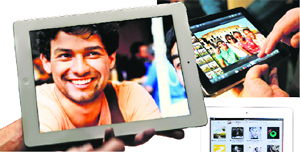 IT looks no different than its predecessor, but it has already set aficionados' hearts aflutter, and with a fine sense of sophisticated marketing, Apple is calling its latest offering Resolutionary.
iPad—just that, no prefixes, no suffixes. Apple's latest product dispensed with the naming conventions with the same elegance that the company has dismissed computing conventions to give a product that is easy-to-use, one that people find useful and a great addition to their lives. It weighs a little more than its predecessor
On the day Apple released iPad in California, I met Stella, in Chandigarh. The four-year-old uses her parents' iPad with practised ease to draw and express herself. For this little chatterbox, the iPad is just another device; she is not intimidated by it in any way.
A child can use it! That's what Apple would be proud of.
iPad is heralded as the icon of the post-PC world. The device was introduced only in April 2010, and it took just four months to sell over a billion of these devices, and by the time iPad2 was announced on March 2, 2011, almost 15 million iPads were in the hands of people who had downloaded millions of applications for their use.
Retina display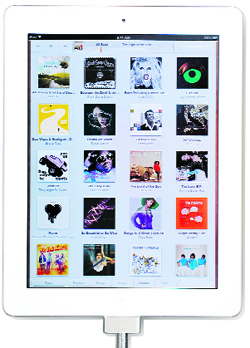 iPad, the latest one, offers some great goodies, and has significant improvements over its predecessors. The most visible change is, of course, the Retina Display with 2048-by-1536 resolution for the 9.7" screen. This is an eye-popping resolution that is familiar to the users of the iPhone 4 family.
The first two models of the iPad had a resolution of 1,024-by-768 pixels, and the new one is four times of that. This high resolution, according to Steve Jobs, when he introduced it for the first time for the iPhone, is enough "that the human eye is unable to distinguish individual pixels when (the phone or the tablet is) held at a normal distance."
Nitpicking purists do point out there is a difference in the pixels-per-inch on the iPhone 4S' (326 ppi) and the iPad (264 ppi). Thus the iPad has 20 per cent less pixel density, but then you hold the iPad at a different distance from the eye than the iPhone, and thus the debate goes on…
New processor
It is really difficult to pack in so many pixels and thus the need for a powerful processor, the dual-core A5X chip. Apple has, however, boosted the graphics component to four cores. In the tablet's technical specifications, it calls it "quad-core graphics." This allows the iPad to handle the increased pixels of the higher-resolution screen with ease and fluidity that you expect an Apple tablet to have.
Can take dictation
The 5-megapixel iSight camera is a bit of a disappointment, since it is akin to its counterpart in iPhone 4, rather than the one on iPhone 4S, which has an 8 megapixel camera. The iPad offers HD video capture at 1080 p, which is similar to what iPhone 4S has. Video capture and a FaceTime camera for video chat are the standard offerings with the high-speed LTE wireless broadband as optional.
The iPad also features speech-to-text dictation, which can be a boon for those who find it difficult to type on a virtual keyboard. You touch a microphone icon next to the space bar on the on-screen keyboard, and viola! You can dictate and see the words you speak typed—that too in English, French, German and even in Japanese! The full-featured voice assistant Siri, is, however, not yet available.
Now, we all know that the hardware improvements mean more to nerds than to ordinary users. Others can give similar or even better hardware, and notably Samsung and Sony have done so.
Apple's strength has also been been its application (app) store through which customers can download apps that they want for the activities that they would like to do.
Apple provides more apps than anyone else, and more people make apps for Apple than they do for any competitor. Thus you have apps for every kind of thing—the most popular categories include games, books, entertainment, education and lifestyle.
App my world
How popular are these apps? Shortly before the latest iPad was unveiled, a customer in China download the 25 billionth app from the App Store, which offers 5,85,000 apps!
Its closest competitor, the recently re-named Google Play, can't match it in numbers, although it has been seen that most of the popular apps are available on practically all platforms, including Android, Windows Phone 7, RIM BlackBerry, and even Symbian, Nokia's practically defunct smart phone operating system, which recently made waves for being the OS platform on which Nokia demonstrated its latest 41 mega pixel camera phone.
Apps contribute in great measure to the experience of using the iPad. No wonder Apple used its strength in music and showed off its GarageBand, app, which has many features to make music, and allows as many as four musically inclined individuals to collaborate, over wi-fi and make a recording that can be edited and posted online. Then there is the Apple iPhoto, with rather advanced features that make optimal use of the touch screen as well as the new display.
Faster connectivity
As the world moves on to 4G, so has Apple. The new iPad supports 4G or Long-Term Evolution network (LTE), as it is known in the US. It holds the promise of blazingly fast 72Mbps (megabits-per-second) connectivity. It also downshifts its performance to support 3G standards.
Of course, we know that in India 4G support is still awaited, and even 3G is patchy, at best. So, Indians will probably get the best connectivity when they take their iPads along with them on holidays abroad, but still, the promise is great and in metros at least, there is hope that this feature will be useful for us.
Availability
Right now, iPad is available in Apple's retail stores in the US, and also through the online Apple store. The best part is that it costs the same, as its predecessor did. (see box). Apple has also retained the 16 GB version of its earlier iPad2, and has announced that it is dropping its price by Rs 5,000 in India.
The new iPad will be available in India by the end of the month, but then there is often a lag as supply tries to fulfil demand. Soon many people will purchase the latest tablet, even as others wait eagerly to get one for themselves.
The post-PC world is here. We will either have it in our hands, or look over the shoulders of others to see its rich display and the fantastic graphics.
What's different about it

l Retina display, with a resolution of 2048×1536,
l 3.1 million pixels at 264ppi
l A5X Processor, quad-core graphics
l 5 megapixel iSight camera
l 1080p video recording
l Voice dictation, similar to Siri without the
l questions
l 3G & 4G LTE connectivity
l 10 hour battery life, 9 hour battery on 4G
l 9.4mm thick, weighs 1.4lbs
l iOS 5.1

In the US 4G support comes to both Verizon and AT&T. Outside of the USA, 4G LTE will also be offered on Rogers, Bell, and Telus initially, presumably with more carriers to come down the road. The iPad can also be used as a personal hotspot with it's 4G speeds, although the price of that varies per carrier.

Both black & white models will be available, as usual:
New iPad with Wi-Fi Prices
l 16GB Wi-Fi - $499
l 32GB Wi-Fi - $599
l 64GB Wi-Fi - $699
New iPad with 4G LTE Prices
l 16GB 4G LTE - $629
l 32GB 4G LTE - $729
l 64GB 4G LTE - $829

(Officially, the new iPad is called "iPad" and referred to as the "3rd generation" model. Many people, however, will call it iPad 3 anyway.)

Simply scent-sational
Anandita Gupta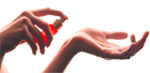 THERE never has been a more exciting time for 'smelling good' in India than now. Indians have had a great affinity with luxurious, all-natural perfumes (ittars) for thousands of years. Our maharajas and affluent, well-travelled Indians have always been connoisseurs of luxury perfumes, flaunting a superiority of taste. Lovers of ittars included Mughal nobles of India, Nizams of Hyderabad and other notables, including sufi saints. The pursuit of this indulgence is no longer confined to traditional perfumes. Young, aspirational Indians are filling up their shopping carts with top-of-the-line international fragrances. Fragrances by foreign brands are now percolating even towards the middle class.
Changing lifestyles, increasing disposable incomes, lavish weddings and rising influence of media and Western culture have made luxury fashionable. The burgeoning domestic luxury perfume market (around Rs 600-700 crore) is growing at a rate of 20-25 per cent every year. According to the latest Indian Cosmetic Sector Analysis (2009-2012), the women's fragrance (perfume and deodorant) market will drive the Indian cosmetic industry in 2011-2014.
Indeed, luxury perfumery in India is here to stay. For, given the sheer attractiveness of today's luxury brands (both international and national), and the fortunes that are being pumped into driving these in emerging markets like India, it appears increasingly unlikely that these will fall out of favour. "As luxury accessory buys, perfumes are among the most popular must-have items on the aspirational buyers' list. An outlet at a mall, selling luxury fragrances, can easily expect to do a sale of Rs 40,000-Rs 50,000 in a day! The market for such perfumes has a huge potential in India with a lot of players operating in multi-brand outlets as well, besides boutiques or standalone stores. Perfumes for Punjabis are no longer a luxury but a necessity. It's a stamp of who they are," says Harpreet Singh, the young entrepreneur behind Fragrance & Flavor, an exclusive standalone perfume store at Sector 17, Chandigarh,
While Hindustan Unilever's Axe, Henkel's Fa, and CavinKare's Spinz, Paras Pharmaceutical's Set Wet Zatak, Reebok, Adidas, and Nivea are some prominent names in India's deodorant market, it is the high-end perfumes that are doing brisk business in the country.
India is no more a mere testing ground for luxury brands but a lucrative market with an explosive growth potential. Industry estimates suggest that as many as 200-300 international luxury brands are trying to make inroads into the Indian luxury market, already worth Rs 2,400 crore. One study pegs the Indian market's potential of the 15-35 year bracket at a whopping $14 billion. Spurred by this growth in the purchasing power of young India, these brands are actively looking to either launch themselves here or scale up their existing presence.
The luxury products division of L'Oreal India is marketing brands such as Lancome, Ralph Lauren Fragrances, Giorgio Armani Fragrances and Diesel Fragrances in India. Esprit Holdings, the $5-billion luxury apparel and accessories maker also set up shop in India in 2005. Luxury fragrance brands such as Davidoff, Bulgari and Jennifer Lopez are selling like hot cakes at more than 150 outlets.
Two Escada flagship stores recently debuted in Mumbai and seven more are scheduled to open in India within the next two years. Retail chains like Westside, Lifestyle and Shoppers' Stop have introduced brands like Versace, Tommy Hilfiger, Calvin Klein, and Espirit. The once unsophisticated retailing environment is making way for luxury malls like MBD Zephyr and Emporium. Around 600 new malls are reported to be coming up across the country.
Chanel, Tommy Hilfiger and Brioni are opening boutiques or in the process of doing so, in Mumbai and Delhi. Gucci with two stores already in Mumbai and New Delhi, in partnership with the Murjani Group, is planning to open two more in New Delhi and Bangalore by the yearend, according to its chief executive Mark Lee. Leading Italian fashion brand Versace has already opened its first boutique in the country. Chanel, present here since 2005, and Christian Dior since 2006, have a boutique each in New Delhi.
For Spring-Summer 2012, luxury majors are counting on breezy, floral and fruity notes to entice customers. It is more botanical, fruity, woody, light, aqueous or marine scents fragrances for men whereas fruity and floral notes (with a modern twist of gourmand sweetness) for women.
Some are the latest olfactory sensations from top-of-the-line fragrances. Seductive yet playful, they have made a recent splash in the sea of fragrances flooding the Indian market. Others are the legendary perfumes that have constantly ranked on the top-of-the-perfumery sales charts for years. But each of these comes in one-of-a-kind perfume bottle that translates itself into an objet d' art.
Here are some of the season's haute fragrances
Custom by Dunhill
Custom is the new fragrance by Dunhill, the fashion house that has a tradition of over 100 years of special custom-made cuts. The new fragrance with its well-balanced woody and spicy notes, evokes the smell of new tailored suits. Its stopper, designed like a custom-made monogram, lets you give it your own signature. The fragrance reflects the masculine elegance, sophistication and tradition of this luxurious brand. The perfume bottle is made of heavy glass, classically shaped with clear lines. Will Andrews, Fragrance Scientist from Dunhill's Fragrance Creation Team, describes the fragrance as a perfect blend of classic masculine ingredients. "Not just a statement fragrance, it almost feels like a personal signature."

Aroma: Warm, Woody, Spicy
Fragrance for: Men
Notes: The ingredients evoke the sensual discoveries of a refined and sophisticated modern gentleman on a sultry evening.
Composition: Its composition starts with refreshing fragrant aromas of English Pippin apples, invigorating and sophisticated. The classic opening further develops with spicy black pepper at its core, creating an intriguing masculine energy. The base is warm and personable with notes of cedar wood and incense
Top notes: English pippin apple
Heart: Black pepper
Base: Incense, cedar
Longevity: It lasts for a minimum of 20 hours
Value for money: 100 ml Eau de Toilette Rs 4,100

Millesime Imperial by Creed
Imperial Millesime by Creed is a warm and romantic unisex fragrance, evocative of the citrus groves and beautiful seaside landscape of sunny Sicily. It's a sexy gorgeous fragrance with an addictive watermelon smell. Positioned as an ultra-luxury brand, Creed's philosophy is to be as exclusive as possible. The brand has been popular amongst the rich and famous for centuries; in 1781 England's King George III commissioned its Royal English Leather scent, which is still in production. Other well-known Creed wearers include Michelle Obama, Audrey Hepburn, George Clooney and Saudi Arabia's King Faisal. Launched in 1995, the nose behind this fragrance is Olivier Creed Sixth Generation.

Aroma: Citrus Marine
Fragrance for: Unisex
Notes: It strikes a harmony between contrasting notes such as fresh and sensual as well as clean and leathery
Composition: This citrus marine scent opens with a top notes of fruit and sea salt. Middle notes include lemon, bergamot, iris and mandarin orange. The base includes musk, woody and marine notes.
Top notes: Crisp fruit notes, sea salt
Middle/heart: Sicilian lemon, bergamot, mandarin, Florentine iris.
Base: Musk, woody, marine notes
Longevity: Anyway, awesome smell, but it needs more projection and longevity for its price, though it does last for about 9-10 hours
Value for money: 100 ml Rs 13,500
Lola by Marc Jacobs
Developed by perfumers Marc Jacobs designers Calice Becker and Yann Vasnier in 2009, this warm, floral scent conveys the free spirit of today's sexy, modern girl- playful, cool, and flirtatious.
A highlight of this fragrance is its very attractive, silhouette-shaped bottle, inspired by Marc's fashion collection. The bottle's exquisite, multi-layered cap is a bursting bouquet with bright modern colors that pop against a matte black background and rope-inspired, gold metallic neck. It is available in 30, 50 and 100 ml Eau de Parfum, in a limited edition solid perfume ring, and in matching body products. Overall, the fragrance is an absolute must-have for collectors of perfume vessels. Though not for everyday use, it's definitely meant to be gifted and worn on special occasions.

Aroma: Fruity, Feminine
Fragrance for: Women
Notes: Lola is flirtatious and charming with a sparkling personality. I leaves you feeling light-hearted and youthful
Composition: Lola's opening is rather loud — lots of pink pepper, lots and lots of pear, a little whoosh of tart grapefruit to keep it under control — but it doesn't stay loud at all (the notes: pink peppercorn, pear d'anjou, ruby red grapefruit, fuchsia peony, rose, geranium, vanilla, tonka bean and creamy musk). The heart is, mostly vague-ish flowers, and the dry down is warmer, deeper, muskier, sweeter, more vanillic
Top notes: It opens with pink peppercorn, pear, and ruby red grapefruit
Heart: Blooming midnotes of rose, fuschia peony, and geranium make a feminine statement base: Layers of vanilla, warm tonka bean, and creamy musk create a sensuous drydown
Longevity: A long-lasting, day-and-night scent
Value for money: 100 ml Rs 7,200

Aqva Pour Homme Toniq by Bvlgari
A new limited edition flanker by the house of Bvlgari, Aqva Pour Homme Toniq is an invigorating, refreshing fragrance. It creates long-lasting feeling of freshness, dynamic and clear as sparkling water. An extension of Bvlgari's most popular perfume line Aqua (which includes the original perfume Aqva Pour Homme from 2005 and Aqva Pour Homme Marine from 2008,) this powerful and energizing fragrance has intense icy-aquatic notes set against warm, woody undertones of white cedar and sandalwood. Developed by perfumer Jacques Cavallier, Toniq bottle retains the original Aqva oval shape, inspired by azure sea and freshness of ice crystals.

Aroma: Cool, Icy-Aquatic/ light aqueous or marine
Fragrance for: Men
Notes: In this fragrance, the invigorating sensation of a classic tonic is set against a fresh, intensely aquatic accord that calls to mind the scent of deep, icy waters
Composition: The fragrance opens with zesty essential oils of lemon and peppermint. Sharp and powerful influence of crystal ice and Posidonia sea weed, which grows in the seas of the Mediterranean and Southern Australia, is gradually transformed into a soothing base of woody-mineral character, made of amber notes
Top notes: Lemon, peppermint
Heart: Ice, Posidonia sea weed
Base: Vetiver, amber
Longevity: Excellent. Almost 12 hours
Value for money: 50 ml Eau de Toilette
Rs 4,000
Doofy Doggy & Crazzy Crawlly by Jungle Magic
Perfumes from the staple of Piramal Healthcare, Doofy Doggy and Crazzy Crawlly are colourful eau de toilettes for kids above three. Attractively packaged in a deep green bottle that looks like a caterpillar, and a wine bottle that looks like a doggy respectively, these perfumes contain elements of essential oils extracted from fruits. Aroma from these essential oils is known to help in refreshing the mind, increasing concentration capabilities and improving mental alertness. Safe for Children's Skin, these eau de toilettes can be gifted to your little kids on their Birthday.

Aroma: Fruity, Strawberry for Doofy Doggy and Green Apple for Crazzy Crawlly
Fragrance for: Kids, unisex
Notes: This fragrance makes a child feel fresh and revitalized.
Composition: Alchohol-free, Green Apple fragrance
Longevity: 3-6 hrs
Value for money: 60 ml each Rs 449

Elixir by Givenchy
Launched in 2011, Ange Ou Demon Le Secret Elixir is a deeper, richer and more sensual version of Agne Ou Demon Le Secret by Givenchy launched in 2009. It reportedly brings seductiveness of the original to its climax. The bottle is a nice piece of art as well. The face of the fragrance is an American actress Uma Thurman, and the campaign is shot by Mario Testino. Ange Ou Demon Le Secret Elixir is available as 30, 50 and 100 ml EDP.

Aroma: Floral
fragrance for: Women
notes: With as many facets as a precious gem, this scent has a glittering freshness evoked by luminous top notes, an intense femininity induced by sensual heart notes, and a warm velvet dressed base.
Composition: The composition is a floral with a bitter beginning and a wooden background of patchouli. It opens with freshness of Italian lemon, green tea and neroli. The heart is made of white flowers such as Sambac jasmine, orange blossom and frangipani. The base notes are vanilla, patchouli, cedar and white musk.
top notes: Italian lemon, green tea and neroli.
Middle notes/heart: Sambac jasmine, orange blossom and frangipani
Base notes: Vanilla, patchouli, cedar and white musk.
Longevity: 7-8 hours
Value for money: 100 ml Rs 6,950
Baby Tous by Tous
Packaged in an adorable teddy bear shaped bottle, Baby Tous is perfect for introducing kids to the world of fragrance. But it's also perfect for the adult who wants a bit more cuteness in her life, and needs to provide a little pick-me-up for their inner child. Launched in 2007 by Spanish designers Shyamala Maisondieu and Michel Girard, the scent itself is actually very pleasant and wearable in the warmer weather. It's also alcohol free, which means it's safe for little ones and babies. But by no means is this a childish scent, and it is very wearable by an adult. However, it is definitely more feminine than masculine.

Aroma: Floral Fruity, Citrus
Fragrance for: Kids, unisex
Notes: This perfume is very refreshing, and a it's a nice summer scent. It's sweet, but it's an innate natural fruity sweetness that doesn't become cloying thanks to its juxtaposition with the slight bitterness of the orange blossom
Composition: It has a very sharp citrus opening, but the sharpness fades as it dries down and there is a juicy fruitiness at its heart before it settles to a dreamy, woody, orangey orange blossom scent
Top notes: Mandarin orange, Neroli and Bergamot
Middle notes/heart: Orange blossom, apple, pear and rose.
Base notes: Musk, petit grain and cedar
Longevity: It wears pretty close to the skin and lasts about four-six hours.
Value for money: 100 ml Rs 2,450

Chanel No. 5 by Chanel
Chanel No. 5 is considered the 'world's most iconic perfume.' The pioneering fragrance was launched by the famous French fashion designer Gabrielle 'Coco' Chanel, way back in 1921. Since then, it has ranked on top of the perfumery sales charts in the market. With aromatic notes of grass jasmine, may rose, sandalwood and vanilla, the fragrance remains one of the best selling perfumes of Chanel. In fact, the company recently estimated that a bottle gets sold every 30 seconds.

Aroma: Aldehyde-laden floral fragrance
Fragrance for: Women
Notes: So warm, luscious and sophisticated, it's a real masterpiece
Composition: Chanel claims that the uniqueness of the scent comes from the floral aldehyde composition that lasts for longer duration of time after one application
Top notes: Ylang-Ylang, Neroli, Aldehydes
Heart: Jasmine, Mayrose
Base: Sandalwood, Vetiver
Longevity: A day and night perfume, its sure to last for 24-26 hours
Value for money: 75 ml and 100 ml
Rs 5,500 Rs7,200
Midnight Rain by La Prairie
Passionate, flirtatious and full of intrigue, Midnight Rain is a delicious that unleashes its seductive powers when the lights go down. The fragrance is based on harmony of balmy floral, mellow fruity and sensual woodsy notes. It calls for enjoyment and frees imagination and passion. The fragrance was launched in 2006, targeting 'younger women.' This fragrance is the sexy alter ego to your elegant daytime self. This is for the "downtown" girl-the playful, throw "caution-to-the-winds" girl who dances till dawn in 4 inch heels and never regrets a single passion. It's a fragrance for a young lady's wilder side!

Aroma: Fruity floral
Fragrance for: Women
Notes: This nighttime cocktail is a delicious floral oriental built around sensual woods, juicy watery top notes and natural, rich, yet young florals creating a sensation of pleasure, comfort and richness
Composition: The top notes are composed of fruit guava, mandarin and pomegranate cocktail, with a soft touch of freesia. The heart unites white lily, orchid, plum blossom and Amber Flower. The base reveals patchouli, vetiver, cashmere and musk.
Top notes: Guava, mandarin and pomegranate
Heart: Orchid, plum blossom and Amber Flower
Base: Patchouli, vetiver, cashmere and musk
Longevity: It lasts for a day
Value for money: 50 ml Rs 6,550

Just Different by Hugo Boss
The vibrant and cooling fragrance exhilarates the senses with a fusion of the unexpected and the bracing, from Icy Mint to aromatic Basilic. The scent is the perfect partner for the original Hugo Man, a day-to-night transition that is as smooth as a well-blended cocktail. Where its predecessor is bright, Just Different is warm and embracing, which is perfect for the urban night. Coming from the brand's most popular men's fragrance Hugo (1995), Just Different is a vibrant, modern fragrance with a cool twist, made to "inspire whatever you do". For those edgy souls who inhabit the urban jungle, Just Different is a scent full of irreverence and creative energy. The new face of the fragrance is singer and actor Jared Leto.

Aroma: Woody, Spicy
Fragrance for: Men
Notes: It's surprisingly refreshing and pleasant. Quite suitable for Spring and Summer wear
Composition: This fragrance opens with crisp green apple and mint toothpaste. It does become a touch herbaceous, particularly near the heart, where the basil plays an important role, adding a sense of complexity to the already green and fruity opening. The base is composed of Cashmeran ® molecule of musk, making it a woody-spicy scent
Top notes: Green apple and mint
Heart: Basil, freesia
Base: Cashmeran, a molecule of Musk
Longevity: At least 11 hours
value for money: 100 and 50ml Eau de Toilette Rs 3,850 Rs2,900