Music is food for their soul
SD Sharma
As a part of the ongoing commemoration of the 150th birth anniversary of Gurudev Rabindranath Tagore, the Sangeet Natak Akademi, the apex body of performing arts in India, has conferred the one-time honour of Akademi Rattan and Akademi Puruskar awards to maestros in the realms of art. The honour, to be presented by the President of India shortly, carries a purse of Rs 3 lakh and Rs 1 lakh, respectively, besides a citation, shawl and memento. The following awardees have got Akademi Rattan awards.
Satguru Jagjit Singh Bhaini Sahib: Spiritual mentor and musicologist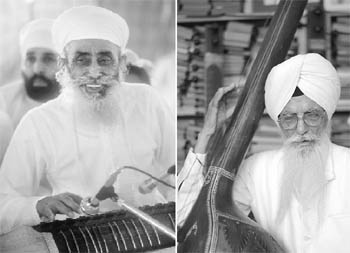 | | |
| --- | --- |
| Satguru Jagjit Singh Bhaini Sahib | Professor Kartar Singh |
The spiritual head of the Namdhari Sikh sect, based at Bhaini Sahib in Punjab, the revered Satguru Jagjit Singh (93) has been credited with preservation and propagation of Indian classical musical arts, gurmat sangeet, sports, religion, philosophy and social awakening. He has also influenced the life of over two million followers the world over. Born to Sri Satguru Partap Singh and Mata Bhupinder Kaur, he received his education and learning of music initially from his father and guru at Bhaini Sahib, before mastering the nuances of Hindustani vocal, instrumental classical music and gurmat sangeet from ustaads like Harnam Singh, Udho Khan, Rahim Baksh, Bhai Taba and Bhai Nasir.
An accomplished and brilliant classical vocalist, the Satguru has an adroit mastery of rare compositions of the traditional Talwandi gharana, old gur rababi keertan, Gurbani dhuniyan, composed in quarter denomination of rhythmic patterns (khand matras), besides Dhrupad dhamar. His versatility encompasses playing all musical instruments with perfection, especially the Dilruba which he plays with his nails, indeed a rare accomplishment.
With an ardent passion for music, he augmented the music training sessions under his care and introduced annual competitions to be held in Gurbani recitation, general knowledge, kavi sammelans, dewans and practical training of shodh maryada, quiz contests, painting competitions and sports, all of which infused fresh blood in the campus activities. Gurmat and classical sangeet is very close to his heart. The Bhaini Sahib Music Akademi, established in 1928, has produced brilliant gems of classical music. The Satguru sponsored the training and tutelage of aspiring musicians with potential to be maestros. Trained under Pandit Krishan Maharaj, the tabla maestro Sukhwinder Singh Pinky shared the Grammy Award with Pandit Vishwa Mohan Bhatt.
Bhai Gurcharan Singh 'Kanwal:' Classical vocalist and litterateur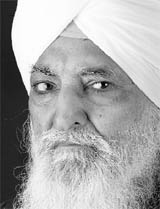 Bhai Gurcharan Singh
Hailed as a doyen of Gurbani kirtan, Bhai Gurcharan Singh Ragi (97) is a man of myriad talents. He was honoured with the Punjab State Languages Department's annual Shiromani Sahitkar Award (2007) for authoring 10 books and Shromani Ragi State Award for excellence in gurmat sangeet. Bhai Gurcharan Singh Ragi, now based in New Delhi, is the 11th generation exponent of this great heritage. Born and raised in village Saidpura (Sultanpur Lodhi), he started learning and acquiring the musical heritage under his illustrious father, Bhai Jwala Singh. He also imbibed the ascetic (Udasi) tradition which had its roots in the lineage of Swami Haridas and the nayaks of Khandar-bani. He studied from legendary vocalists Ustad Batan Singh of Mehli (Kapurthala) and Bhai Dal Singh of Lasada. Credited with 10 publications, in association with his younger brother, Bhai Avtar Singh Ragi, he made an important contribution to the world of musicology when they painstakingly put together 497 notations of the original shabad-reets or compositions, dating back to times of the Gurus. This path-breaking research was eventually brought out by the Punjabi University, Patiala, in two volumes titled Gurbani Sangeet: Pracheen Reet Ratnavali (1977), while the publishing of landmark notations of 215 compositions in 50 ragas by Punjabi University is in the offing.
Professor Kartar Singh: Exponent of gurmat sangeet
This gurmat sangeet exponent was born in 1928 at village Ghumanke. He got his early education in music from Ustad Giani Gurcharan Singh for three years underthe tutelage of Bhai Sunder Singh Ji Kasoor-wale. He got a degree in Prabhakar Gyan and Vadan from National Music College, Ludhiana and Sangeet Bhaskar and Sangeet Parveen later while studying at Jalandhar. He taught in institutions affiliated with Pracheen Kala Kendra before serving as Head, Department of Music, Guru Nanak Girls College, Ludhiana for three decades. Presently Director, Gurmat Sangeet Academy, Sri Anandpur Sahib, Kartar Singh has authored five books on gurmat sangeet. He has been honoured with the prestigious Sangeet Natak Akademi Award (2009), Shiromani Ragi Award, gurmat sangeet senior fellowship by Punjabi University. He also received the World Sikh Lifetime Achievement Award bestowed by The Sikh Directory, UK.