Channelsurfer
Laughing out loud
Randeep Wadehra




Randeep Wadehra

Genuine political comedies are missing from the small screen while stand-up comedy has caught the Indian TV viewers' imagination
Often, on TV, we watch various avatars of humour ranging from sublime to the ridiculous, viz., slapstick and stand-up, sitcom and dramedy (comedy drama), animation cartoons and game-show comedy etc. The content could be silent and subtle, risqué and ribald, parody and ditty…But, in India, sitcoms have remained the most popular genre — remember Yeh Jo Hai Zindagi?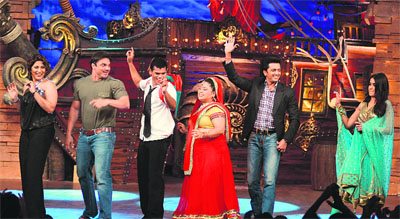 Shows like Comedy Circus have taken comedy to a new, dramatic level
Thanks to the now-defunct Star One's The Great Indian Laughter Challenge, stand-up comedy has caught the Indian TV viewers' imagination. Sony's Comedy Circus has taken the genre to a new level by not only mixing stand-up with dramedy but also allowing the participants to experiment with new content and style while irreverently lampooning — frequently using double entendre — just about anybody, including the show's judges and guests.
However, by naming names, they tend to depreciate the content's fun quotient. Allusion can carry a lot of punch in a comedy. One genre that one would love to see on the Indian small screen is improvisational comedies like Whose line is it Anyway?
Satire has found a niche on the mainstream TV. Shows like Gustakhi Maaf (NDTV) and The Week That Wasn't (CNN-IBN) have been regaling us for quite some time now. The former, nonetheless, is a bit tepid in that it is willing to strike but afraid to wound. On the other hand, The Week That Wasn't has set a benchmark with its zany takes on various events and personalities, as Cyrus Broacha and his team become delightfully cheeky; they do go over the top occasionally. We have had dramatised satires as well, like Office Office and Mr Sifarishi Lal.
Remember Wagle Ki Duniya? Inspired by R. K. Laxman's cartoons, the show was a great success for more than one reason. For one, it related to the everyday life of the common man. Secondly, the understated humour, coupled with brilliant acting, was a novelty for the viewers, who seemed to have accepted high decibels as a necessary evil in comedy. Yet, its latest avatar, R. K. Laxman Ki Duniya (SAB TV) is an aggressive version of the silent, laidback aam aadmi. Here, the common man isn't a meek spectator but quite willing to take on the ills in the society as well as the various institutions of governance. Moreover, the show is more a "society comedy" in the sense that its characters come from a typical Mumbai housing society.
In this genre Tarak Mehta Ka Ulta Chashma has been entertaining viewers since July 2008. Another entertainer is the dramedy Chidiya Ghar that revolves around antics of the Narayan family, especially the servant. Each character, named after a bird or animal, is quirky. The patriarch, Kesri Narayan, loves Mukesh songs. Each episode revolves around an adage.
Sadly, genuine political comedies are missing from the small screen. The last, perhaps the only one, was Doordarshan's Kakkaji Kahin (originally Netaji Kahin). But, our politicians provide enough "live", unrehearsed and unintended humour on the small screen.