Check out chokha

Simplicity meets sublime when the common man's recipe from Bihar is paired as a side dish with arhar ki dal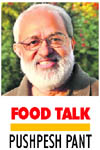 The word chokha literally translates as of choicest quality or unpolluted. It is used in the Hindi heartland to describe the fare served to orthodox elders and Brahmin priests. It has another meaning that indicates sharp, bright colours. As the Hindi phrase has it, hing lage na phitkari, rang bhi chowkho aaye!
We have, since our childhood, been intrigued by the simple dish called chokha that is extremely popular in Bihar and eastern Uttar Pradesh. It lacks colour but no one can dispute its purity. In its most basic form, it is plain potato mash but far superior to the brown hash that goes with the all-American breakfast. The bharta-like chokha is made with baked or boiled potatoes.
The purists insist that chokha can only be prepared when if the potatoes are baked in the low heat of upla (cowdung cakes). They acquire a subtle smoky flavour that is truly unmatched. There is just a hint of pungent mustard contributed by uncooked mustard oil that is blended with the potatoes.
In its original version, onions and garlic are eschewed. For added flavour, the garnish of fresh chopped coriander and green chillies contribute their lot effectively. Each household in Poorvanchal — eastern UP and Bihar — has a family recipe of this poor man's recipe. Some add ground cumin seeds and others have no inhibition about lacing it with some pickled spices, including the oil. During our recent visit to Dewaria, we were treated by Amma Kunti Devi to a chokha that combined baked potatoes and baked brinjals, the duet played perfectly and the dish was wonderfully balanced. We ate a lot but without any guilt as the fattening quantum of the potatoes was reduced to a large extent. Incidentally, Lalu, in his better days, had promoted this as the national dish of Bihar and made a show of consuming it gleefully in public eye to prove that fodder scam or no fodder scam, he relished what the common man ate. A good thing about chokha is that it can be paired both with roti and chawal as a side dish with arhar ki dal.
Chokha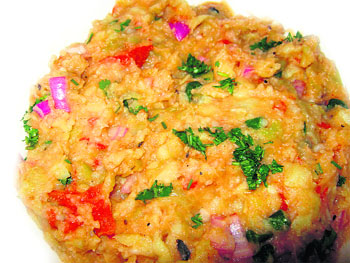 Ingredients
Potatoes (baked in an oven or boiled at a pinch) 200 gm
Black peppercorns (freshly ground) 2 tsp
Brinjal (round, medium, char grilled over open flame) one
Onion (small, chopped fine) one
Tomatoes (medium, char grilled) two
Green chillies (chopped fine) 3-4
Coriander powder ½ tsp
Mustard oil 3 tbsp
Fresh coriander (chopped fine)
Salt to taste
Method
Peel and mash the pulp of the potatoes and the brinjal. Blend coarsely. Add salt, onions, chillies and coriander. Mix all ingredients and blend. Pour the mustard oil on top and blend once again. Enjoy with rice or roti.