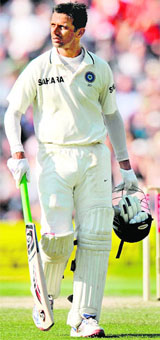 Steadfast, patient and low profile, even as his
prowess at cricket blazed headlines, Rahul Dravid never sought the media strobes personally. As the veteran retires after a 16-year cricketing career,
Sunil Narula recaps his life and game
Wall
that stood tall
The main part about sport is its unpredictable nature. But Rahul Dravid was so good with his technique that he made cricket predictable. At the height of his prowess, whenever Rahul Dravid came out to bat in a Test match you could easily predict that the bowlers were about to have a hard time finding another wicket. You could easily predict that Dravid was about to spend at least the next hour or so (if not more) trying to gauge the pace and bounce of the pitch. And then he would slowly go on to build his innings and patiently get to a big score.

Dravid carried himself in an exemplary way both on and off the field. His name never figured in any controversy Photos: AFP/Reuters

Tireless and restless, Paresh Maity is equally open to experimentation and conceptual art
Painter of many hues
Nonika Singh
He literally wears his art on his sleeves. But then, for prolific painter Paresh Maity who eats, sleeps lives and dreams art, wearing motifs of his paintings on his self-designed jacket is merely an extension of his passion. Art is not only his lter ego but an inextricable part of his life without which he canít hope to exist.
Sushi takes a bow
Courtesy young enthusiasts, Japanese food is gaining over Chinese haka noodles in India, writes Rahul Vaishnavi
Itís light, uses fresh ingredients and is different. Japanese cuisine is proving to be a hit among culinary enthusiasts in India, especially the young and the health conscious ó even though many of the ingredients have to be imported, making it an expensive proposition.
Itís not a childís world
We work towards improving the way we look, hanker after lucrative job offers, keep long unpleasant battles with spouses undercover and bully the kids into portraying the socially acceptable form of the perfect kid, writes Aditi Garg
In our fiercely competitive world, we tend to struggle on various grounds. We vie for superiority in our work sphere with our colleagues whom we consider a threat to our supremacy. At the home front we want to be the best homemakers and providers. In our circle of friends, we compete on different levels. We want to be the best dressed, have the most sought after job, want an adoring spouse and kids who would be parentsí dream. Kids will be kids and parents will be, well, kids too! Right from the moment a child opens up his eyes for the first time, he is launched into what the shape of things will be for quite some time. Apart from the cooing, either of or both the parents exclaim, "Isnít he the cutest!" That marks his journey through his formative years. He is introduced into the competition that his parents have made their own. But for now, being the cutest and making the right sounds should suffice.
POWERED BY TRIUMPH
There is something about winning that makes people more aggressive
One may think that people who lose any game or competition will turn aggressive while the winner will be more friendly toward the defeated, but a new study has revealed just the opposite. Researchers have found that winners - those who outperformed others on a competitive task - acted more aggressively against the people they beat than the losers did against the victors.
For the first time in 80 years, India had failed to qualify for the Beijing Olympics. With the team making the cut this time, will the tide truly have turned for Indiaís national game? M. S. Unnikrishnan reports on the preparations in the run up to the Olympics
Indian hockeyís moment of trial
London Olympics-2012 (July 27-August 12) will be a catalyst for the revival of Indian hockey. A medal there will be a decisive factor in giving a new lifeline to the game.
Rainbow tourism shines bright in Tel Aviv
Maayan Lubell
Less than an hour away but a world apart from traditional places of pilgrimage in the Holy Land, Israelís freewheeling city of Tel Aviv has become a Mediterranean hotspot for gay tourism.
Colourless and silent gems
Saibal Chatterjee finds that Michel Hazaniviciusí black-and-white silent film The Artist, which got much critical acclaim recently, isnít the only one of its kind currently doing the rounds
The stunning Oscar sweep by French film, The Artist, has taken movie fans the world over by surprise. Who could have imagined that a $12-million fiction film sans sound and conventional dialogue would end up garnering unstinted critical accolades in addition to making pots of money at the boxoffice?