Steadfast, patient and low profile, even as his prowess at cricket blazed headlines, Rahul Dravid never sought the media strobes personally.
As the veteran retires after a 16-year cricketing career,
Sunil Narula recaps his life and game
Wall
that stood tall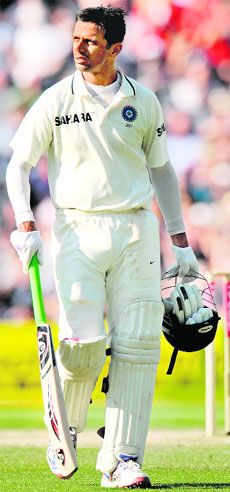 Dravid carried himself in an exemplary way both on and off the field. His name never figured in any controversy Photos: AFP/Reuters
The main part about sport is its unpredictable nature. But Rahul Dravid was so good with his technique that he made cricket predictable. At the height of his prowess, whenever Rahul Dravid came out to bat in a Test match you could easily predict that the bowlers were about to have a hard time finding another wicket. You could easily predict that Dravid was about to spend at least the next hour or so (if not more) trying to gauge the pace and bounce of the pitch. And then he would slowly go on to build his innings and patiently get to a big score.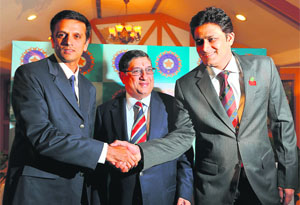 Rahul Dravid (L) shakes hands with former cricketer and cricket administrator Anil Kumble (R) as Board of Control for Cricket in India (BCCI) President N. Srinivasan (C) looks on ahead of a press conference held to announce Dravid's retirement from Test cricket in Bangalore recently
The nickname "The Wall" slowly became a cliché with him but it fit Dravid's game like a glove. Now, after 16 years of international cricket, Dravid has decided to quit Tests (he had already quit ODI's last year and he never played T20 internationals). So, we will not be seeing Dravid in action again except in IPL Season V that begins next month, where he will be leading Rajasthan Royals.
Dravid announced his retirement on recently (at the age of 39) at a crowded press conference at the Chinnaswamy Stadium in Bangalore where he said, "It is time to move on and let a new generation of players make their own history."
Player with a difference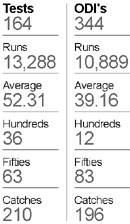 As a player and as an individual Rahul Dravid has always been different — in a refreshing sort of way. Even now, when there was a lot of talk going on about the time having come for the Big Three in the Indian team to announce their retirement, here, too, Dravid has taken the lead and has left Sachin Tendulkar and VVS Laxman behind. While Tendulkar still ponders over his future in Tests and ODIs, and Laxman is clearly reluctant to let go of his place in the Test side, Dravid seems to know exactly what he wants. As he said at the press conference in Bangalore, he "wants to spend more time with his family, drop his children to school, doing those sort of things." Dravid has always been different. Most Indian cricketers never really read what's written about them in the media. For one, they never really understand why they are being criticised, and for another they do not have this inclination to read anything all that much.
But Rahul Dravid is quite different in that sense as well. He is a voracious reader and remembers what people write about him and takes it quite seriously and tries to take in the good points and tries to improve. This has actually been a large part of Dravid's journey — he always strivs to improve.
No-controversy man

Another thing that stood out about Dravid was the exemplary way in which he carried himself (on and off the field). His name never figured in any controversy. He never complained much about anything and he took most things in his stride. You could spend an hour talking to Rahul Dravid in an interview but by the end of it all he never gave you any juicy or controversial quotes. He was not an interviewer's delight simply because he was always so politically correct. Here too he had a strong technique that you could not pierce even with the most incisive questions. You always met a straight bat. "When I started, I could never imagine that this long journey will take me so far," said Dravid, who scored 36 Test centuries. "In the Indian team I was fortunate to be part of a wonderful era. I leave the game with wonderful memories and great friendships," the former Indian skipper added.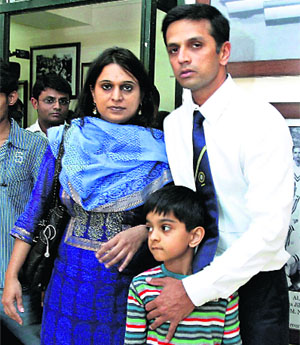 Dravid with wife Vijeta and his son
High scorer
His career-high of 270 came in India's third Test against Pakistan in April 2004. Dravid is the second-highest scorer in Test cricket history behind Sachin Tendulkar, with 13,288 runs from 164 matches at an average of 52.31 (36 centuries). Dravid's one-day tally stood at 10,889 runs from 344 matches at an average of 39.16, including 12 centuries. Captain Mahendra Singh Dhoni's men, who won the limited-overs World Cup in April last year, crashed to a 4-0 Test defeat against Australia, after an identical whitewash in England last year where they also failed to win the one-day series. Dravid was one of the few players to emerge with any credit after the tour of England where he defied the years to crack three centuries in four Tests.
Former England captain Michael Vaughan joined the chorus of tributes worldwide from players past and present, who said goodbye to one of the game's leading ambassadors. "The world's most respected cricketer over the last 20 yrs," Vaughan wrote on Twitter. Australia all-rounder Shane Watson, who played with Dravid for the Rajasthan Royals in the Indian Premier League (IPL), described him as "the nicest guy" in the cricket world. South African great Jacques Kallis said Dravid possessed "one of the best techniques in the game and was always a prize wicket to get."
Perfect player
Dravid's recent Australia tour will mark his last appearances in an Indian shirt where he managed just 194 runs in eight innings. He was bowled six times, indicating perhaps that his reflexes were slowing down. "I had thought about it (retiring) even before the tour of Australia," he said. "I knew in my heart... I knew deep down that the time was right. For the past year, I had assessed my future after every series. My approach to cricket has been reasonably simple - it was about giving everything to the team, it was about playing with dignity and it was about upholding the spirit of the game.
"I hope I have done some of that. I have failed at times, but I have never stopped trying. It's why I leave with sadness, but also with pride."
Former India captain Sourav Ganguly, a fellow debutant with Dravid in the 1996 Lord's Test, said it will not be easy to replace him. "He was a perfectionist. His determination, technique and commitment towards the game was something special," said Ganguly, adding "It's really tough to become another Rahul Dravid. It will not happen overnight."
Doing his best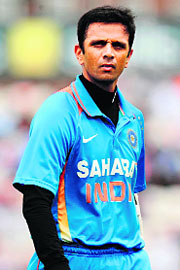 He captained India in 25 Tests that fetched him eight wins before he suddenly gave up captaincy, saying he wasn't enjoying it anymore and wanted to concentrate on his batting alone. Here, too, he once again showed he was different. "When you play international sport, you have to learn to deal with praise and criticism which are two sides of the same coin. For me, it was about doing my best at all times," Dravid in Bangalore.
More than cricket
Articulate with a keen interest in the world outside of cricket, Dravid's communication skills earned him as much praise as his batting. His speech at the Bradman Oration in Australia recently, earned rave reviews for the thought process and succinct delivery. Consequently, many visualise him in the role of an administrator sooner than later.
For the moment, Dravid has declared his Test innings closed, leaving behind only memories of an era that he dominated, but never quite received the accolades he deserved. However, he lent dignity and grace to Indian cricket, something that cannot be said of many players.